Caleta de Fuste is also one of the most popular holiday resorts in Fuerteventura, located on the east coast of the island, in the municipality of Antigua. Caleta de Fuste is a great place for those looking for a relaxing beach holiday with plenty of amenities and activities to keep them busy.
What to Expect
Caleta de Fuste is famous for its beautiful beaches, stunning views, and excellent amenities, making it a perfect holiday destination for families, couples, and solo travelers. One of the main attractions is its beautiful beaches, which are perfect for swimming, sunbathing, and water sports.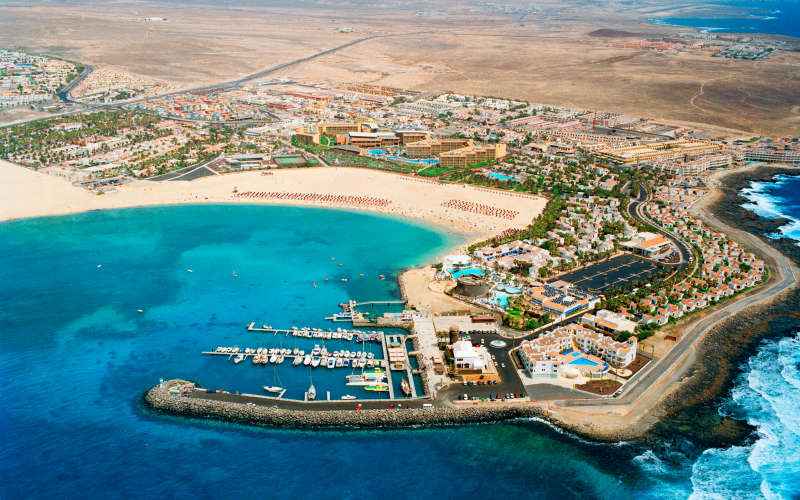 The main beach is Playa del Castillo, which is a wide and sandy beach with clear blue water. There are also several smaller beaches in the area, including Playa de la Guirra and Playa de la Guirra.
For those interested in history and culture, the resort has a few interesting sites to explore, such as the Castillo de San Buenaventura, a fortress dating back to the 18th century, and the nearby town of Antigua, which is home to a number of historic buildings and museums.
You can also enjoy a range of outdoor activities, such as hiking, cycling, and golfing. The resort is home to the Fuerteventura Golf Club, which offers a challenging 18-hole course with stunning views of the surrounding area.
Eating Out
For those looking for traditional Canarian cuisine, there are many restaurants offering fresh seafood and local specialties such as papas arrugadas and mojo sauce. There are also plenty of international options, including Italian, Chinese, and Indian restaurants. Many of the restaurants are located near the beach, providing stunning views while you dine.
Shopping
Caleta de Fuste has several small shopping centers with a variety of shops selling clothes, souvenirs, and electronics. The main shopping center is located near the beach and includes a supermarket, a cinema, and a variety of restaurants and bars.
Nightlife
When it comes to nightlife, there are plenty of options in Caleta de Fuste. The town has a number of bars and pubs, some of which offer live music and entertainment. For those looking for a more lively scene, there are also several nightclubs that stay open until the early hours of the morning.
Accommodation
As for accommodation, there are plenty of hotels and apartments to choose from in Caleta de Fuste, ranging from budget to luxury. Many of the hotels are located near the beach and offer all-inclusive packages, while the apartments are ideal for those who prefer a more independent holiday.
There are also several villas available for rent, providing a luxurious and private option for those traveling with friends or family.
Video Tour