Puerto Rico is a smaller holiday resort located on the south west coast of Gran Canaria.  Here you can find our ultimate travel guide and holidays to Puerto Rico in Gran Canaria, including top things to do and see, attractions, sights, best places to stay, eat, drink, all tourist info you need.
What to Expect?
Puerto Rico is a popular tourist destination on the island that boasts year-round warm weather and a variety of attractions that appeal to visitors of all ages. From beautiful beaches to exciting water sports, the resort has something for everyone.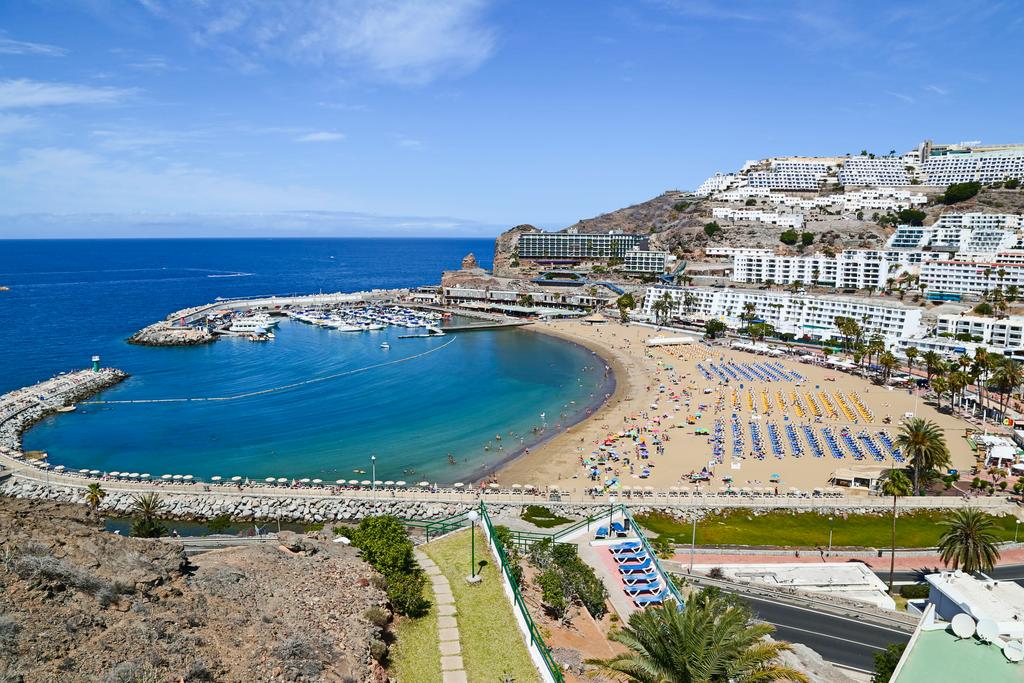 One of the top activities in Puerto Rico Gran Canaria is spending time on the beach. The town is home to two beaches that include; Playa de Puerto Rico and Playa de Amadores.
Playa de Puerto Rico is the busier of the two, with plenty of sun loungers and water sports activities available. Playa de Amadores is a quieter option, with calm waters perfect for swimming and a wide promenade ideal for a leisurely stroll.
For those seeking adventure, Puerto Rico Gran Canaria offers a range of water sports activities such as jet skiing, parasailing, and windsurfing. Boat tours are also available for those who want to explore the coastline and nearby islands.
Top Tours & Activities
Water Sports: Puerto Rico is the perfect place to try out a variety of water sports. From jet skiing and parasailing to banana boat rides and scuba diving, there is something for everyone. There are many water sports providers located right on the beach, so it's easy to book a thrilling activity.
Boat Tours: Take a boat tour from Puerto Rico and discover the stunning coastline of Gran Canaria. Choose from a variety of tours, including dolphin and whale watching, fishing trips, and sunset cruises.
Shopping: The Puerto Rico Shopping Center is a popular destination for shoppers. The center has a variety of shops and boutiques selling everything from fashion and accessories to electronics and souvenirs.
Amadores Beach: Just a short walk from Puerto Rico is Amadores Beach, a stunning white sand beach with crystal clear waters. Spend the day relaxing on the beach or take a swim in the ocean.
Nightlife: Puerto Rico is known for its lively nightlife scene. There are many bars, clubs, and discos to choose from, offering a variety of music and entertainment.
Aqualand Maspalomas: Just a short drive from Puerto Rico is Aqualand Maspalomas, a water park with a variety of slides and pools. Perfect for a family day out, the park also has a mini golf course and a dolphin show.
Gran Canaria Jeep Safari: Take a jeep safari tour and explore the beautiful countryside of Gran Canaria. The tours take you off the beaten track and offer stunning views of the island's rugged landscapes.
Palmitos Park: Located just a short drive from Puerto Rico, Palmitos Park is a popular destination for families. The park has a variety of animal shows, including dolphins, parrots, and birds of prey, as well as a butterfly house and a cactus garden.
Eating Out
Aside from the beaches and water sports, the resort is also home to a variety of restaurants serving both local and international cuisine. Visitors can sample traditional Spanish dishes such as paella, fresh seafood, and tapas. For those seeking a taste of home, many international restaurants are also available.
Nightlife & Shopping
The town also has a bustling nightlife scene, with a range of bars and nightclubs offering everything from live music to karaoke.
The Puerto Rico Shopping Center is another popular destination, with a variety of shops and boutiques selling everything from souvenirs to designer clothing.
Lodging
Puerto Rico has a range of accommodation options to suit all budgets, from budget-friendly apartments to luxury hotels. The town is particularly popular with families and couples, but solo travelers will also find plenty to enjoy.
Video Tour