Alcudia is a famous beach holiday resort located on the north east corner of the island of Majorca. Puerto Alcudia is the port, beach, tourist and accommodation area of the Alcudia resort that is located about 1,8 km. from the old town of Alcudia. Alcudia is also one of the most popular holiday resorts in Majorca, Spain.
What to Expect?
Alcudia (Puerto Alcudia) offers great holiday attractions with its variety of quality restaurants, leisure activities, theme parks, night spots, shops, cultural activities and nice beaches for the holidaymakers.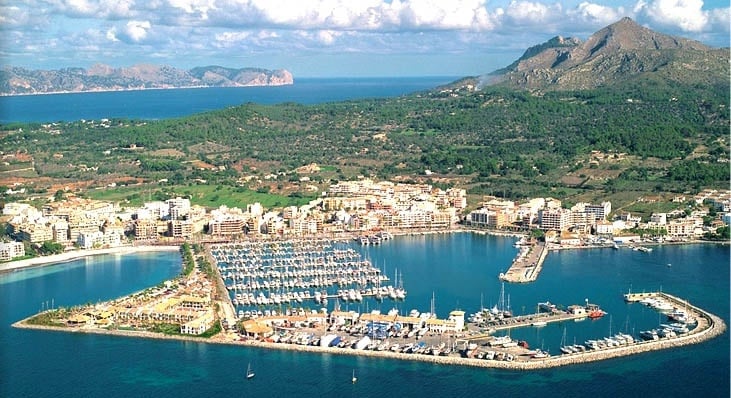 Alcudia lies at the base of the peninsula that separates the Bays of Pollensa and Alcudia. The nearby ruins of Pollentia, the small amphitheatre and the remains of the town wall with its three gates are the popular sights of the resort.
The historic town is renowned for its rich cultural heritage, stunning beaches, and amazing outdoor activities.
If you're looking for things to do in Alcudia, you won't be disappointed. The town boasts a wide range of attractions, from ancient monuments to modern water parks. One of the most popular sites is the historic walled city, which dates back to the 14th century. Here, you can stroll through its narrow, cobbled streets and admire the traditional architecture, visit the old church of Sant Jaume, or explore the ruins of the Roman city of Pollentia.
Alcudia is also home to some of the best beaches in Mallorca. The town's main beach is a long stretch of golden sand that's perfect for sunbathing and swimming. You can also try your hand at windsurfing, kiteboarding, or other water sports. Other top beaches in Alcudia include Platja d'Alcudia, Platja de Muro, and Es Barcares.
In addition to its historic sites and stunning beaches, the resort offers a variety of outdoor activities. Hiking and cycling enthusiasts can explore the nearby Tramuntana mountains, while golfers can enjoy a round at the Alcanada Golf Course. Families with kids will love spending a day at the Hidropark, which features water slides, swimming pools, and other fun attractions.
When it comes to dining and shopping, the resort won't disappoint. The town is home to numerous restaurants that offer both local and international cuisine, as well as bars and clubs for a night out. The main street of Alcudia is also lined with shops selling everything from local crafts to designer clothing.
Food & Drink
Alcudia has a wide variety of restaurants and bars that cater to all tastes and budgets. The old town is home to many traditional Spanish tapas bars and restaurants, where you can sample delicious local dishes. For something more international, head to the marina area where you can find restaurants serving everything from Italian to Indian cuisine.
Some of the best restaurants in Alcudia include Restaurante Jardin, Restaurante Sa Mossegada, and Tastaolletes. For a unique dining experience, book a table at C'an Costa, a former olive oil mill that has been converted into a restaurant.
When it comes to drinks, the resort has plenty of options. The marina area is home to a variety of bars and clubs, where you can enjoy a cocktail or dance the night away. If you're looking for something more relaxed, head to one of the many beach bars that line the coast.
Shopping
Alcudia has a good selection of shops, ranging from small independent boutiques to larger chain stores. The old town is the best place to go for artisanal products, such as handmade ceramics and leather goods. You'll also find a variety of souvenir shops, where you can pick up gifts for friends and family back home.
If you're looking for something more upscale, head to the marina area where you'll find designer stores selling everything from clothing to jewelry.
Nightlife
Alcudia has a vibrant nightlife scene, with plenty of bars and clubs to choose from. The marina area is the best place to go for nightlife, with a variety of bars and clubs that stay open until the early hours of the morning.
Some of the best bars in Alcudia include The White Rose Bar, Bar Cuba, and Bar Teatro. For those who want to dance, head to the Pacha nightclub, which is one of the biggest and most popular clubs on the island.
Lodging
Alcudia has a wide range of accommodation options to suit all budgets and preferences. The old town is home to many traditional Spanish guesthouses and boutique hotels, while the marina area has a variety of larger hotels and resorts.
Some of the best places to stay in Alcudia include the Hotel Can Tem, Hotel Can Mostatxins, and the Zafiro Palace. For those who prefer self-catering accommodation, there are also plenty of apartments and villas available to rent.
Video Tour
Read more about Majorca from our Alcudia Travel Guide website >>