San Antonio (Sant Antoni de Portmany), is the second largest town of Ibiza, one of the most touristic areas in Ibiza, located on the western coast, on a beautiful natural bay. The resort is a lively resort that is popular for its leisure and nightlife activities. Located on the western coast of the Spanish island of Ibiza, San Antonio is a vibrant resort town that attracts tourists from all over the world.
What to Expect
If you're looking for a holiday destination that offers sun, sand, sea, and plenty of fun, San Antonio Ibiza should be at the top of your list. San Antonio offers great holiday attractions with its variety of quality neon flashing bars, lounges, strip clubs, cafes and restaurants and nice beaches for the holidaymakers. With its stunning beaches, lively nightlife, and cultural attractions, San Antonio has something for everyone.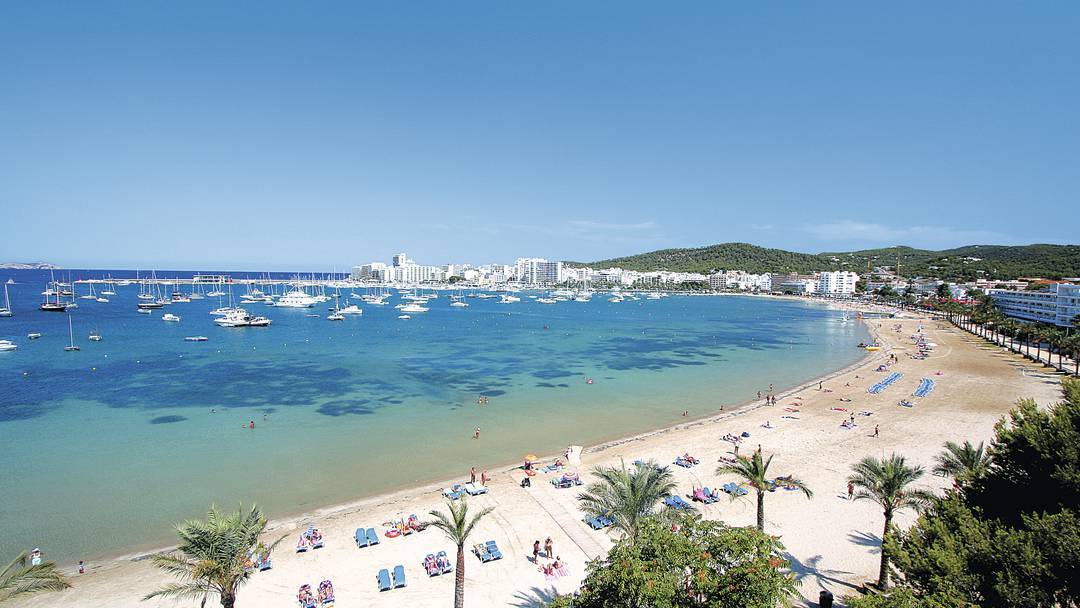 Things to Do & See in San Antonio Ibiza…
Things to do and see in San Antonio are endless. The town centre and bay of San Antonio with its shops, beach, beach promenade, bars and restaurants, offers all the tourist services for the holidaymakers.
San Antonio Bay is located on the southern part of the town and offers cheap family and couples accommodation. San Antonio Bay also offers calm nights and family related entertainment. San Antonio town centre is more lively for clubbers. The town centre and the bay are located on a 20 min. walking distance.
San Antonio is mostly known for its nightlife, but there's plenty to do during the day as well. Here are some top activities to add to your itinerary:
Hit the Beaches: San Antonio has some of the most beautiful beaches in Ibiza. Cala Salada, Cala Bassa, and Playa d'en Bossa are just a few of the must-visit spots.
Explore the Sunset Strip: The Sunset Strip is a famous strip of bars and restaurants that line the coast, offering stunning views of the sunset over the sea.
Visit the Egg: This iconic sculpture in the middle of the town square is a must-see. The Egg was created by artist Andrew Rogers and is a symbol of rebirth and new beginnings.
Take a Boat Tour: Take a boat tour around the island and explore secluded coves and hidden beaches.
Attend a Party: San Antonio is known for its vibrant nightlife, with world-famous clubs like Amnesia, Pacha, and Ushuaia.
Video Tour
Top Attractions & Sights in San Antonio Ibiza
San Antonio Bay and the West End
San Antonio Bay is located on the southern part of the urban centre of San Antonio and offers cheap family and couples accommodation. The zone is full of shops, restaurants and all kinds of tourist services that include; boats, fishing dock, nautical club and the yachting marina. The West End is the popular night time entertainment area of San Antonio with lots of great bars.
Sunset at Ses Variades (Sunset Strip)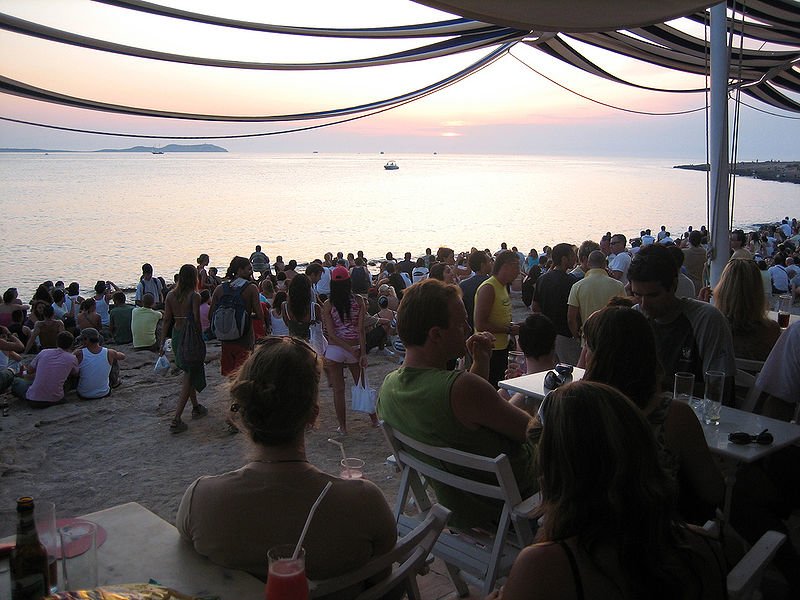 Sunset Strip is the coastal area also named Ses Variades, that is very popular for its spectacular sunsets, located on the west of San Antonio, about 10 mins walking distance from San Antonio town centre. In summer season, thousands of holidaymakers meet at the San Antonio coasts and enjoy the sunset with live music. The bars of the San Antonio strip offer accompaniment to the sunsets of the town with live music and DJs.
The villages of Santa Agnes de Corona and Sant Mateu d'Aubarca, Ses Torres d'en Luc Archaeological Site and Cala d'Aubarca Cove
There are nice villages and sights at the interior San Antonio. The village of Santa Agnes de Corona is a lovely one with its church and its paths covered in almond blossom during January and February. The village of Sant Mateu d'Aubarca is also a charming village and popular for its wines and wine cellars.
Along the villages, there it comes the Ses Torres d'en Luc archaeolocial site dates back to Middle Ages and is made up of two ancient towers and a wall. If you go east you'll reach Cala d'Aubarca cove and enjoy the beautiful nature and coastline that is home to Eleanor's Falcon and the royal falcon.
Aquarium Cap Blanc– San Antonio
Aquarium Blanc, also known as Sa Cova de Ses Llagostes, Sa Cove des Peix or Sa Cove des Vell Mari, is natural aquarium located about 2 km. from San Antonio town center and close to Cala Gracio. The place was home to popular festivals for a long time preiod but now it is a small natural aquarium that travellers may view the wide range of Pitiusan marine fauna.
The churches of San Antonio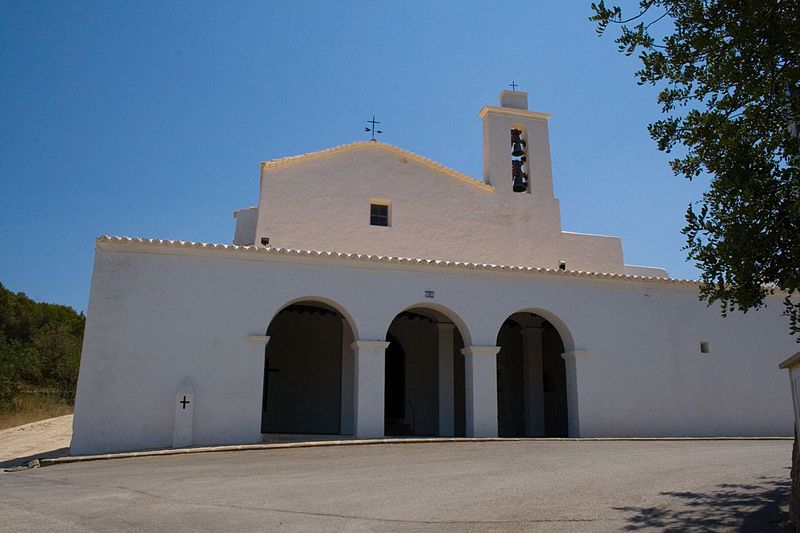 The churches of Sant Antoni, Sant Mateu, Sant Rafael, the underground chapel of Santa Agnes and the little chapel of Buscastell is worth a visit and see in San Antonio Ibiza.
The village of Sant Rafael de Sa Creu
The village of Sant Rafael de Sa Creu is located about 8 km. from San Antonio town center and it is the only place on Ibiza that is declared "Zone of craftwork interest" and where travellers are able to speak to the potters there There is also quality restaurants at the village.
Cueva de Ses Fontanelles Cave
Cueva de Ses Fontanelles Cave is located in a hilly zone between Sa Foradada and Cap Nono, that is reached via Cala Salada. The cave houses a collection of cave paintings dating back to Bronze Age.
Eating Out
If you're a foodie, you'll love San Antonio Ibiza. The town has a wide range of restaurants and cafes to suit all tastes and budgets. Whether you're in the mood for seafood, tapas, or international cuisine, you'll find it here.
Some top restaurants to try include Can Pujol, a family-run restaurant that serves delicious traditional Spanish dishes, and The Skinny Kitchen, which offers healthy and tasty options like smoothie bowls and avocado toast.
Shopping
If you're looking to do some shopping, San Antonio has plenty of options. The town has a mix of high-end designer stores and local boutiques, so you'll be sure to find something that suits your style and budget.
For high-end shopping, head to Marina Ibiza, which is home to designer brands like Gucci and Dior. If you're looking for something more unique, check out the local boutiques in the town center, where you can find handmade jewelry, clothing, and souvenirs.
Nightlife
San Antonio is famous for its nightlife, and for good reason. The town has some of the best clubs and bars in the world, attracting world-renowned DJs and party-goers from all over the globe.
Some top clubs to check out include Amnesia, Pacha, and Ushuaia. These clubs host some of the biggest parties on the island and are a must-visit for anyone looking to experience the legendary Ibiza nightlife.
Lodging
San Antonio offers cheap accommodation and mostly preferred by the young holidaymakers, groups of single lads and girls.
Getting to San Antonio
The easiest way to get to San Antonio is by flying into Ibiza Airport, which is about 20 minutes away by car. Alternatively, you can take a ferry from Barcelona or Valencia to Ibiza, then catch a bus or taxi to San Antonio.
Best Time to Visit San Antonio
San Antonio is a year-round destination, but the best time to visit is during the summer months from June to September. The weather is warm and sunny, and there are plenty of activities and events happening.