Last Updated on March 28, 2021
Lanzarote is a world famous holiday island of the Canaries and one of the most popular holiday destinations in Spain. Lanzarote is situated in the Atlantic Ocean and is the most easterly of the Canary Islands.
The sub aquatic and moon-like scenery, crystal-clear waters, nature, thirsty soil and the oasis of palm trees make the island one of the most popular holiday destinations in Spain and the Canary Islands.
Lanzarote offers great much to its visitors with its sun-bathed landscape, its delightful, exotic beaches and wonderful volcanic valleys.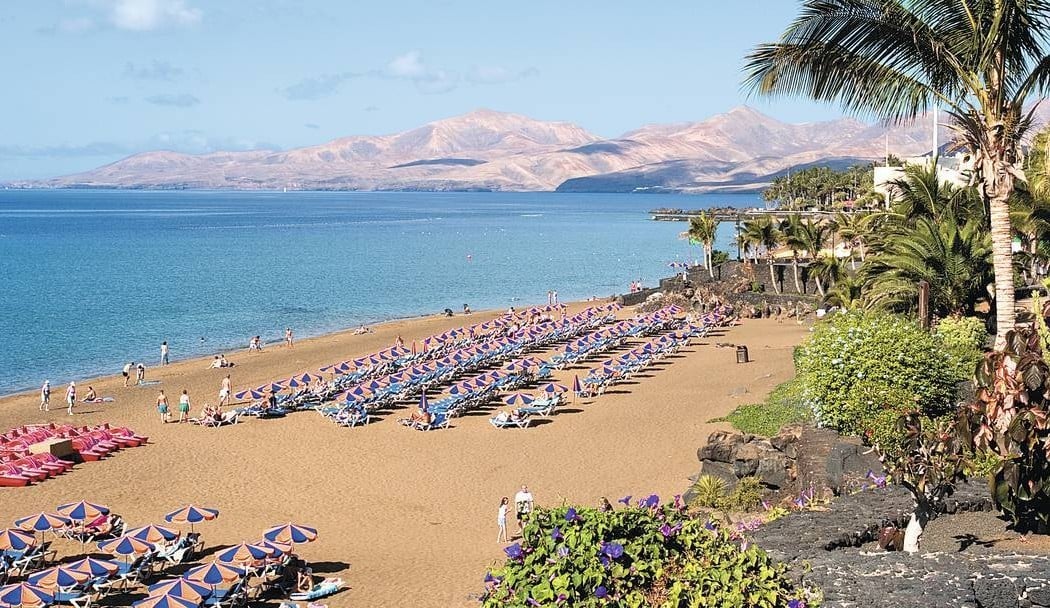 Puerto del Carmen, Costa Teguise, Playa Blanca and Arrecife are the popular holiday resorts in Lanzarote.
The island's beaches are also very beautiful and unspoilt. Playa Grande, Punta de Papagayo, Fariones beach, Playa Flamingo and Playa de los Pocillos beaches are the most popular beaches in Lanzarote.
The volcanic landscape is also great. Timanfaya National Park, El Golfo, and Los Verdes caves is worth a visit. A daily visit to the Timanfaya National Park is one of the best things to do Lanzarote.
The surroundings of the Timanfaya National Park also offer many other points of interest that include; a ride around the volcanoes on a camel, the unique crops at La Geria, the coastal area of Los Hervideros where lava and the Atlantic have converged to create a tormented rockscape and finally the spectacular emerald green crater of El Golfo.
The beaches of Papagayo on the southern part of the island, the cliffs and the beach of Famara on the west, the Cactus Garden and the beautiful lookout of Mirador del Rio in the northern part of the island are the other popular sights in Lanzarote.
As for accommodation in Lanzarote; holidaymakers may find variety of nice and quality hotels and apartments to choose from.
Lanzarote can be accessed by sea or by air. The two main ports cover regular and inter island traffic routes that include; Playa Blanca to Fuerteventura and Arrecife to the peninsula and Gran Canaria and Tenerife.
Video Tour
---