Lanzarote is a world famous holiday island of the Canaries and one of the most popular holiday destinations in Spain. Lanzarote is situated in the Atlantic Ocean and is the most easterly of the Canary Islands.
The sub aquatic and moon-like scenery, crystal-clear waters, nature, thirsty soil and the oasis of palm trees make the island one of the most popular holiday destinations in Spain and the Canary Islands. Lanzarote offers great much to its visitors with its sun-bathed landscape, its delightful, exotic beaches and wonderful volcanic valleys.
Puerto del Carmen, Costa Teguise, Playa Blanca and Arrecife are the popular holiday resorts in Lanzarote.
Exploring the Island
The island has a lot to offer, from natural wonders to cultural attractions, making it an ideal destination for those looking for an adventure.
One of the best ways to explore Lanzarote is to rent a car and drive around the island. This way, you can visit some of the most scenic spots, including the Timanfaya National Park, where you can see volcanic craters and lava fields up close. The Mirador del Rio viewpoint offers stunning panoramic views of the island and neighboring islands. For beach lovers, the Papagayo beaches are some of the most beautiful on the island, with crystal clear waters and white sand.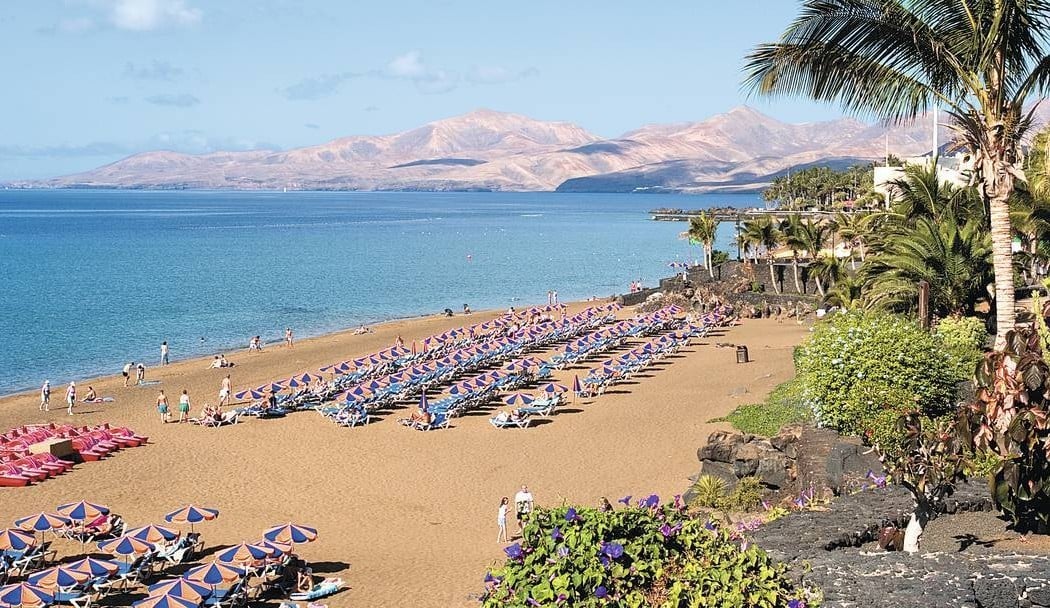 The volcanic landscape is also great. Timanfaya National Park, El Golfo, and Los Verdes caves is worth a visit. A daily visit to the Timanfaya National Park is one of the best things to do Lanzarote.
The surroundings of the Timanfaya National Park also offer many other points of interest that include; a ride around the volcanoes on a camel, the unique crops at La Geria, the coastal area of Los Hervideros where lava and the Atlantic have converged to create a tormented rockscape and finally the spectacular emerald green crater of El Golfo.
If you're interested in learning about Lanzarote's history and culture, a visit to Cueva de los Verdes is a must. This underground lava cave has a fascinating history and is also home to a concert hall, where live music events are held. Jameos del Agua, another lava cave system, was converted into an art and culture center by the famous local artist Cesar Manrique.
Lanzarote is also known for its unique architecture, with many buildings designed by Cesar Manrique himself. The Jameos del Agua center and the Cactus Garden are two examples of his work. The Cactus Garden is a beautiful botanical garden with over 7,000 species of cacti, and it's a must-visit for nature lovers.
Water sports enthusiasts will enjoy Lanzarote's many beaches, where you can try windsurfing, kitesurfing, or surfing. The island is also a popular diving destination, with several diving centers offering courses and guided dives to explore the underwater world.
Beaches
The island's beaches are also very beautiful and unspoilt. Playa Grande, Punta de Papagayo, Fariones beach, Playa Flamingo and Playa de los Pocillos beaches are the most popular beaches in Lanzarote.
The beaches of Papagayo on the southern part of the island, the cliffs and the beach of Famara on the west, the Cactus Garden and the beautiful lookout of Mirador del Rio in the northern part of the island are the other popular sights in Lanzarote.
Food & Drink
Lanzarote is home to a variety of traditional and modern cuisine, offering a range of flavors and dining experiences. The island is known for its fresh seafood, including local specialties such as limpets and parrotfish. In addition to seafood, visitors can enjoy local wines, such as the crisp white wine of the La Geria region. For a unique dining experience, visit the Jameos del Agua, a restaurant located in a stunning lava cave.
Shopping
Lanzarote is a great place for shopping, with a mix of local markets and modern shopping centers. Arrecife is the capital city and a great place to find a range of shopping options, including high-end boutiques and popular chains. For a more local experience, visit the Teguise Market, held every Sunday in the historic town of Teguise. Here, visitors can find everything from handmade crafts to fresh produce.
Nightlife
Lanzarote offers a vibrant nightlife scene, with something to suit all tastes. Puerto del Carmen is known for its lively bars and clubs, with many open until the early hours of the morning. Costa Teguise is another popular destination for nightlife, offering a range of bars and clubs with live music and entertainment. For a more relaxed atmosphere, head to the beach bars in Playa Blanca.
Lodging
Lanzarote offers a range of accommodation options, from budget-friendly hotels to luxury resorts. Many of the island's resorts are located in popular beach destinations such as Puerto del Carmen and Playa Blanca. For a more traditional experience, consider staying in a traditional Canarian villa, many of which have been restored and converted into vacation rentals.
Lanzarote can be accessed by sea or by air. The two main ports cover regular and inter island traffic routes that include; Playa Blanca to Fuerteventura and Arrecife to the peninsula and Gran Canaria and Tenerife.
Video Tour