Valencia, located on the east coast of Spain, is a city that is rich in history, culture, and delicious cuisine. The city is known for its beautiful beaches, stunning architecture, and the famous Las Fallas festival. Valencia is a great destination for anyone looking to experience the best of Spanish culture. In this Valencia travel guide, we will explore the top sights, tours, and activities, transportation options, and lodging options in Valencia.
Valencia is a highly sought-after destination in Spain for its rich culture, art, and holiday experiences. Located along the eastern coast of Spain in the Valencia region, it is the third-largest city in the country. Valencia is bordered by magnificent Spanish mountains, which tower behind the city and is nestled next to stunning Mediterranean beaches.
Valencia has a long history of industrial, commercial, and artistic excellence dating back to Greek times. It is known for its deep love for music and year-round festive atmosphere, which reaches its peak during the Spring's Fallas festival.
Top Facts about Valencia
Valencia is the third-largest city in Spain, with a population of over 800,000 people.
The official language is Spanish, and the currency is the euro.
Valencia is famous for its paella, a rice dish that originated in the region.
The city is home to the City of Arts and Sciences, a complex of futuristic buildings designed by Santiago Calatrava.
Valencia has a long history, with many important landmarks that date back to the Roman and Arab eras.
Top Sights
The most immersive way to experience and discover Valencia is by leisurely strolling through its streets and plazas. Valencia's streets beautifully blend tradition with innovation, the old with the new.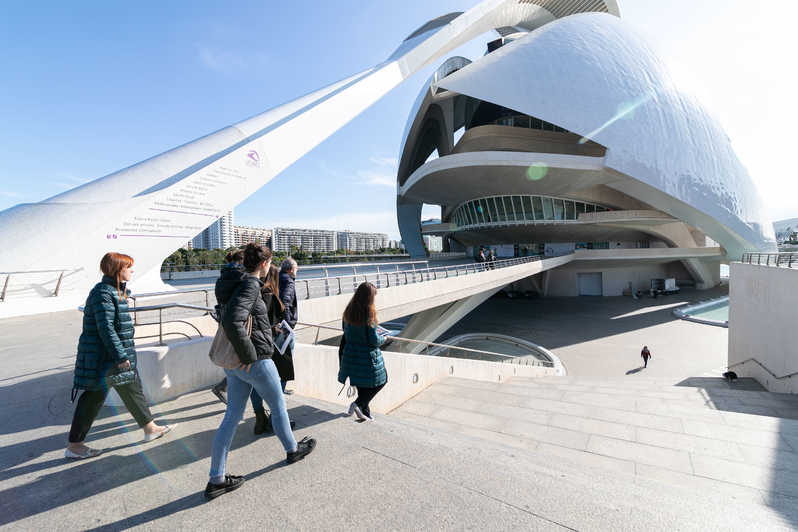 There are many popular areas to explore on foot, such as the Ciudad de las Artes y las Ciencias district, the historic Barrio del Carmen neighborhood, the modern art institute, IVAM, the Museo Faller, and the iconic Calatrava Bridge. These areas offer a glimpse into the city's rich culture, art, and architectural heritage.
The City of Arts and Sciences: This futuristic complex of buildings is a must-visit attraction in Valencia. It features a planetarium, an opera house, a science museum, and an aquarium.
The Central Market: This is one of the largest markets in Europe and is a great place to shop for fresh produce, meat, and fish.
The Cathedral of Valencia: This Gothic-style cathedral dates back to the 13th century and is home to many important religious artifacts.
The Lonja de la Seda: This UNESCO World Heritage Site is a beautiful example of Gothic architecture and was once a silk exchange.
The Albufera Natural Park: This nature reserve is located just outside the city and is a great place to spot wildlife, go hiking, or take a boat ride.
Tours & Activities
Valencia is a city where the outdoors are embraced year-round, and residents enjoy spending time in the city's bustling pavement cafes and lush public gardens. The city boasts one of the world's largest and most vibrant markets, which feels like a festive celebration as vendors sell an array of fresh produce and ingredients, including those used to create the famous Valencia dish, paella. The market is housed in a vast vaulted space located across from the old silk exchange, the Lonja, adding to its historic charm.
Paella Cooking Class: Learn how to make Valencia's famous paella from a local chef.
Bike Tour: Explore the city on two wheels and see the main attractions of Valencia.
Tapas Tour: Taste some of Valencia's best tapas and learn about the city's culinary traditions.
Las Fallas Festival: If you're visiting in March, you can experience Valencia's famous festival, which includes fireworks, parades, and the burning of giant sculptures.
Flamenco Show: Experience the traditional Spanish dance form in one of Valencia's many flamenco shows.
Valencia Tourist Card
The Valencia Tourist Card is a convenient and cost-effective way to explore the fantastic Valencia. The card provides free access to public transportation, including the metro, bus, and tram, as well as discounts on attractions, restaurants, and shops throughout the city.
It's a great option for visitors who want to see the sights of Valencia while also saving money on transportation and other expenses.
Buy Your Valencia Tourist Card in advance Online
Free cancellation up to 24 hours in advance for a full refund
Culture & Art
Valencia is a city with a rich cultural and artistic heritage. The city boasts a vibrant arts scene with a plethora of museums and art galleries. The City of Arts and Sciences is a must-see for visitors, as it is one of the most important cultural complexes in Europe, featuring several buildings including an opera house, an IMAX cinema, a planetarium, and a science museum.
The historic centre of Valencia is home to several museums, including the Museum of Fine Arts, which houses a collection of paintings from the 14th to the 20th centuries, and the Museum of Ethnology, which showcases the cultural and social heritage of Valencia. The Palau de les Arts Reina Sofia, a world-class opera house, is another cultural gem of the city.
Valencia is also home to several festivals and events throughout the year, including the famous Fallas festival, which is a celebration of art and culture, and is recognised as a UNESCO Intangible Cultural Heritage.
Visitors to Valencia can enjoy the city's cultural offerings through a variety of tours and experiences, and can easily access the city's many cultural attractions via public transport or by foot.
Beaches
Valencia boasts many stunning beaches. Some of the best beaches in Valencia are Malvarrosa, Patacona, and El Saler.
Visitors can indulge in a variety of activities, including swimming, sunbathing, sailing, windsurfing, and beach volleyball. There are plenty of restaurants, cafes, and bars where you can enjoy traditional Spanish cuisine, refreshing drinks, and cocktails.
Malvarrosa is the most famous beach, with golden sand, clear waters and a lively atmosphere, perfect for a fun day out with family and friends.
Patacona beach is located further north, with a more relaxed atmosphere, ideal for those who want to get away from the crowds.
El Saler beach is a bit further south of Valencia, surrounded by dunes, a nature reserve and the famous Albufera lake. It's perfect for nature lovers who want to enjoy a peaceful day by the sea.
Valencia is one of Spain's largest cities, offering visitors a variety of experiences when it comes to gastronomy, shopping, and nightlife. The city's unique blend of historic architecture and modern culture makes it a popular destination for both tourists and locals.
Gastronomy and Eating Out
Valencia is famous for its rice dishes, especially the paella, a classic Spanish dish made with rice, vegetables, and various types of meat or seafood. Other traditional dishes include fideuà, a type of paella made with noodles instead of rice, and all i pebre, a fish stew with garlic and paprika.
Visitors to Valencia can find great food at the city's many restaurants and tapas bars. The Central Market is also a must-visit for foodies, where they can sample fresh seafood, meats, fruits, and vegetables.
Shopping
Valencia offers a wide variety of shopping options for visitors. The city's main shopping district is located in the city center, around the streets of Colon, Poeta Querol, and Don Juan de Austria. Here, visitors can find both international and local brands.
For a more unique shopping experience, visitors can head to the Ruzafa neighborhood, known for its independent boutiques and vintage shops. Another great shopping destination is the Mercado de Tapineria, which hosts pop-up stores, art exhibitions, and other events.
Nightlife
Valencia offers a vibrant nightlife scene, with many bars, clubs, and music venues open until the early hours of the morning. The El Carmen neighborhood is a popular destination for those looking for a night out, with its many bars and clubs.
Visitors can also check out the city's cultural events, such as concerts, theater productions, and film screenings. The Palau de la Musica is one of the city's most famous music venues, hosting a wide variety of performances throughout the year.