Costa del Sol is one of the most popular holiday destinations along the southern Spain coasts. Costa del Sol means "the coast of the sun". Costa del Sol has 150 miles of beautiful sandy coastline and attracts hundred thousands of holidaymakers every year. Malaga is the capital of the region. This region boasts stunning beaches, charming towns, delicious food, vibrant nightlife, and plenty of shopping opportunities.
Costa del Sol and the Andalusia region are all excellent combination of the sea and the mountains. The region offers great beauties with its hidden corners, secret treasures, picturesque villages, golden sandy beaches, unspoiled beaches, beautiful underwater scenery.

Towns and Resorts
There many beautiful and must see town and resorts in Costa del Sol both inland and coastal. The Coastal Route from Nerja to Tarifa along the Costa del Sol offers the traveller 180 km. of coastline with all the attractions typical of the sea.
The very good climate, crystal clear waters and beautiful beaches make Costa del Sol an ideal destination for beach goers and water sports lovers. Holidaymakers may also enjoy the variety of great theme parks, water parks, marine parks and wildlife parks along the region's resorts.
---
No Regrets Booking Advice
---
As for white inland villages of Costa del Sol, the inland regions are popular with the Andalusia's traditional white villages. The Malaga's inland are areas are famous for its traditional cuisine, street layouts that dates back to Arab times and a direct connection with nature.
Frigiliana, Casares and the villages of the Ronda and Sierra de las Nieves mountain ranges are a must places to visit and see on the inland.
As for villages on the Malaga Coast, you may there enjoy a Mediterranean holiday and have great time on the beautiful beaches and towns. There are 14 coastal villages of Malaga coast that worth a visit. Marbella is a must of those towns together with the magical charm of Mijas and stunning cliff landscapes of Nerja.
Top Holiday Resorts
The region is home to a number of holiday resorts, which offer an ideal vacation experience for families, couples, and solo travelers. These resorts offer a wide range of accommodation options, including luxury villas, all-inclusive hotels, apartments, and holiday homes, providing visitors with a comfortable and convenient stay.
Marbella
Known for its glamorous lifestyle and luxurious villas, Marbella is a top destination in Costa del Sol. Its beautiful beaches, high-end shopping, fine dining, and vibrant nightlife attract visitors from all over the world.
Puerto Banus
Located just west of Marbella, Puerto Banus is another exclusive resort town known for its luxury yachts, designer boutiques, and lively nightlife.
Estepona
Estepona is a charming seaside town with a historic old town area and a long sandy beach. It's known for its picturesque streets lined with colorful flower pots and its thriving marina.
Benalmadena
Benalmadena is a popular resort town with a wide range of attractions, including a theme park, a cable car ride, and a bustling marina. It also has several beaches and plenty of restaurants and bars.
Torremolinos
One of the more established holiday resorts in Costa del Sol, Torremolinos has a lively atmosphere and a long stretch of sandy beach. It's known for its vibrant nightlife, shopping, and watersports.
Top Activities and Tours
Costa del Sol offers a wide variety of activities and tours for visitors of all ages and interests. From water sports and outdoor adventures to cultural tours and family-friendly activities, there is something for everyone in this beautiful region of southern Spain.
Water Sports
With over 300 days of sunshine a year, the Costa del Sol is the perfect destination for water sports enthusiasts. From surfing and windsurfing to kitesurfing and stand-up paddleboarding, there are plenty of options for those who love the water. Scuba diving and snorkeling are also popular activities, allowing visitors to explore the vibrant underwater world of the Mediterranean Sea.
Golf
The Costa del Sol is known as the "Costa del Golf" for good reason. With over 70 golf courses in the region, it's a golfer's paradise. The courses range from beginner-friendly to championship-level, with beautiful views of the coastline and mountains.
Hiking
The region is home to many beautiful natural parks and hiking trails. The Caminito del Rey is a popular destination for hikers, with stunning views of the Guadalhorce River Gorge. The Sierra de las Nieves Natural Park is another great spot for hiking, with diverse flora and fauna and breathtaking landscapes.
Cultural Tours
The Costa del Sol is rich in history and culture, with many museums, galleries, and historic landmarks to explore. The Picasso Museum in Malaga showcases the works of the famous artist, who was born in the city. The Alhambra in Granada is a stunning example of Moorish architecture and a UNESCO World Heritage Site.
Family-Friendly Activities
The region is a great destination for families, with plenty of activities to keep kids entertained. The Bioparc in Fuengirola is a unique zoo with a focus on conservation and education. The Tivoli World amusement park in Benalmadena is a classic family attraction with rides, games, and shows.
Food and Wine Tours
The region is famous for its delicious cuisine and excellent wines. Food and wine tours are a great way to experience the local flavors and culture. The Bodegas Bentomiz winery in Sayalonga offers tours and tastings of their award-winning wines. The Malaga Food Tours takes visitors on a culinary journey through the city's best tapas bars and restaurants.
Horse Riding
Horse riding is a popular activity in the Costa del Sol, with many stables offering guided tours through the countryside and along the beaches. The Escuela de Arte Ecuestre Costa del Sol in Estepona is a great place for beginners and experienced riders alike.
Boat Tours
Boat tours are a great way to explore the coastline and see the region from a different perspective. There are many options for boat tours, including dolphin and whale watching tours, sunset cruises, and fishing trips.
Beaches
Costa del Sol is home to some of the most beautiful beaches in Spain, with over 300 kilometers of coastline. Each beach offers a unique experience, but visitors can expect to find stunning crystal clear waters, fine golden sands, and plenty of sunshine.
Many of the best beaches in Costa del Sol offer a range of amenities such as sun loungers, parasols, showers, and toilets, as well as beach bars and restaurants serving fresh seafood and refreshing drinks. Some beaches are family-friendly and have playgrounds, while others are perfect for water sports such as surfing, windsurfing, and kiteboarding.
Visitors can also enjoy snorkeling or scuba diving in the clear waters to explore the vibrant underwater world. Additionally, some beaches have a promenade that is perfect for strolling and enjoying the sunset.
Water Sports
Water sports in Costa del Sol are a popular activity among tourists and locals alike. With over 300 days of sunshine each year and a long coastline, there are plenty of opportunities to enjoy water-based activities.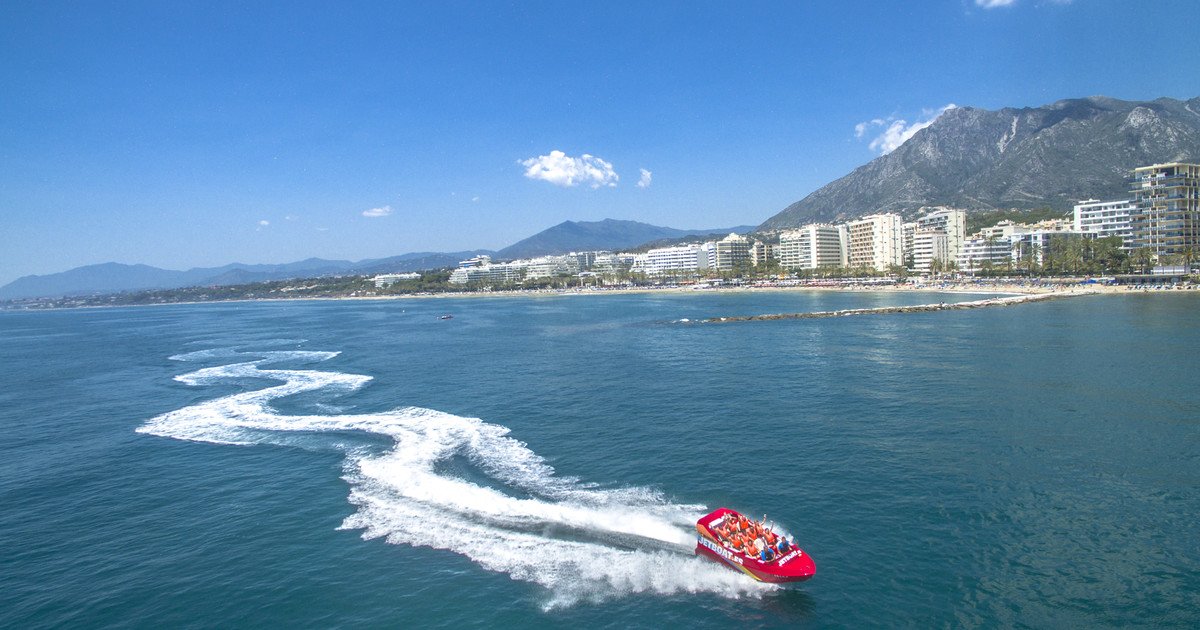 Holidaymakers may find variety of water sports activities in the region from swimming, sailing, skiing, windsurfing, kayaking, snorkeling to sub-aqua diving and scuba diving in all along the beautiful coasts.
Food & Drink
Costa del Sol is home to a plethora of fantastic restaurants and bars serving up traditional Spanish cuisine and international dishes. Seafood lovers will rejoice at the variety of fresh fish available, including sardines cooked on an open flame and paella with a range of seafood.
For a more traditional Spanish experience, head to a tapas bar to try small plates of local specialties. The region is also known for its wine production, so be sure to try some of the local wines.
Shopping
Costa del Sol is a shopper's paradise with a wide range of options. For designer labels and luxury boutiques, head to Puerto Banus or Marbella. For a more authentic shopping experience, visit the street markets in towns like Estepona and Fuengirola.
Nightlife
The nightlife in Costa del Sol is legendary, with a range of options to suit all tastes. From beach clubs and rooftop bars to nightclubs and live music venues, the region has something for everyone. Marbella and Puerto Banus are popular spots for those seeking a more upscale experience, while Fuengirola and Benalmadena offer a more laid-back vibe.
Lodging
Costa del Sol offers a range of accommodation options to suit all budgets, including luxury hotels, boutique hotels, apartments, and villas. Many hotels are located on the beachfront, offering stunning views of the Mediterranean Sea.
Some popular options include the Hotel Puente Romano in Marbella, the Kempinski Hotel Bahia in Estepona, and the Hotel Villa Padierna Palace in Benahavis.
Getting There
Getting to Costa del Sol is relatively easy, as there are several options available for travelers.
By Air
The region is served by the Malaga Airport, which is located approximately 8 km southwest of Malaga. It is one of the busiest airports in Spain, and there are direct flights available from many major cities in Europe and beyond. Once you arrive at the airport, you can take a taxi or hire a car to reach your destination.
By Train
The region is well connected by train, with the main railway station located in Malaga. From here, you can take trains to other cities in Spain, as well as to other destinations in Costa del Sol.
By Car
If you prefer to drive, you can reach the region via the A-7 or AP-7 highways, which run along the coast.
By Bus
There are also regular bus services connecting the region with other cities in Spain, as well as with major cities in Europe.
Video Tour
Of course it is not possible to explain everything about Costa del Sol here. On our visual Costa del Sol pages, you may find and discover the best of Costa Brava holidays for your needs such as best things to do, best sights, best beaches, best holiday resorts, best of nightlife, shopping and eating out activities, best museums and more…
You may plan your Costa del Sol holidays regarding our travel guide pages. We wish you a wonderful Costa del Sol holidays full of joy and happiness…