Costa Brava is one of the most popular holiday destinations along the north-eastern Spain coasts, from the French border through the north of Barcelona. Costa Brava means "fierce and rough coast" or "wild coast" and is the name of the area given to the coast of Girona, the Catalonian province that straggles from the high Pyrenees down to the Mediterranean.
Costa Brava can be described as the dark greens of pines gather with the blue waves and waters beneath the sun together with the Pirineu de Girona. Costa Brava is famous for its intense green of the pine groves, the massive steadfastness of the rocks, the softness of the golden sands and the deep, dazzling blue of the sea.

The main attractions and things to do in Costa Brava include;
The Cap de Creus Natural Park,
the monastery of Sant Pere de Rodes and the village of Cadaques,
the marshes of the Aiguamolls de l'Empordà Natural Park and the Medes Islands Marine Reserve,
Roses bay,
the ruins of Empúries,
the coves of Begur and Palafrugell,
Sant Sebastia lighthouse,
Cap Roig gardens,
the Old Town of Tossa de Mar and the Santa Clotilde,
Pinya de Rosa and Marimurtra botanical gardens,
the shopping and leisure centres at Roses, L'Escala, L'Estartit, Palamós, Platja d'Aro, Sant Feliu de Guíxols, Lloret de Mar and Blanes.
Top Resorts
Blanes, Tossa de Mar, Malgrat de Mar, Lloret te Mar, Platja d'Aro, Pals, Roses, Palamos, Llafranc and Calella de Pineda de Mar are the popular holiday resorts in Costa Brava.
The Costa Brava and the Pirineu de Girona offer wide range of prices and types of accommodation to its visitors. There are great hotels by the sea or in the mountains, apartments in lively tourist resorts or country houses set in the lovely nature as well as excellent campsites and world-class spas and wellness centres.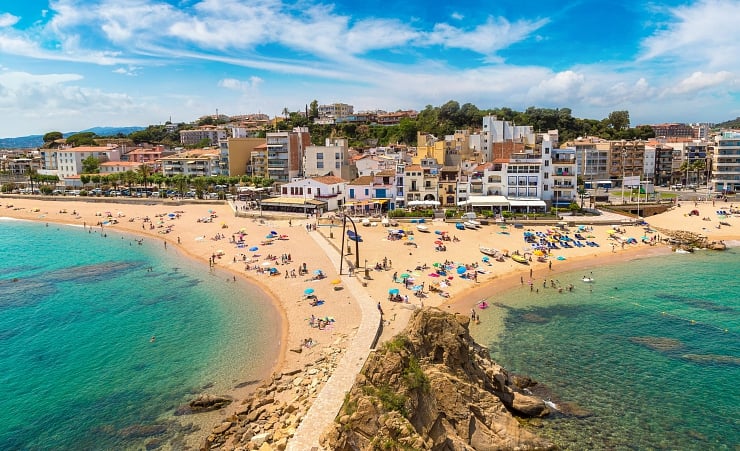 Coastal towns & resort in Costa Brava
Along the coast on the northern tip, you may visit and see Albera Mountains and Cap de Creus Peninsula with beautiful towns and resorts of Portbou, Colera, LLança, El Port de la Selva and Cadaques.
The Gulf of Roses welcomes visitors with its beautiful towns and resorts of Roses, Castello d'Empuries, Empuriabrava and L'Escala.
From Begur – Torroella de Montgri you may visit Pals, Ullastret, L'Estartit and Medes Islands.
On the southern coast of the Baix Emporda you may visit and see Begur, Palafrugell, Palamos, Platja d'Aro and Sant Feliu de Guixols.
And among the Selva Lowlands; Tossa de Mar, Lloret de Mar and Blanes are the popular holiday resorts.
Inland towns & resort in Costa Brava
Girona, Banyoles, Besalu and Figueres are the must see towns on the inland Costa Brava. Girona capital is a must with its Cathedral, Jewish Quarter, Arab Baths, Provincial Archaeological Museum, Old City Walls, Sant Nicolau and Sant Feliu.
Olot, Ripoll and Sant Joan de les Abadesses are the other town that worth a visit and see.
Video Tour

Of course it is not possible to explain everything about Costa Brava here. On our visual Costa Brava pages, you may find and discover the best of Costa Brava holidays for your needs such as best things to do, best sights, best beaches, best holiday resorts, best of nightlife, shopping and eating out activities, best museums and more…
You may plan your Costa Brava holidays regarding our travel guide pages. We wish you a wonderful Costa Brava holidays full of joy and happiness…
---