Playa del Ingles is a worldwide famous and the largest seaside resort located on the southern coast of Gran Canaria. Here you can find our ultimate travel guide and holidays to Playa del Ingles in Gran Canaria, including top things to do and see, attractions, sights, best places to stay, eat, drink, all tourist info you need.
What to Expect?
There are plenty of things to see and do in Playa del Ingles. The resort is known for its stunning beaches, vibrant nightlife, and wide range of activities for visitors of all ages.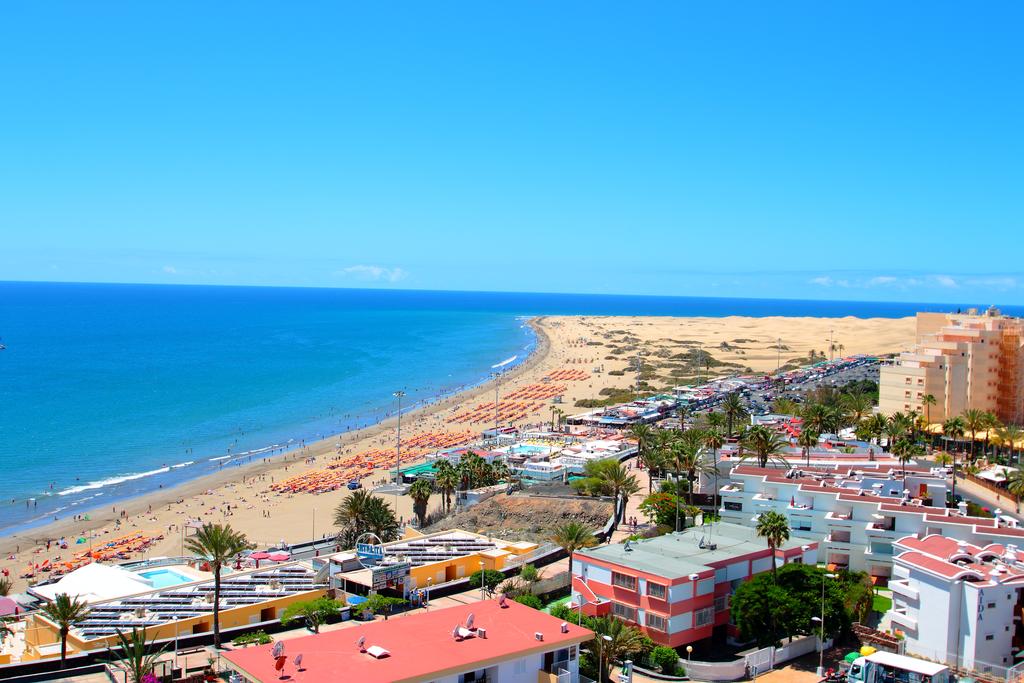 One of the main attractions in Playa del Ingles is its beautiful beaches. The golden sand stretches for miles, providing ample space for sunbathing, swimming, and water sports. Visitors can also take a stroll along the famous promenade, which is lined with shops, cafes, and restaurants.
Other popular one is taking a camel ride through the sand dunes of Maspalomas. Another popular activity is visiting the Aqualand Maspalomas water park, which is filled with fun water slides and pools. Golf lovers can also enjoy a round of golf at the nearby Maspalomas Golf Course.
For those seeking adventure, there are plenty of activities to choose from in Playa del Ingles. Water sports such as surfing, windsurfing, and jet skiing are popular choices, as are activities like paragliding and bungee jumping. The area also boasts several golf courses, hiking trails, and cycling routes for those who prefer to stay on land.
In addition to its outdoor activities, Playa del Ingles is also known for its lively nightlife. The area is home to a number of bars, clubs, and music venues, offering everything from live music to all-night parties. Visitors can enjoy a drink at a beachside bar, dance the night away at a club, or catch a show at a local theater.
---
No Regrets Booking Advice
---
Top Tours & Activities
Camel Safari: One of the best ways to explore the Dunes of Maspalomas is on a camel safari. Visitors can experience the beauty of the dunes and the Atlantic Ocean in a unique way while riding a camel.
Scuba Diving: The clear waters off the coast of Playa del Ingles offer an excellent opportunity for scuba diving. Visitors can explore the underwater world and see various species of fish, marine life, and colorful corals.
Jeep Safari: Explore the beautiful interior of Gran Canaria on a jeep safari. Visitors can see the rugged terrain, stunning views, and beautiful landscapes of the island.
Boat Tour: Take a boat tour to see the stunning coastline of Gran Canaria from the sea. Visitors can also spot dolphins and whales in their natural habitat.
Water Sports: Playa del Ingles is a paradise for water sports enthusiasts. Visitors can try windsurfing, jet skiing, parasailing, and many other exciting water sports activities.
Nightlife Tour: Playa del Ingles has a vibrant nightlife with plenty of bars, clubs, and discos. Visitors can take a guided nightlife tour to experience the best of the town's nightlife.
Shopping: The resort is a shopper's paradise with plenty of shopping malls, markets, and boutiques. Visitors can find souvenirs, fashion, and local products at reasonable prices.
Beach Activities: The resort has a beautiful beach that stretches for miles. Visitors can enjoy various beach activities such as sunbathing, swimming, and beach sports.
Beaches
One of the main attractions of Playa del Ingles is its beautiful beaches. The main beach stretches for over 2.7 km and offers crystal clear waters, soft sand, and plenty of space to relax and enjoy the sun.
Other popular beaches in the area include Maspalomas Beach and San Agustin Beach, both of which offer a variety of water sports activities.
Eating Out
Playa del Ingles has a great selection of restaurants, cafes, and bars that offer a variety of international cuisines. One of the best areas to find restaurants is along the promenade, which offers beautiful sea views while you enjoy your meal. Some popular dishes to try include papas arrugadas (wrinkled potatoes) and grilled fish.
Shopping
Playa del Ingles is home to a variety of shopping centers, including the Yumbo Centrum, which is known for its lively atmosphere and wide selection of shops, cafes, and bars. Other popular shopping centers include the Kasbah and Plaza centers. For those looking for souvenirs, there are plenty of small shops selling local crafts and gifts.
Nightlife
Playa del Ingles is known for its vibrant nightlife scene, with plenty of bars, clubs, and discos to choose from. The Kasbah Center is a popular spot for nightlife, with many bars and clubs staying open until the early hours of the morning. The Yumbo Centrum is also home to many bars and clubs, including a popular gay club scene.
Lodging
Playa del Ingles has a wide selection of hotels and resorts to choose from, ranging from budget-friendly options to luxury accommodations. Many hotels offer all-inclusive packages that include meals and activities, making it a great option for those looking for a hassle-free vacation.
Video Tour