Last Updated on January 1, 2022
Here you can find our ultimate travel guide and holidays to Playa del Ingles in Gran Canaria, including top things to do and see, attractions, sights, best places to stay, eat, drink, all tourist info you need. Playa del Ingles is a worldwide famous and the largest seaside resort located on the southern coast of Gran Canaria.
What to Expect?
Playa del Ingles is also one of the best holiday resorts in Spain. Holidaymakers may find all kinds of entertainment and things to do in Playa del Ingles.
The resort offers excellent beach holidays and services such as shopping malls, restaurants, shows, fun-fair, aqua park and nightlife.
The resort successfully manages to maintain an equilibrium between its built up area and beach capacity of the actual Playa del Ingles beach.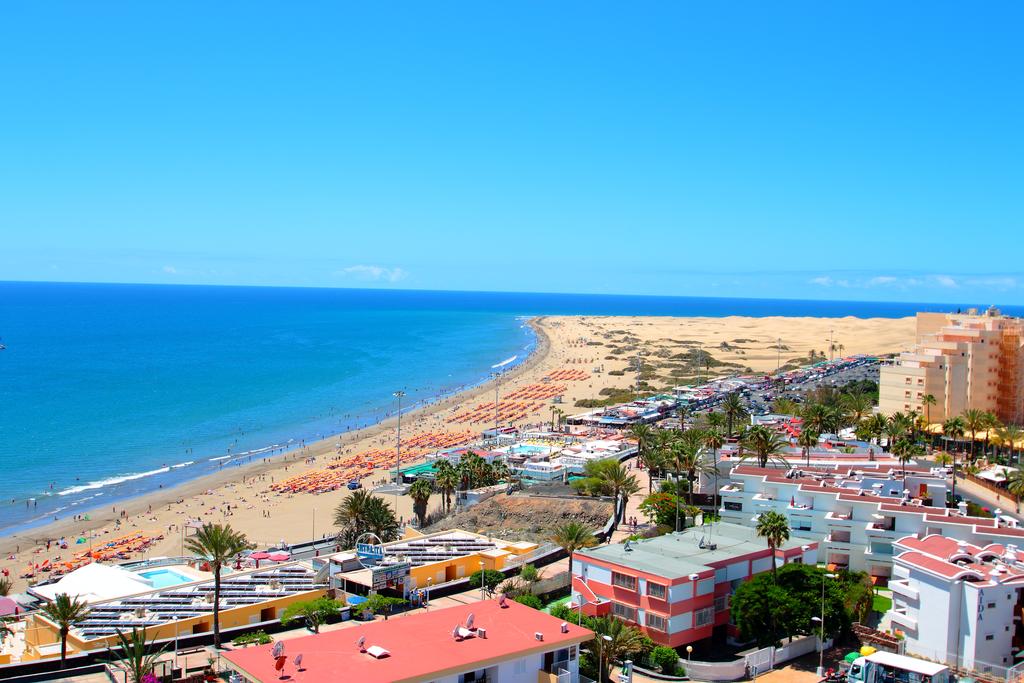 The preponderance of bungalows and two-storey houses over high-rise buildings, together with the abundance of landscaped areas, lend this holiday town a peaceful place and relaxed air.
There is wide range of accommodation available at the resort and covers all manner of tourist establishments, from quiet small-sized holiday-home complexes to luxury hotels complete with all possible services.
The residential area of the resort situated parallel to the beach that stretches for about 3 km. lengthwise and about 2 km. inland at its widest point and ends just where other popular holiday resort Maspalomas begins. Playa del Ingles and Maspalomas are really just two sides of one and the same beach.
From any point on the seaside promenade running from one end of this beautiful holiday resort to the other end, holidaymakers may contemplate the immensity of the dunes that are particularly stunning at dusk.
The Dunes of Maspalomas is a natural formation situated on the west side of the resort and is one of the most popular attractions with its spectacular sandy peaks of 4,5 square km. sand desert. A must see.
The best point to enjoy the are is the belvedere that stands at the end of the Avenida de Tirajana.
Video Tour
Of course it is not possible to explain everything about this amazing holiday resort here. On our visual pages, you may find and discover the best holidays for your needs such as best things to do, best sights, best beaches, best holiday resorts, best of nightlife, shopping and eating out activities, and more…
You may plan your holidays here regarding our travel guide pages. We wish you a wonderful Playa del Ingles holidays full of joy and happiness…
---