If you're looking for a fun-filled day out in Gran Canaria, Aqualand Maspalomas is the perfect destination for you. This popular water park offers a variety of thrilling rides and attractions for all ages, making it a must-visit attraction for families and thrill-seekers alike. Here you can find visitor information on Aqualand Maspalomas, including what to see and expect from your visit, top water attractions, location, tickets, and best tours advice.
What to Expect from Your Visit
Located in the southern part of the island, Aqualand Maspalomas offers a range of facilities, including parking, lockers, and changing rooms, making it easy for visitors to enjoy their day in comfort.
Once inside the park, visitors can enjoy a variety of water-based attractions. The park features numerous slides, including the exhilarating Tornado and the twisting Kamikaze, which are sure to get your adrenaline pumping.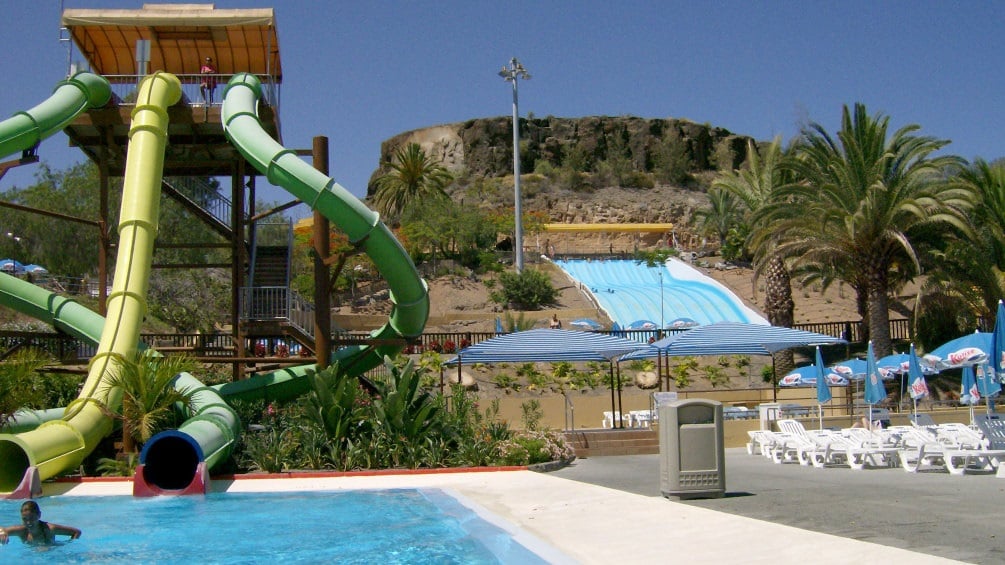 For those seeking a more relaxed experience, the park also has a large wave pool and a lazy river.
In addition to the water-based attractions, the park also offers a range of dining options and shops selling souvenirs and swimwear.
You can enjoy a meal at one of the park's many restaurants, or simply grab a quick snack from one of the snack bars.
---
No Regrets Booking Advice
---
For families with young children, Aqualand Maspalomas also has a dedicated children's area, featuring a variety of smaller slides and water-based attractions that are suitable for younger visitors. The park is also one of the best water parks in Spain.
Attractions
Aqualand Maspalomas features a variety of attractions for visitors of all ages. Some of the most popular attractions include:
Wave Pool: This is one of the largest wave pools in Europe, and it generates waves of up to 3 meters high.
Kamikaze: This is a thrilling high-speed water slide that takes riders on a 22-meter free fall.
Anaconda: This is a massive water slide that winds through a series of twists and turns, eventually plunging riders into a pool at the end.
Rapids: This attraction takes visitors on a lazy river ride through a series of rapids and waterfalls.
Mini Park: This area is designed for younger children and features a variety of smaller slides, fountains, and play areas.
Visiting Information
Aqualand Maspalomas is one of the largest water parks in Gran Canaria, offering visitors a fun-filled day of water-based activities and attractions. The park is located in the southern part of the island, in the popular resort town of Maspalomas.
Opening Hours
Aqualand Maspalomas is open daily from 10am to 5pm, although hours may vary depending on the time of year.
Tickets
Visitors can purchase tickets at the park entrance or online in advance. The park offers a variety of food and drink options, including a restaurant, snack bars, and ice cream vendors. There are also a variety of shops selling souvenirs, swimwear, and other beach items.
Getting There
Aqualand Maspalomas is located in Maspalomas, which is easily accessible by car or public transportation. The park offers free parking for visitors, or visitors can take a bus from the nearby towns of Playa del Ingles, San Agustin, or Puerto Rico. Taxis are also readily available in the area.
Tips
Bring sunscreen, as the sun can be intense in Gran Canaria.
Bring a towel and change of clothes, as many of the attractions involve getting wet.
Consider purchasing tickets online in advance to avoid lines at the park entrance.
Be prepared for crowds, especially during peak tourist season.
Buy Your Aqualand Maspalomas Tickets in advance Online
Free cancellation up to 24 hours in advance for a full refund
by Getyourguide
by Viator
Video Tour