Maspalomas is one of the most popular and oldest holiday resort located on the southern coast of Gran Canaria. This vibrant town is known for its stunning beaches, breathtaking sand dunes, and bustling nightlife. Here you can find our ultimate travel guide and holidays to Maspalomas in Gran Canaria, including top things to do and see, attractions, sights, best places to stay, eat, drink, all tourist info you need.
What to Expect?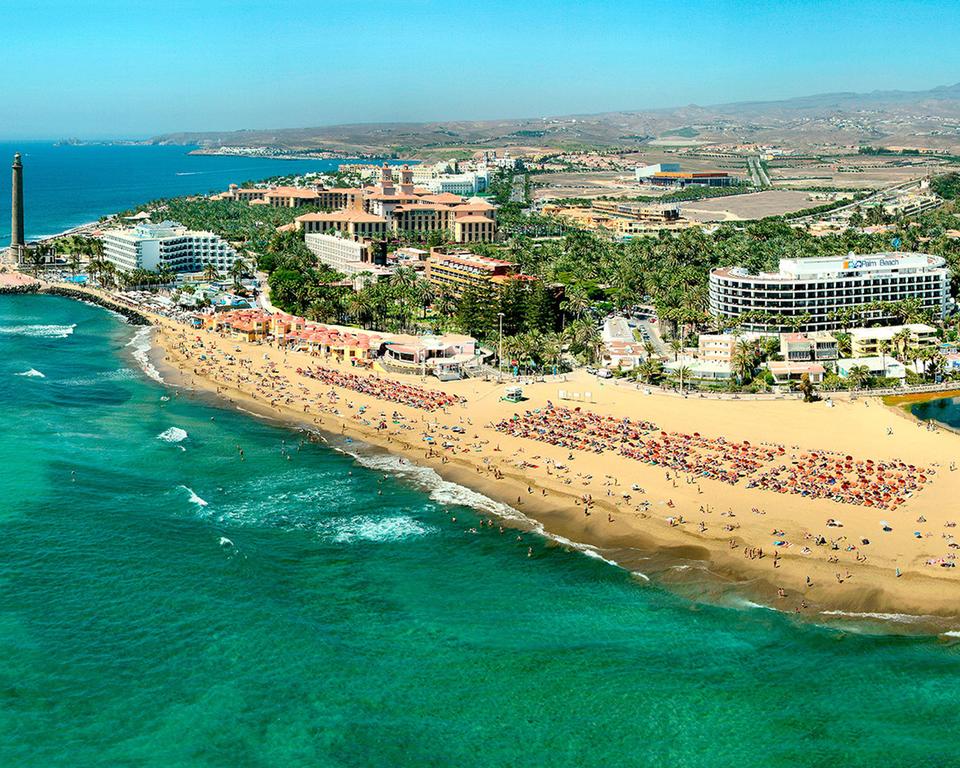 Top Tours & Activities
Camel Safari: Experience the desert-like terrain of Maspalomas in a unique way by taking a camel safari. You'll be able to ride these gentle giants through the dunes while enjoying the beautiful views.
Maspalomas Lighthouse: Take a walk to the Maspalomas Lighthouse and enjoy panoramic views of the coastline. This historic lighthouse is an iconic symbol of Gran Canaria and a must-visit destination for tourists.
Water Sports: With its location on the coast, Maspalomas offers plenty of water sports activities, including windsurfing, kiteboarding, and parasailing.
Aqualand Maspalomas: This water park features a variety of slides and attractions for visitors of all ages. Enjoy a day of fun in the sun with the whole family.
Dunas de Maspalomas Natural Reserve: Take a hike through the natural reserve and experience the unique flora and fauna of the area. You can also take a guided tour to learn more about the local ecosystem.
Shopping: The resort is home to a number of shopping centers, including the popular Yumbo Centrum. Visitors can find a variety of shops, restaurants, and bars.
Nightlife: The resort has a vibrant nightlife scene with a variety of bars, clubs, and live music venues. Visitors can enjoy a night out on the town after a day of exploring the city.
Beaches: The resort is known for its beautiful beaches, including Playa del Ingles and Maspalomas Beach. Visitors can enjoy swimming, sunbathing, and a variety of water sports activities.
Golf: The resort is home to several golf courses, including the Maspalomas Golf Course. Visitors can enjoy a round of golf while taking in the beautiful views of the surrounding landscape.
Quad Biking: Take a quad bike tour through the dunes of Maspalomas for a thrilling adventure. This activity is great for those looking for an adrenaline rush.
Beaches
The resort is home to one of the most stunning beaches in Gran Canaria. The Maspalomas Beach is a long stretch of golden sand, backed by the impressive sand dunes. It is a great place to soak up the sun, swim, and enjoy water sports. The beach is also known for its beach bars and restaurants where you can enjoy some delicious local cuisine.
Eating Out
Maspalomas has a wide variety of restaurants, cafes, and bars. The town offers a range of cuisine options including Spanish, Italian, Indian, Chinese, and more. The town center is the hub for dining with a range of budget-friendly options, as well as fine dining experiences. Maspalomas is known for its seafood, so make sure to try some fresh local catch.
Shopping
If you love shopping, Maspalomas is a perfect destination for you. The town has several shopping centers including the popular Yumbo Centrum, which is a bustling outdoor shopping complex with shops, restaurants, and bars. You'll find a range of boutiques, souvenir shops, and big-name brands, making it a great place to shop for clothes, jewelry, and gifts.
Nightlife
Maspalomas has a thriving nightlife scene, with several bars, pubs, and nightclubs. The town is popular with the LGBT+ community, and you'll find a range of gay bars and clubs in the Yumbo Centrum. The nightlife scene in Maspalomas is diverse, with something for everyone, from casual bars to upscale nightclubs.
Lodging
Maspalomas offers a range of accommodation options, including hotels, resorts, apartments, and holiday homes. You'll find something to suit all budgets and preferences, from luxury hotels to budget-friendly hostels. Many of the hotels and resorts are located near the beach, offering stunning ocean views and easy access to the beach.
Video Tour