Barcelona, located on the northeastern coast of Spain, is a city that is known for its art, architecture, beaches, and delicious cuisine. The city boasts a unique blend of Catalan culture and Spanish heritage, making it a fascinating destination to visit. Barcelona is home to many world-renowned attractions, including the famous Sagrada Familia, Park Güell, and the Picasso Museum. In this Barcelona travel guide, we will explore the top sights, tours, and activities, transportation options, and lodging options in Barcelona.
Top Facts
Barcelona is the second-largest city in Spain, with a population of over 1.6 million people.
The official languages are Catalan and Spanish, and the currency is the euro.
Barcelona is known for its stunning modernist architecture, with works by Antoni Gaudí, Lluís Domènech i Montaner, and others.
The city has a vibrant nightlife, with many bars, clubs, and restaurants staying open late into the night.
Barcelona is home to many beautiful beaches, including Barceloneta, which is one of the city's most popular beaches.
Top Sights
Sagrada Familia: This famous basilica, designed by Antoni Gaudí, is one of the most iconic landmarks in Barcelona. It's a must-visit attraction for anyone interested in art and architecture.
Park Güell: This beautiful park, also designed by Gaudí, is a UNESCO World Heritage Site and features stunning mosaics and sculptures.
La Rambla: This bustling pedestrian street is lined with shops, restaurants, and street performers. It's a great place to people-watch and soak up the local atmosphere.
Picasso Museum: This museum is home to a collection of over 4,000 works by Pablo Picasso, making it one of the most important museums dedicated to the artist in the world.
Camp Nou: This is the home stadium of the famous Barcelona FC soccer team and is a must-visit attraction for sports fans.
To truly explore and experience Barcelona, take a leisurely walk through its streets and plazas. The Barri Gotic or Gothic Quarter is the heart of the city, where Roman Barcino was founded, and it remains the historic, religious, and political center of Barcelona.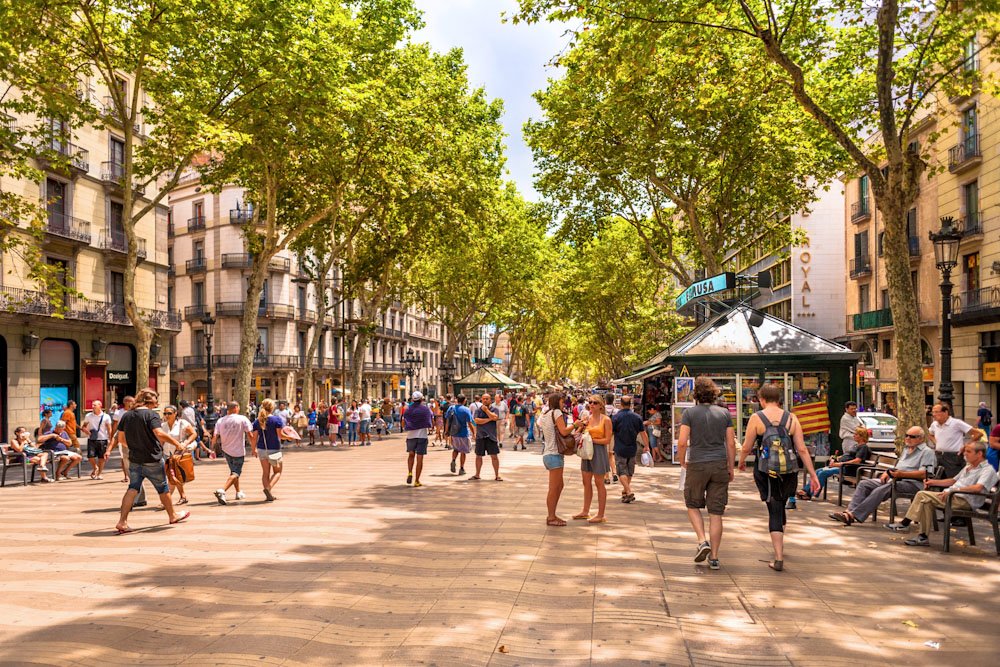 La Rambla, a famous pedestrian street, is the lifeline connecting Plaza de Catalunya to the harbor, and it is a bustling commercial area and communications hub. La Rambla is a microcosm of activity, a people-watcher's paradise with an array of curious characters at any hour.
La Ribera, located in the old quarter, is a charming and beloved area that was once the center of trade guilds, commerce, and shipping during the Middle Ages. The Eixample is the central district of Barcelona, while the Waterfront area is the beach region of the city.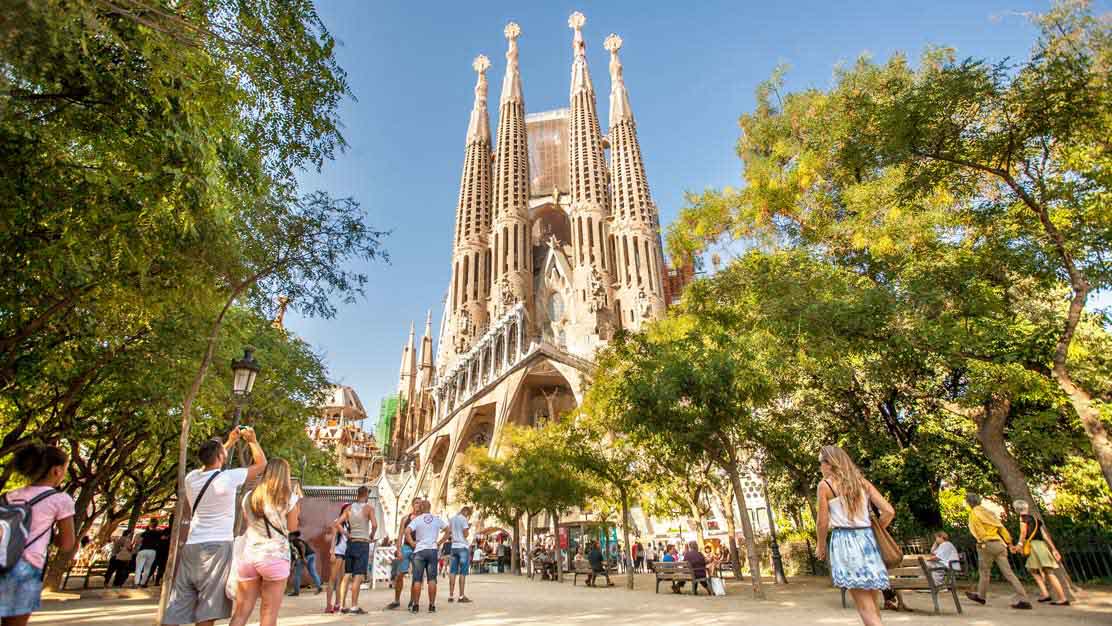 Barcelona has five UNESCO-designated World Heritage sites in the modernist style, including Güell Park, Palau Güell, Casa Milà or La Pedrera, Palau de la Música Catalana, and Hospital de la Santa Creu i Sant Pau. The summer Festival Grec is the most significant cultural event in Barcelona, held on warm summer nights.
Tours & Activities
Tapas Tour: Experience the best of Catalan cuisine on a tapas tour of the city.
Gaudí Tour: Explore the many works of Antoni Gaudí, including the Sagrada Familia and Park Güell.
Flamenco Show: Experience the traditional Spanish dance form in one of Barcelona's many flamenco shows.
Barcelona Bike Tour: See the city's main attractions on two wheels and enjoy a leisurely ride through the city's streets.
Montserrat Tour: Take a day trip to the nearby Montserrat Monastery, which is located in the mountains just outside of Barcelona.
Culture & Art
Barcelona is one of the cultural hubs of Europe with a rich artistic heritage that spans centuries. The city is home to a wide variety of museums, art galleries, and cultural institutions that cater to different interests and tastes.
One of the most famous cultural attractions in Barcelona is the Picasso Museum, which houses the works of the world-renowned Spanish artist Pablo Picasso. Visitors can see a collection of more than 4,000 pieces that provide a glimpse into the life and works of this great artist.
The Joan Miró Foundation is another important cultural institution in Barcelona. This museum showcases the works of the surrealist painter Joan Miró, and visitors can see a collection of more than 14,000 pieces that provide an insight into the life and works of the artist.
For those interested in modern and contemporary art, the Museum of Contemporary Art of Barcelona (MACBA) is a must-visit. The museum features works of contemporary art from the mid-20th century to the present day and has a permanent collection of over 5,000 works of art.
Other important cultural institutions in Barcelona include the National Art Museum of Catalonia, the Museum of History of Barcelona, the Barcelona Museum of Contemporary Art, and the Fundació Antoni Tàpies. These museums and galleries cater to different interests and tastes and are great for those who want to explore Barcelona's rich artistic heritage.
Gastronomy & Eating Out
Barcelona is a food lover's paradise, with plenty of dining options to suit every budget and taste. The city offers a wide range of traditional Catalan cuisine, as well as international food, making it a perfect destination for foodies.
When it comes to eating out in Barcelona, there are many options. Visitors can enjoy tapas at one of the many tapas bars, try out the local seafood, or dine at a Michelin-starred restaurant. The city's markets, such as La Boqueria and Mercat de Santa Caterina, are also great places to find fresh produce and local specialties.
Shopping
Barcelona has something for everyone, from high-end designer boutiques to local artisanal shops. The Passeig de Gracia and the Gothic Quarter are popular shopping destinations for fashion enthusiasts, while El Raval is known for its vintage shops and streetwear boutiques.
Nightlife
When it comes to nightlife, Barcelona has a thriving scene that is perfect for party-goers. The city is home to a number of bars, clubs, and music venues, and is particularly well-known for its electronic music scene. From laid-back beach bars to sophisticated rooftop bars, there is something for everyone in Barcelona. Visitors may also enjoy the local tradition of vermouth, which is a popular aperitif in the city.
Beaches
Barcelona is a bustling city on the northeast coast of Spain, surrounded by the Mediterranean Sea. The city boasts several beautiful beaches that attract both locals and tourists. The most famous beach in Barcelona is La Barceloneta, which is located close to the city center and offers several amenities such as showers, restaurants, and water sports activities. The beach is perfect for swimming, sunbathing, or taking a leisurely stroll along the promenade.
Other popular beaches in Barcelona include Nova Icaria, Bogatell, and Mar Bella. These beaches are known for their clean waters, golden sand, and a wide range of activities that visitors can indulge in.
Whether you are looking for a quiet spot to relax or an energetic atmosphere to party, Barcelona beaches have it all.
Transportation
Barcelona has a well-connected public transportation system that includes buses, trams, and a metro system. The metro is the most convenient and efficient way to get around the city, with 11 lines that cover most of the city's main attractions. Buses are also a good option, and there are many taxi stands and ride-hailing services available as well.
Logging
Barcelona offers a wide range of lodging options, from budget-friendly hostels to luxury hotels. Many of the hotels are located in the city center, within walking distance of the main attractions. Some of the top-rated hotels in Barcelona include the Hotel Arts Barcelona, the W Barcelona, and the Mandarin Oriental Barcelona.
In conclusion, Barcelona is a vibrant and captivating city that offers visitors a wealth of art, culture, and entertainment. From the stunning works of Gaudí to the delicious Catalan cuisine, there is something for everyone in Barcelona. So, whether you're an art lover, history buff, or a foodie, Barcelona should definitely be on your travel bucket list.