Barcelona offers a number of excellent theme parks with variety of rides, attractions, and experiences for their visitors. Here are the top best theme parks in Barcelona that you won't want to miss!
7 Best Theme Parks in Barcelona
Tibidabo Amusement Park, Park Güell and Barcelona Aquarium are the most popular and most visited theme parks in Barcelona. Tibidabo Amusement Park is also one of the best theme parks in Spain. They all offer great attractions and fun day out to its visitors.
Most parks offer a variety of ticket options, including single-day tickets, multi-day passes, and skip-the-line tickets, so be sure to choose the option that best fits your needs.
PortAventura World – Tarragona, Costa Dorada
PortAventura World in Salou, is one of the largest and most popular amusement parks in Spain. Located just an hour outside of Barcelona, PortAventura World is one of the largest and most popular theme parks in Europe.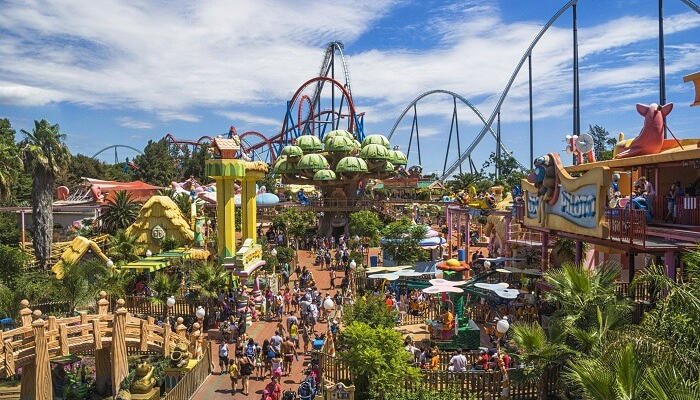 With six themed areas, including the brand new Ferrari Land, PortAventura offers a wide range of rides and attractions, from thrilling roller coasters to family-friendly shows and exhibits.
Book PortAventura World Ticket Online
Free cancellation up to 24 hours before activity starts
---
Tibidabo Amusement Park
Perched on a hill overlooking the city, Tibidabo Amusement Park has been entertaining visitors for over a century. The park features a variety of classic and modern rides, as well as stunning views of Barcelona.
It has a range of rides, including vintage roller coasters, a Ferris wheel, and a haunted house. The park also features a museum of automata and other mechanical curiosities.
Barcelona Aquarium
Barcelona Aquarium, also known as L'Aquàrium de Barcelona, is one of the most popular and unique attractions in the city. It is located in Port Vell, the old harbor of the city, and is considered the largest aquarium in Europe.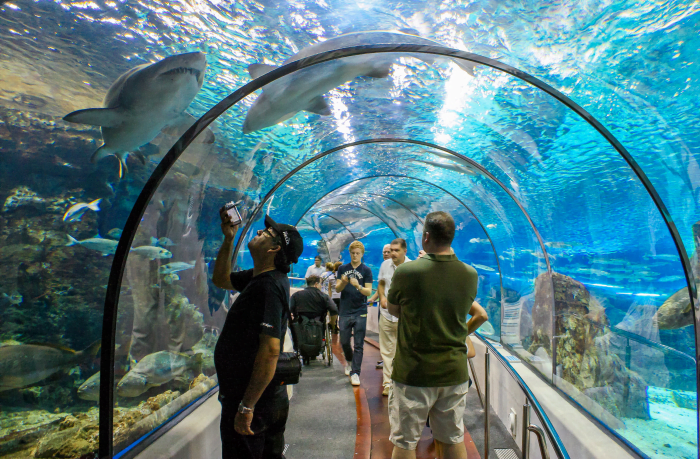 One of the highlights of the Barcelona Aquarium is the Oceanarium, a large tank that contains a variety of marine species, including sharks, rays, and groupers. Visitors can walk through a transparent tunnel that runs through the tank, providing a unique perspective of the marine life. The aquarium is home to over 11,000 animals from over 450 species, including Mediterranean and tropical fish, jellyfish, and sea turtles.
In addition to the Oceanarium, the Barcelona Aquarium also features a range of other exhibits, including a touch pool, where visitors can touch starfish and other creatures, and a coral aquarium that houses a variety of colorful coral species. The aquarium also has a dedicated area for children, with interactive exhibits and educational displays.
Park Güell
Park Güell is located in the Gràcia district of Barcelona, and was designed by the renowned architect Antoni Gaudí and is known for its impressive sculptures, mosaics, and colorful buildings.
Illa Fantasia
Located in the town of Vilassar de Dalt, just outside of Barcelona, Illa Fantasia is a family-friendly water park that's perfect for a day of fun in the sun. With over 22 rides and attractions, there's something for everyone at this park. Thrill-seekers will love the towering water slides, while little ones will have a blast at the shallow pools and mini water park.
Catalunya en Miniatura
More than just a theme park, Catalunya en Miniatura is a miniature park featuring scale models of some of the most famous buildings and landmarks in Catalonia. The park also features a mini-golf course, a train ride, and other family-friendly attractions.
Bosc Tancat
For adventure seekers, Bosc Tancat is the place to be. This outdoor adventure park offers zip lines, climbing walls, and other high-flying attractions. It's a great place to test your limits and try something new.