Palau Güell is a magnificent mansion in Barcelona that was designed by the famous Catalan architect Antoni Gaudí, and declared a World Heritage by the UNESCO. The building was commissioned by the industrialist Eusebi Güell, and was constructed between 1886 and 1890. It is considered one of the most important works of Gaudí and is an essential stop on any tour of the city. In this guide, we'll take a look at what to expect from your visit to the Palau Güell and what to see, visiting tips, tickets and guided tours while you're there.
Top Facts about Palau Güell
Palau Güell was one of the first important commissions that Antoni Gaudí received in his career.
The mansion is located in the Raval neighborhood, which was then an upscale neighborhood of Barcelona.
The building is recognized as a World Heritage Site by UNESCO.
The façade of the building is made of stone and is characterized by its decorative wrought-iron gates, which were designed by Gaudí himself.
The interior of the building is just as impressive, featuring a variety of unique and elaborate features, such as the central hall with a skylight and the horse stables on the ground floor.
Palau Güell was one of the first buildings in Barcelona to be equipped with a parabolic reflector, which allowed for better lighting in the main hall.
The mansion was restored between 1982 and 1999 and has since been opened to the public as a museum.
A quick history of Palau Güell
The Palau Güell was built between 1886 and 1890 for the wealthy industrialist Eusebi Güell, who was a patron of Gaudí's work. The building was used as a residence for Güell's family and as a space for cultural events. The Güell family lived in the mansion until 1945 when it was sold to the Barcelona City Council.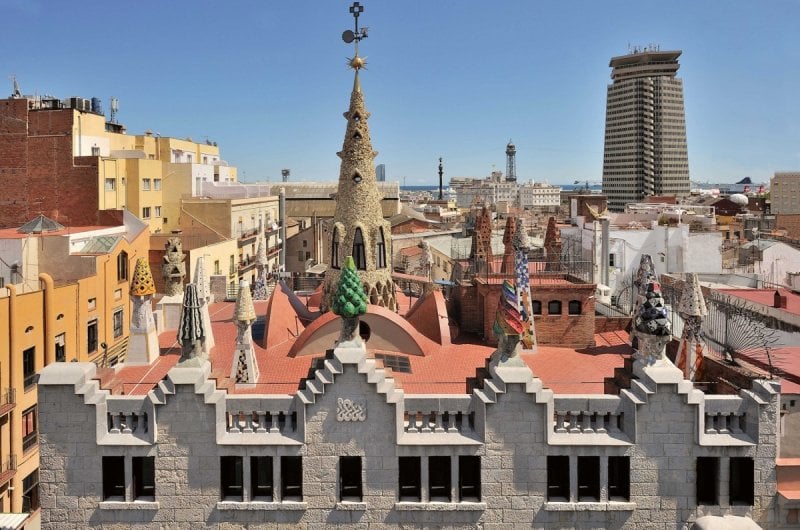 The building was used for various purposes over the years, including as a police station and a center for political activities. In 1982, the building was declared a World Heritage Site by UNESCO, and a restoration project was undertaken, which was completed in 1999.
Today, Palau Güell is open to the public as a museum and is a must-visit destination for anyone interested in the works of Antoni Gaudí.
What to See & Expect from Your Visit
Visitors to Palau Güell can expect to see a stunning example of Gaudi's architectural brilliance, with many unique and striking features. One of the most striking elements is the rooftop, which boasts 20 chimneys that are covered in colorful mosaics.
The chimneys are designed to be both functional and decorative, and they are just one example of the many intricate details that make up this beautiful palace.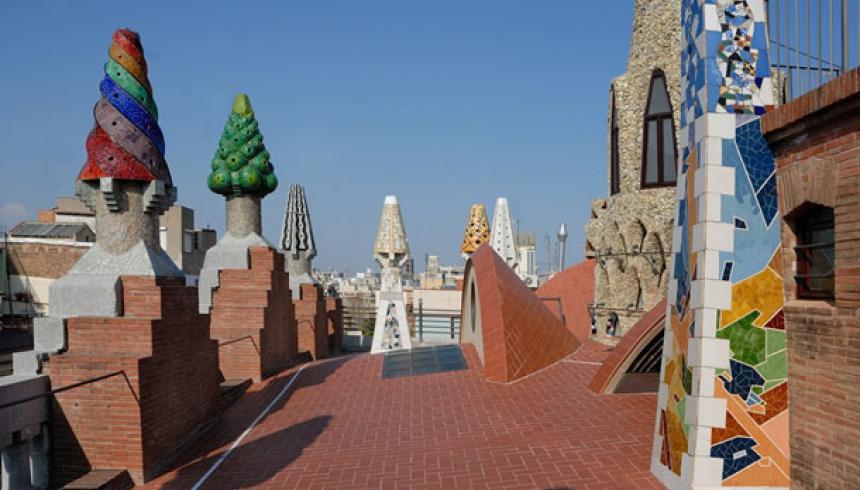 Inside the palace, visitors can explore the grand reception hall, which features an ornate staircase that is adorned with detailed ironwork.
The main hall is a sight to behold, with its high ceilings and beautiful stained glass windows. The palace also houses an impressive collection of artwork, including many pieces that were collected by Eusebi Güell himself.
When visiting Palau Güell, it is recommended to take a guided tour, as this will allow visitors to fully appreciate the many fascinating details and unique features of this magnificent building. Guided tours can be booked in advance online or at the entrance to the palace.
Overall, a visit to Palau Güell is a must for anyone visiting Barcelona. , and is sure to leave a lasting impression on all those who have the opportunity to explore its many fascinating rooms and features.
Visiting Information
Location
Palau Güell is located at Carrer Nou de la Rambla.
Opening hours
Palau Güell is open to visitors from Tuesday to Sunday, from 10 am to 5:30 pm. It is closed on Mondays.
Tickets
Admission tickets can be purchased online or on-site. Prices range from €12 to €24, depending on the type of ticket and whether you opt for an audio guide or a guided tour.
How to get there
The easiest way to get to Palau Güell is by public transport. The closest metro station is Liceu, on line 3. Buses 14, 59, and 91 also stop nearby.
Visiting Tips
Book your tickets in advance: Palau Güell is a popular attraction in Barcelona, so it's a good idea to book your tickets in advance. This will help you avoid the long queues and ensure that you get to visit the palace at your preferred time.
Wear comfortable shoes: The palace has several floors and visitors are required to climb the stairs to get to the upper floors. It's advisable to wear comfortable shoes to make your visit more enjoyable.
Take a guided tour: A guided tour is a great way to learn more about the history and architecture of the palace. There are guided tours available in several languages, so you can choose one that best suits your needs.
Visit the rooftop: The rooftop of Palau Güell offers stunning views of Barcelona. It's worth taking the time to visit the rooftop and take in the views.
Follow the rules: Palau Güell is a historic building and it's important to follow the rules to help preserve it for future generations. Avoid touching the exhibits, don't smoke on the premises, and avoid using flash photography.
Buy Guided Tours
Guided tours are available in English, Spanish, Catalan, French, Italian, and German. The tour lasts about an hour and includes an introduction to the history and architecture of the palace. Guided tours are available for an additional fee.
Buy Your Pala Güell Guided Tour in advance Online
Free cancellation up to 24 hours in advance for a full refund