San Agustin is one of the most popular holiday resorts in Gran Canaria located on the southern coast of Gran Canaria. This quaint town is a popular holiday destination for tourists seeking sun, sea, and sand in a quieter, more laid-back setting. Here you can find our ultimate travel guide and holidays to San Agustin, including top things to do and see, attractions, sights, best places to stay, eat, drink, all tourist info you need.
What to Expect?
San Agustin boasts several stunning beaches with golden sand and clear waters, including Playa de San Agustin and Playa de las Burras. These beaches are perfect for swimming, sunbathing, and water sports such as windsurfing and jet skiing.
Additionally, the town is home to several bars and restaurants serving up delicious Canarian cuisine, seafood, and international dishes.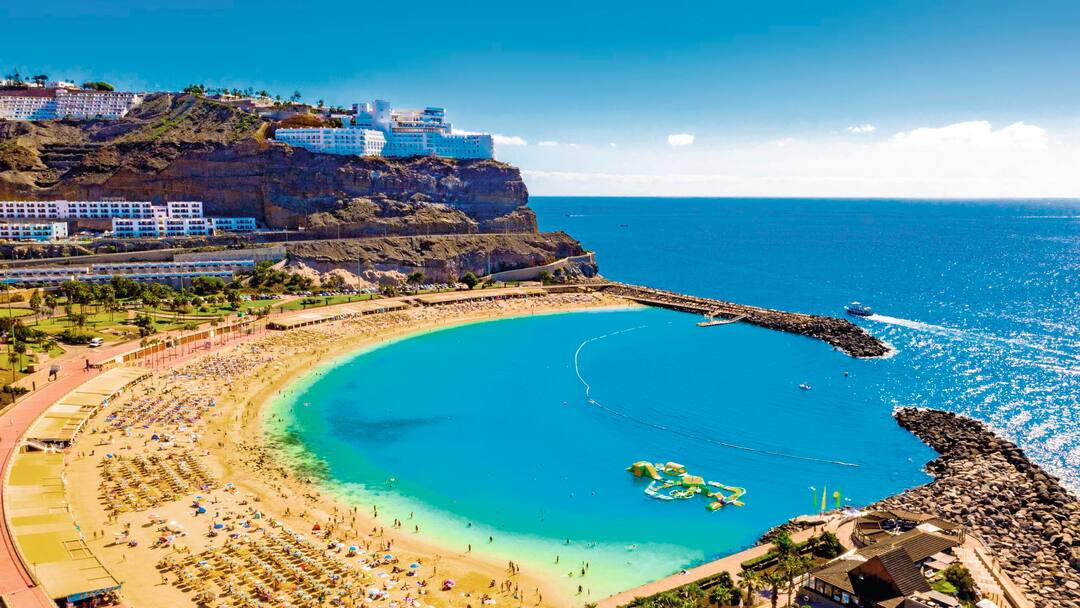 For those looking to explore the natural beauties, there are several hiking and cycling trails to explore, including the nearby Dunas de Maspalomas Natural Reserve, which boasts sand dunes and a lagoon. Golf enthusiasts can also indulge in their hobby at the nearby Maspalomas Golf Course.
The resort is also home to several cultural attractions, such as the Centro Comercial, a shopping center with a variety of shops, cafes, and restaurants, and the historic San Agustin Church, which dates back to the 18th century.
You can easily reach the town via Gran Canaria Airport, located just 30 minutes away by car. Alternatively, visitors can take a bus or taxi from the airport to San Agustin.
Top Tours & Activities
San Agustin has plenty to offer visitors seeking a laid-back and relaxing vacation. Here are some top tours and activities to enjoy:
Water sports: The calm waters make it an ideal spot for water sports such as windsurfing, kayaking, and stand-up paddleboarding. Several local companies offer equipment rental and lessons for all skill levels.
Beaches: The resort area boasts two beautiful beaches: Playa de San Agustin and Playa de las Burras. Both offer soft golden sand and clear waters perfect for swimming and sunbathing.
Spa treatments: The resort is home to several high-end spa resorts, offering a range of relaxing treatments including massages, facials, and hydrotherapy.
Golfing: Golf enthusiasts will enjoy the nearby golf courses, such as the Salobre Golf Course and Maspalomas Golf Course.
Hiking: The area surrounding the resort is full of natural beauty, with a variety of hiking trails offering stunning views of the coast and surrounding hills.
Shopping: The San Agustin Shopping Center offers a variety of shops and boutiques, selling everything from souvenirs to designer clothing.
Nightlife: While the resort is not known for its wild party scene, there are still plenty of bars and restaurants to enjoy a relaxed evening out. Many of the area's resorts also offer live entertainment and shows.
Beaches
San Agustin boasts of some of the most stunning beaches in Gran Canaria. The long and wide beaches here are perfect for sunbathing, swimming, and enjoying water sports like surfing and windsurfing. Playa de San Agustin, the main beach in the town, offers a wide range of facilities like sun loungers, parasols, and showers, making it a popular choice among tourists.
Eating Out
When it comes to eating out, there are plenty of options to choose from. The town has a wide range of restaurants that serve everything from traditional Canarian dishes to international cuisine. Fresh seafood is a must-try in San Agustin, as the town is located close to the sea and has some of the freshest catch of the day.
Shopping
San Agustin is a great place for shopping enthusiasts. The town has a range of shops selling everything from souvenirs to designer clothes. There are several shopping centers in the town, including the San Agustin Shopping Center, which houses a variety of shops, restaurants, and cafes.
Nightlife
Although San Agustin is a peaceful and serene town, it has a vibrant nightlife scene. There are several bars and pubs in the town that offer a range of drinks and entertainment options. Whether you're looking for a quiet drink or a lively night out, the resort has something to offer for everyone.
Accommodation
When it comes to lodging, the resort has a wide range of options to choose from. There are several hotels and resorts in the town that offer comfortable accommodation and top-notch amenities. From budget-friendly options to luxury resorts, San Agustin has something to offer for every budget and preference.