Tossa de Mar is also one the most popular tourist destinations in Costa Brava, in the municipality of La Selva, located on the north eastern coast of Spain, about 100 km. from Barcelona Airport and 40 km. from Girona Airport. Tossa de Mar is a lively resort that comes after Lloret de Mar on the south coast of Costa Brava.
What to Expect?
Tossa de Mar boasts a unique charm with its historic castle and charming streets. The town is situated on a beautiful bay, surrounded by lush green hills and crystal clear waters. The first thing that surprises the holidaymakers is the outstanding postcard view of Vila Vella, the old walled town of Tossa de Mar that stands over one side of the bay.
As you walk through the old town, you'll see charming, narrow streets lined with whitewashed buildings, flower-filled balconies, and traditional shops. The town is small but offers a great range of restaurants, cafes, and bars.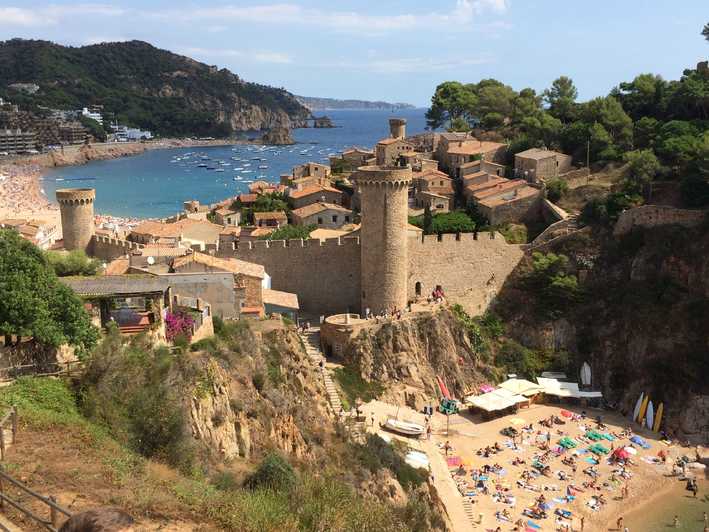 Tossa de Mar is well-known for its historic castle, Vila Vella, which dates back to the 12th century. The castle walls stretch around the old town and offer stunning views of the sea and coastline. You can also visit the lighthouse of the town, which is a popular spot for watching the sunset.
If you're looking for some sun, sea, and sand, Tossa de Mar has two main beaches: Tossa Beach and Mar Menuda Beach. Both beaches are stunning, with crystal clear waters and fine golden sand. Tossa Beach is the larger of the two and is ideal for families and sunbathers, while Mar Menuda is perfect for snorkeling and water sports.
In addition to the beaches, Tossa de Mar is surrounded by beautiful countryside and offers excellent hiking opportunities. The coastal path, Cami de Ronda, stretches from Tossa de Mar to nearby towns and provides some of the most beautiful views of the coastline.
Things to Do & See in Tossa de Mar…
Things to do and see in Tossa de Mar are endless. Popular attractions and sights in Tossa de Mar include;
A great day out at the Tossa de Mar old town and Vila Vella,
beaches and do water sports,
Municipal Museum of Tossa de Mar,
outstanding bay views,
cycling, hiking,
strolling around the Tossa de Mar centre.
Video Tour
Top Attractions & Sights for you…
Platja Gran beach
Platja Gran is a beautiful beach located in the town. The stunning beach is the main beach of Tossa de Mar and is known for its soft golden sand and crystal clear waters. It is situated right in the heart of the town, making it a convenient location for tourists to visit.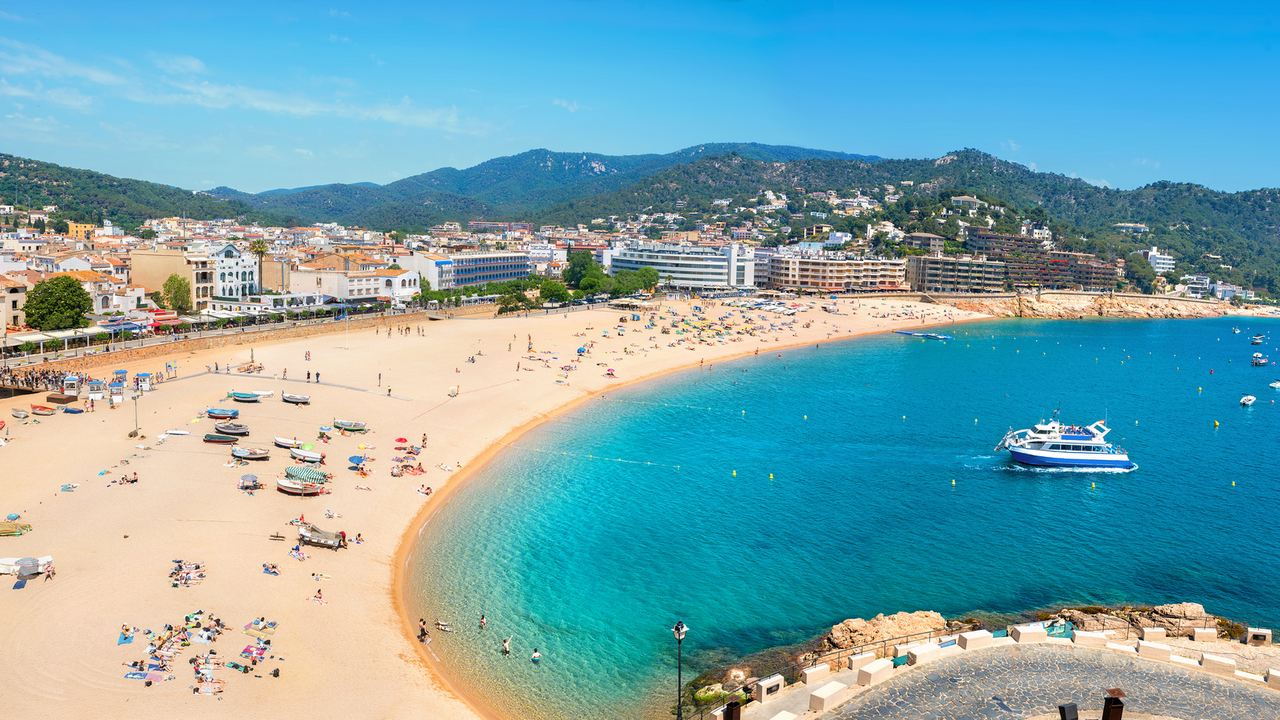 The beach is very spacious and provides a perfect spot for sunbathing, swimming, and water sports. The beach is also backed by a promenade lined with shops, bars, and restaurants where visitors can enjoy delicious food and drinks. The promenade offers stunning views of the Mediterranean Sea and is perfect for a leisurely stroll.
Platja Gran is a family-friendly beach with plenty of amenities for all ages. It has designated areas for beach volleyball, playgrounds for children, and plenty of sun loungers and umbrellas for rent. The lifeguard station ensures that the beach is safe for swimming, and there are showers and public toilets available for visitors.
The beach is also wheelchair accessible, with ramps leading down to the water's edge and beach wheelchairs available for rent. It is a great place for families, couples, and solo travelers to relax and enjoy the sun and sea.
La Mar Menuda beach
La Mar Menuda is one of the most beautiful beaches in the town, located just a short walk away from the town's castle. This crescent-shaped beach is surrounded by rocky cliffs and pine trees, creating a picturesque and tranquil atmosphere. The clear turquoise waters of La Mar Menuda are perfect for swimming and snorkeling, while the soft golden sand provides a comfortable spot for sunbathing and relaxing.
One of the unique features of La Mar Menuda is its shallow depth, making it an excellent choice for families with young children. The beach also offers various amenities such as showers, changing rooms, and beach bars serving refreshing drinks and snacks.
If you're feeling adventurous, you can rent a paddleboard or kayak from one of the nearby rental shops and explore the beautiful coastline. La Mar Menuda is also a popular spot for scuba diving, with various diving centers offering courses and guided tours to explore the rich marine life of the Mediterranean Sea.
Vila Vella
Vila Vella is a fortified medieval old town of Tossa de Mar. It is one of the few remaining fortified towns on the Catalan coast and is a popular tourist attraction. The walls of Vila Vella were built during the 14th century to protect the town from pirate attacks.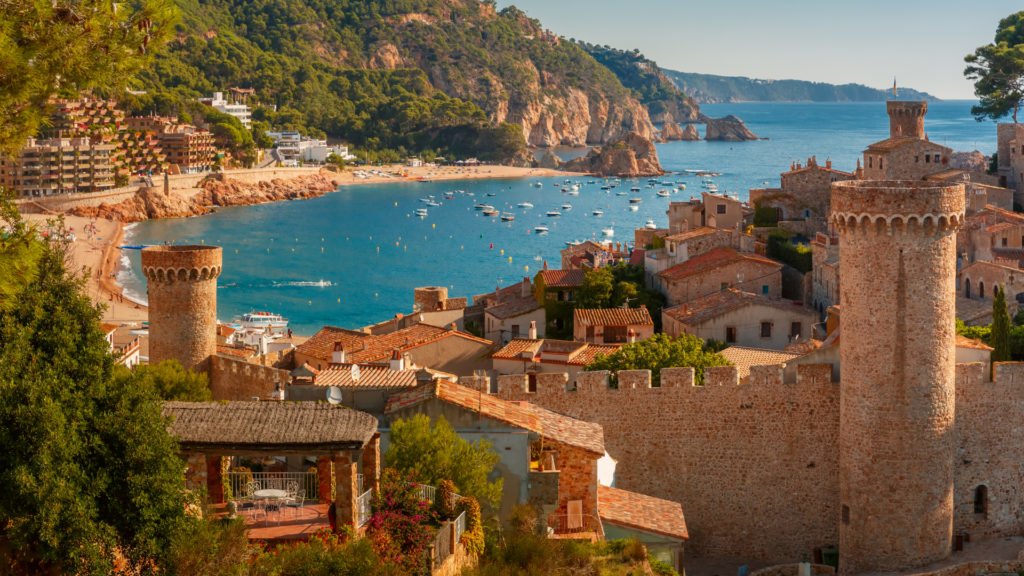 You can explore the narrow streets and alleys that wind through the town, which is perched on a rocky headland overlooking the sea. The town's walls offer stunning views of the coastline and the Mediterranean Sea. The walls are also home to several towers and lookout points that were used to spot approaching ships.
Within the walls of Vila Vella, visitors will find several historic buildings, including the Chapel of Our Lady of Socorro, which dates back to the 18th century. The town also has several museums, including the Municipal Museum, which features exhibits on local history and culture.
One of the most popular attractions in Vila Vella is the lighthouse, which dates back to the 19th century. Visitors can climb to the top of the lighthouse for panoramic views of Tossa de Mar and the surrounding coastline.
Water Sports
Tossa de Mar offers a variety of water sports activities for visitors to enjoy. From kayaking to snorkeling, there is something for everyone to explore the beautiful coastline and crystal clear waters of the Mediterranean.
Kayaking is a popular activity for those who want to explore the coastline at their own pace. There are several rental companies that offer kayaks for rent by the hour or day, and guided tours are also available for those who want to learn more about the area.
Snorkeling is another great way to discover the underwater world of the town. The waters are home to a variety of marine life, including colorful fish, starfish, and even octopuses. Snorkeling gear can be rented from local shops, or visitors can bring their own.
For those who want to try their hand at scuba diving, there are several diving centers in the area that offer beginner courses as well as advanced dives for experienced divers. The waters off the coast of Tossa de Mar are known for their clear visibility, making it an ideal location for diving.
In addition to these water sports, visitors can also enjoy other activities such as paddleboarding, windsurfing, and jet skiing.
Municipal Museum of Tossa de Mar
The Municipal Museum is a cultural center located in the heart of the old town. The museum is housed in an old stately home dating back to the 18th century and is dedicated to the history and art of the town.
Here you can explore a wide variety of exhibits that showcase the town's rich cultural heritage. There are sections dedicated to local art, including works by famous Catalan artists such as Joaquim Vayreda and Hermenegild Anglada Camarasa. There are also displays of traditional crafts, archaeological finds, and historic objects that tell the story of Tossa de Mar through the ages.
One of the most popular exhibits in the museum is the collection of Roman artifacts, which includes a range of everyday objects such as pottery, tools, and jewelry. There are also some interesting examples of Roman engineering, including a large stone cistern and an aqueduct that was used to bring water to the town.
Water World Water Park – in Lloret de Mar
Water World Water Park is one of the most popular attractions in Lloret de Mar. It is a large water park that offers plenty of exciting rides and attractions for visitors of all ages.
The park features a variety of water slides, wave pools, and lazy rivers. One of the most popular rides is the Kamikaze, a thrilling slide that drops riders from a height of over 30 meters at high speed. The park also has a large children's area with smaller slides and pools, as well as a pirate-themed area with water cannons and slides.
In addition to the water attractions, Water World also has several restaurants and snack bars throughout the park. Visitors can enjoy a variety of food and drink options, from fast food to more upscale dining.
Water World is open from late May to mid-September, and offers a variety of ticket options including day passes, season passes, and group rates.
Cycling & Hiking
Tossa de Mar is not only known for its beautiful beaches and historical landmarks, but it is also a popular destination for cycling and hiking enthusiasts. With its scenic routes and breathtaking views, it's the perfect place to explore on foot or by bike.
One popular hiking trail in Tossa de Mar is the Camí de Ronda, a coastal path that spans the length of the Costa Brava. This trail offers stunning views of the Mediterranean Sea and takes hikers through rocky coves and secluded beaches. There are also many trails that wind through the surrounding hills and forests, offering a chance to experience the natural beauty of the region.
For cycling enthusiasts, the town offers a variety of routes that cater to all skill levels. Whether you're looking for a leisurely ride through the countryside or a challenging mountain climb, there's a route for you. The roads around Tossa de Mar are well-maintained and offer breathtaking views of the coastline and surrounding hills.
If you're looking for a more guided experience, there are also many cycling and hiking tours available. These tours are led by knowledgeable guides who can help you discover hidden gems and share the history and culture of the region.
Daily Tours & Excursions
Food & Drink
Tossa de Mar is known for its fresh seafood, traditional Catalan cuisine, and local wines. Some of the best places to eat in Tossa de Mar include El Raco de Fenals, La Cuina de Can Simon, and La Lluna. For a casual meal or a quick snack, head to one of the many beachside cafes or tapas bars in town. Don't forget to try some of the local dishes, such as suquet de peix (fish stew) and paella.
Shopping
Tossa de Mar has a variety of shops and boutiques selling everything from souvenirs to designer clothing. The main shopping street in town is Carrer Portal, where you can find a mix of local and international brands. For unique gifts and artisanal products, head to the weekly market held on Thursdays in the town square.
Nightlife
Tossa de Mar has a lively nightlife scene with plenty of bars, clubs, and live music venues. Some of the best places to enjoy a night out in town include Bar Tomás, La Havana, and El Tunel. For a more relaxed evening, head to one of the beach bars or enjoy a cocktail at a rooftop terrace with stunning views of the town.
Lodging
Tossa de Mar offers a range of accommodation options, from budget-friendly hostels to luxury hotels. Some of the best places to stay in town include Hotel Windsor, Hotel Mar Bella, and Hotel Diana. For a more authentic experience, consider renting a villa or apartment in the town center or near the beach.
Getting There
By Air
The nearest airport to Tossa de Mar is Girona-Costa Brava Airport, which is located approximately 40 km away from the town. From the airport, you can take a taxi or a bus to Tossa de Mar. The taxi ride will take around 40 minutes, while the bus ride will take approximately 1 hour and 15 minutes.
Another option is to fly into Barcelona Airport, which is approximately 85 km away from Tossa de Mar. From there, you can take a bus or a train to Tossa de Mar.
By Train
If you prefer to travel by train, the nearest train station to Tossa de Mar is Blanes, which is approximately 15 km away. From there, you can take a taxi or a bus to the town. The train journey from Barcelona to Blanes takes approximately 1 hour and 20 minutes.
By Bus
There are several bus companies that operate services to Tossa de Mar from various locations. The most popular bus companies are Sarfa and Moventis. If you are traveling from Barcelona, you can take a bus from Estació del Nord bus station. The journey takes approximately 1 hour and 30 minutes.
By Car
If you prefer to drive, Tossa de Mar can be easily reached by car. From Barcelona, take the C-32 motorway towards Girona and then take the GI-682 road towards the town. The journey takes approximately 1 hour and 30 minutes, depending on traffic.