Puerto Banus is one of Europe's most famous holiday resorts and the main international tourist attraction on the Costa del Sol, neighbouring Marbella about 7 km., situated on the southern coast of Spain, about 57 kilometres from the centre of Malaga.
The resort is a jet set resort situated along a beautiful marina and is famous for its upmarket restaurants, nightclubs and designer shops. Holidaymakers may find numerous quality hotels, apartments and holiday accommodations in the resort.
Things to Do & See in Puerto Banus…
Things to do and see in Puerto Banus are endless. The Puerto Banus marina, luxury apartments, expensive shops and boutiques, clubs, piano bars and restaurants and the blue flagged Puerto Banus beach offers all the tourist services for the holidaymakers.
A great day watching out the yachts moored in the marina is also great in the resort. There is also a 30 mins boat trips from Puerto Banus to Marbella.
A great day out at the Puerto Banus marina and the blue flagged Puerto Banus beaches, a great evening out at the shops, clubs, piano bars and restaurants of Puerto Banus are the other popular attractions and sights in the resort. You may see a celebrity for sure in Puerto Banus.
Video Tour
---
No Regrets Booking Advice
---
Top Attractions & Sights in Puerto Banus for you…
Puerto Banus Marina
Puerto Banus Marina is a luxurious and renowned marina located in the town of Marbella. It is known for its glamorous atmosphere, high-end fashion boutiques, yachts, and luxury cars. The marina was designed in the 1970s by the famous Spanish architect, Jose Banus, and is now one of the most popular tourist attractions in the area.
The marina is home to a wide range of luxury shops, restaurants, cafes, bars, and nightclubs, making it a popular destination for those looking for a luxurious and upscale experience. Visitors can stroll along the marina and admire the impressive yachts and boats, or enjoy a drink at one of the many waterfront bars and cafes.
The marina is also a hub for water sports activities, with companies offering jet skiing, parasailing, and boat tours. Fishing trips and sailing excursions are also available for those looking to explore the Mediterranean sea.
During the summer months, the marina is home to several events and festivals, including fashion shows, concerts, and sporting events. The atmosphere is lively and vibrant, making it a popular destination for both locals and tourists alike.
Puerto Banus Beach
Puerto Banus Beach is a stunning stretch of golden sand, situated in the luxurious marina of the resort, and offers a vibrant and exciting atmosphere. The beach is very popular with locals and tourists alike, and offers a wide range of facilities including sun loungers, beach umbrellas, showers, toilets, and lifeguards.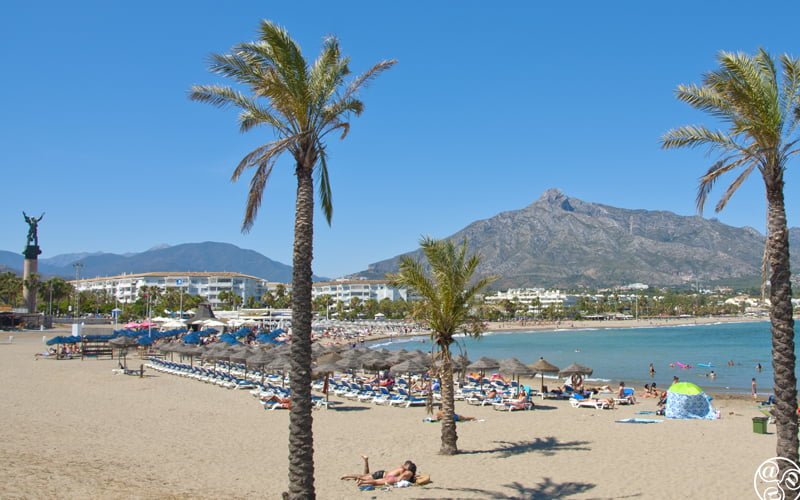 There are also many beach bars and restaurants where visitors can enjoy a refreshing drink or a delicious meal while taking in the stunning views of the Mediterranean Sea. The beach is easily accessible from the town center, and visitors can walk along the promenade to get there. The crystal clear waters of the sea are perfect for swimming, while the gentle waves make it ideal for water sports such as paddle boarding and kayaking.
Biking Tours
Puerto Banus is a great place to explore by bike, with its scenic coastal roads and charming inland routes. Biking tours offer a fun and unique way to see the beauty of this area while getting some exercise at the same time.
There are many different biking tours available in the resort, catering to riders of all levels and interests. Some tours take you on a leisurely ride along the seafront, passing by the marina and beaches, while others explore the surrounding countryside and mountains.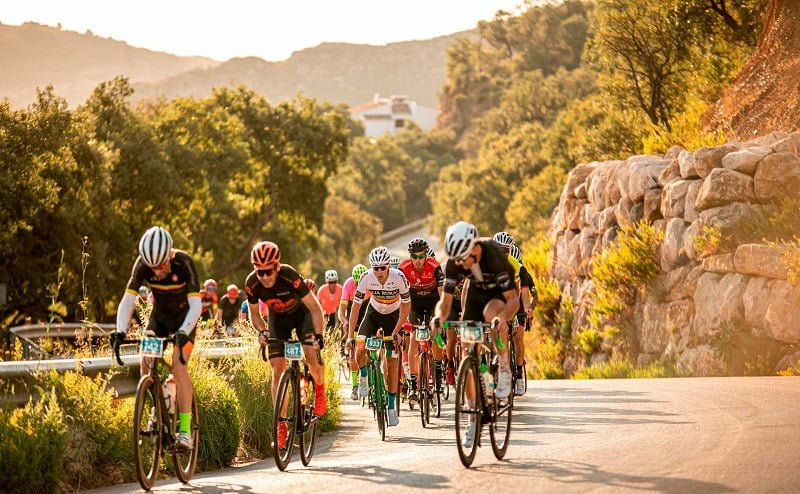 One popular biking tour in the resort takes you through the charming Andalusian villages of Benahavis and Istán, where you can experience the local culture and taste traditional cuisine. Another tour takes you to the stunning Sierra de las Nieves Natural Park, where you can cycle through pine forests and enjoy breathtaking mountain views.
Whether you are a beginner or an experienced cyclist, biking tours in the resort offer a great way to experience the beauty of this area. Many tour companies provide bikes, helmets, and other equipment, and some even offer transportation to and from your hotel.
If you prefer to explore on your own, there are many bike rental shops in Puerto Banus where you can rent a bike for the day or week. This is a great option for those who want to explore at their own pace and take in the scenery at their leisure.
Boat Trips
There are many boat trips available from Puerto Banus that cater to different interests and budgets. One of the most popular options is a sightseeing cruise that takes you along the coast to view the stunning villas and beaches from a different perspective. You can also opt for a sunset cruise to watch the beautiful sunset over the Mediterranean Sea.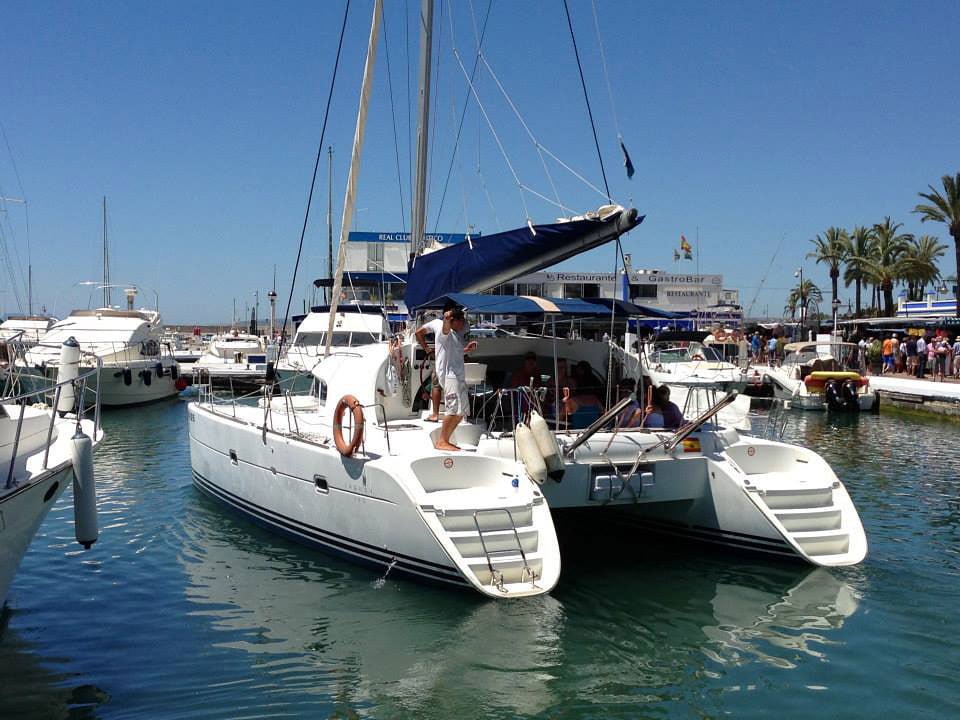 If you're feeling adventurous, there are boat trips that offer water sports activities such as jet skiing, parasailing, and paddleboarding. These trips are perfect for adrenaline junkies who want to experience the thrill of the sea.
For a more relaxed experience, you can take a boat trip to one of the nearby villages, such as Estepona or Marbella, and explore their charming streets and cultural sites. Alternatively, you can take a fishing trip and try your luck at catching some of the local fish species.
Daily Tours & Excursions
Food & Drink
Puerto Banus has a wide variety of restaurants and bars to suit all tastes and budgets. From local seafood to international cuisine, visitors can enjoy everything from casual street food to high-end fine dining. There are also many beach clubs and bars that offer cocktails and other drinks with beautiful views of the marina.
Shopping
Puerto Banus is known for its designer boutiques and luxury brands, but there are also plenty of options for those on a budget. The marina is home to several shopping centers and markets where visitors can find anything from clothing and accessories to souvenirs and local handicrafts.
Nightlife
Puerto Banus has a vibrant nightlife scene that offers something for everyone. From upscale clubs and bars to casual pubs and music venues, visitors can enjoy live music, DJs, dancing, and more. Many of the clubs and bars have outdoor terraces and stunning views of the marina.
Lodging
Puerto Banus offers a wide range of lodging options, including luxury hotels, boutique hotels, apartments, and villas. Visitors can choose to stay in the heart of the marina or in quieter areas nearby. There are also many options for those traveling with families or on a budget, including hostels and guesthouses.
How to Get to Puerto Banus?
Puerto Banus is a luxurious marina located in the municipality of Marbella on the Costa del Sol in southern Spain. It is easily accessible by car, bus, or taxi from nearby towns and cities such as Marbella, Malaga, and Estepona. The nearest airport is Malaga Airport, which is approximately 60 kilometers away from Puerto Banus.
If you are driving to Puerto Banus, take the AP-7 toll road and follow the signs for Marbella. Once you reach Marbella, continue on the A-7 coastal road towards Estepona and take the exit for Puerto Banus. There is ample parking available in the marina, both in outdoor lots and underground garages.
Public transportation options to the resort include buses and taxis. The Marbella Bus Station has regular services to the resort and other nearby towns, with several daily departures. Taxis are also widely available, and there are several taxi ranks in the resort.
Alternatively, visitors can book private transfers or hire a car to reach the resort. Many hotels and resorts in the area offer airport transfers or shuttle services to Puerto Banus.