Santa Eularia (Santa Eulària des Riu) is the second largest municipality of Ibiza located on the eastern part of the island and stands out on account of its fortified temple, the church of Es Puig de Missa and offers all the necessary services and leisure facilities for the holidaymakers on their Ibiza holidays. With its beautiful beaches, lively marina, and wide variety of activities and attractions, Santa Eulalia is a must-visit for anyone looking for a relaxing and enjoyable vacation in Ibiza.
What to Expect
Santa Eulalia has a rich history and culture, and visitors can expect to find a variety of attractions and activities that reflect its unique character. With its beautiful beaches, charming streets, and lively marina, there is something for everyone in Santa Eulalia.
Top Holiday Resorts
Cala Llonga, Es Canar, S'Argamassa and Es Figueral are the popular holiday resorts in Santa Eularia, Ibiza.
Things to Do & See in Santa Eularia Ibiza…
Things to do and see in Santa Eularia are endless. The resort offers a variety of activities and tours suitable for all ages and interests, from exploring the town's historical landmarks and museums to enjoying the beautiful beaches and parks. You can also take part in water sports, go on boat tours, and enjoy nature walks.
The town has several historical landmarks and museums, including the Puig de Missa, a 16th-century church, and the Ethnographic Museum, which displays the history and culture of Ibiza. Visitors can also enjoy the stunning beaches and parks, such as Cala Llonga, Es Canar, and the Santa Eulalia River Walk, which offers a peaceful and relaxing stroll.
Another popular activity in Santa Eulalia is taking a boat tour around the island. Visitors can enjoy a scenic cruise around the coastline, stopping at some of the most beautiful beaches and coves along the way. Some boat tours also offer snorkeling and swimming opportunities, allowing visitors to explore the underwater world of Ibiza.
Santa Eulalia is home to several beautiful beaches, including Cala Llonga, Es Canar, and Playa de Santa Eulalia. These beaches offer crystal-clear waters, soft sand, and stunning views, making them a perfect place to relax and unwind. Visitors can also enjoy a variety of water sports, including kayaking, stand-up paddleboarding, and snorkeling.
For the adventurous, water sports such as kayaking, snorkeling, and stand-up paddleboarding are popular options, and visitors can take a boat tour around the island or enjoy a sunset cruise.
Video Tour
Top Attractions & Sights in Santa Eularia Ibiza
Santa Eularia Town Center
Santa Eularia offers all the necessary tourist services for the holidaymakers with its lovely streets, shops, beach, beach promenade and yachting marina. Santa Eularia town center has two main streets. There are vaierty of nice shops, pharmacy, restaurants and bars in Calle San Jaime. The crossing street of S'Alamera promenade is the seafront of the town.
Santa Eularia Beach
Santa Eulalia Beach is one of the most beautiful beaches in Ibiza. With its crystal-clear waters, soft white sand, and stunning views of the Mediterranean Sea, this beach is a perfect spot for relaxation and fun.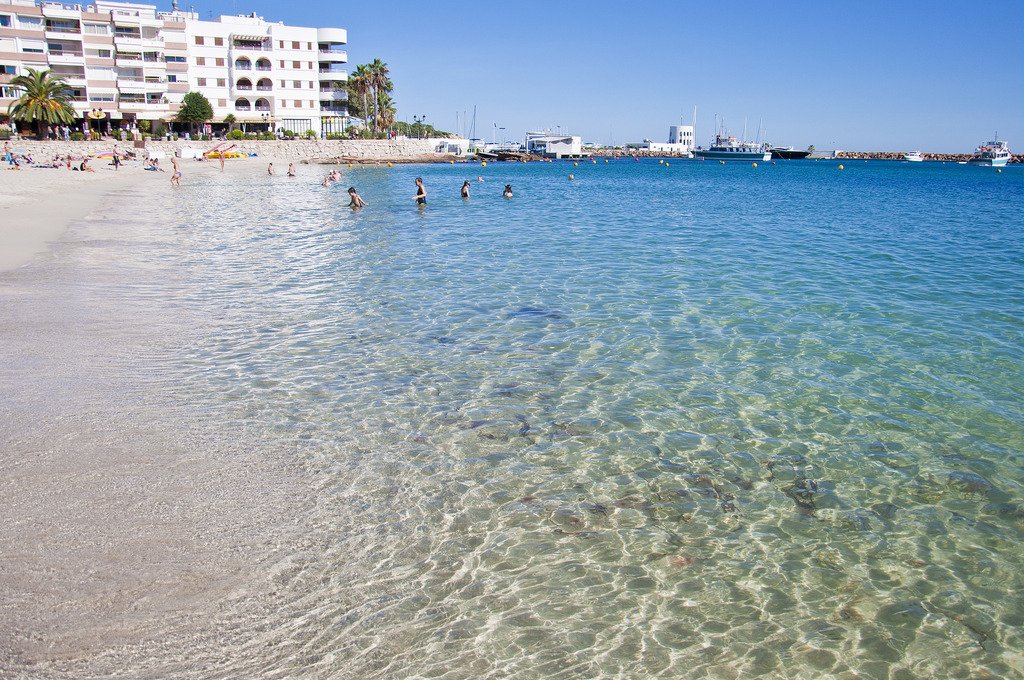 The beach is easily accessible and offers a range of amenities, including sun loungers and parasols, showers, and changing rooms. The beach is also patrolled by lifeguards, ensuring a safe and enjoyable experience for visitors of all ages.
For those who want to try their hand at water sports, Santa Eulalia Beach offers a variety of options, including jet skiing, parasailing, and banana boating. You can also enjoy a relaxing paddle on a kayak or a stand-up paddleboard, taking in the beautiful views of the coast and the town.
The beach has a range of bars and restaurants, serving fresh seafood, cocktails, and other refreshments. You can enjoy a meal or a drink while taking in the beautiful views of the sea and the town. There are also several shops and boutiques nearby, selling beachwear, souvenirs, and other items.
Es Puig de Missa
Es Puig de Missa is the popular sight of Santa Eularia located on the hill crowned by a church dating back to 16th century. A must see place in Santa Eularia. There is also an Ethnology Museum and Barrau Museum that worth a visit.
Santa Eulalia River Walk
The Santa Eulalia River Walk is a beautiful nature trail that winds through the town's lush greenery and along the river. This peaceful and relaxing walk offers stunning views of the town and its surroundings, making it a great activity for nature lovers.
The Markets of Santa Eularia (Las Dalias and Punta Arabi)
The Punta Arabi Hippi Market
The Punta Arabi Hippi Market is another popular market in Ibiza and Es Canar. The market takes place every Wednesday, from April to October, and is one of the largest markets on the island, with over 500 stalls.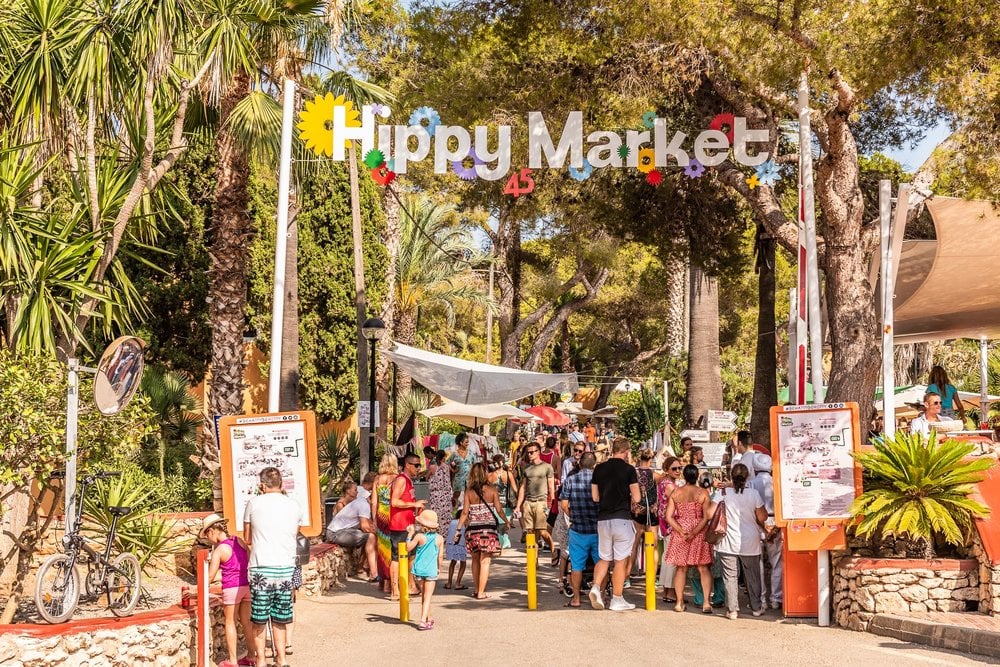 Punta Arabi is known for its vibrant and colorful atmosphere, with vendors selling everything from clothing and jewelry to home decor and souvenirs. One of the unique features of this market is the variety of handmade and artisanal products available. You can find everything from hand-painted ceramics to hand-woven textiles and leather goods.
Punta Arabi also has a lively entertainment scene, with live music, performances, and even a children's area. The market is a popular destination for families, as well as tourists looking for a unique shopping experience.
Las Dalias Hippy Market
Located in the small town of San Carlos, Las Dalias Hippi Market is one of the oldest and most famous markets in Ibiza. The market takes place every Saturday, from April to October, and is a colorful and lively affair. With over 200 stalls, selling everything from clothing and accessories to jewelry and art, there's something for everyone at Las Dalias.
One of the unique features of Las Dalias is its commitment to sustainable and ethical fashion. Many of the vendors at the market use organic or recycled materials, and there's a focus on local and artisanal production. You can find everything from handmade leather bags and sandals to vintage clothing and one-of-a-kind jewelry pieces.
Las Dalias also has a vibrant atmosphere, with live music, food stalls, and even a henna tattoo station. The market is a popular spot for tourists and locals alike and is a must-visit for anyone interested in Ibiza's hippie and bohemian culture.
The Villages of Sant Carles de Peralta, Santa Gertrudis de Fruitera and Jesus
Santa Eularia has three lovely villages that worth a visit and see. Sant Carles de Peralta village is full of almond, fig and carob trees in a rural zone with beautiful farmhouses and coves. There is also a lovely church dating back to 1785. Santa Gertrudis de Fruitera is the other village with great charm. Travellers may find good bars and restaurants as well. There are also shops selling clothes and artisan goods as well as art galleries. Jesus is another lovely village that boasts one of the oldest churches on Ibiza dating back to 1498.
Ethnographic Museum of Ibiza
The Ethnographic Museum of Ibiza is located in the charming village of Santa Eulalia, and offers a fascinating insight into the island's traditional way of life. Here you can explore exhibits dedicated to everything from traditional farming and fishing practices to the island's famous flamenco culture. One of the highlights of the museum is its collection of traditional costumes and textiles, which give visitors a sense of the vibrant colors and patterns that have long been a part of Ibiza's cultural heritage.
Address: Puig de Missa, Santa Eularia, Ibiza
Barrau Museum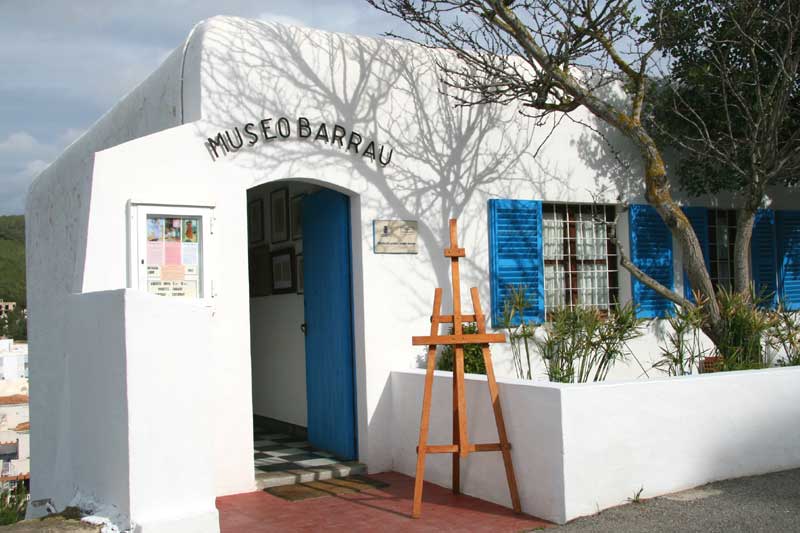 The Museo Barrau, also known as the Barrau Museum, is located in the village of Santa Gertrudis, in the heart of Ibiza. The museum is dedicated to the work of Laureà Barrau i Buñol, a Catalan artist who lived on the island in the early 20th century.
The museum features a collection of Barrau's paintings, drawings, and other works, as well as a variety of documents and personal items related to the artist's life and career. Visitors to the museum can explore the galleries and learn about Barrau's unique style, which combined elements of cubism, surrealism, and other artistic movements of the time.
Address: Puig de Missa, Santa Eularia, Ibiza
Eating Out
Santa Eulalia has an abundance of restaurants, cafes, and bars, offering a diverse range of cuisine to suit all tastes. You can enjoy fresh seafood, tapas, and paella at one of the many beachfront restaurants, or try local specialties such as sobrasada and ensaimada at a traditional taverna.
There are also international options, including Italian, Indian, and Japanese cuisine, and a variety of cafes and bakeries serving delicious coffee, cakes, and pastries.
Shopping
Shopping in Santa Eulalia is a delightful experience, with a mix of international brands and local shops offering everything from designer clothing and accessories to local crafts and souvenirs.
Avinguda d'Espanya is the town's main shopping area, and visitors can find a variety of boutiques, markets, and shops selling fashion, jewelry, home decor, and more.
Nightlife
While Santa Eulalia may not have the same reputation for nightlife as other areas of Ibiza, there are still plenty of options for those looking to have some fun. The town has a variety of bars and clubs, with live music and DJs playing everything from house music to rock and roll.
The nightlife in Santa Eulalia offers a more relaxed and laid-back atmosphere than other areas, making it a great option for those who want to have fun without the crowds and noise.
Lodging
Santa Eulalia offers a variety of lodging options, from luxury hotels and villas to budget-friendly apartments and hostels. You can choose to stay in the town center or enjoy a more secluded location outside of town, with options ranging from beachfront properties to countryside retreats. Some of the most popular hotels in Santa Eulalia include the ME Ibiza, Aguas de Ibiza Grand Luxe Hotel, and the Invisa Hotel La Cala.
Getting There
Santa Eulalia is easily accessible by car or bus from Ibiza Town or the airport. Visitors can also take a ferry from Ibiza Town or Formentera to the town's marina. Once in town, getting around is easy on foot, and there are also taxis and buses available for those who want to explore the surrounding areas.