Moraira is one of the most popular holiday resorts in Costa Blanca, also known as "the pearl of Costa Blanca", located on the south-eastern coast of Spain, about 88 kilometres from Alicante Airport. Moraira is a picturesque and pretty town famous for its being peaceful town, unspoilt coastline, private marina and sandy beaches.
The port of the resort is protected by the twin arms of the Cap Blanc and Punta de Moraira headlands. Holidaymakers may find numerous quality hotels, apartments and holiday accommodations here.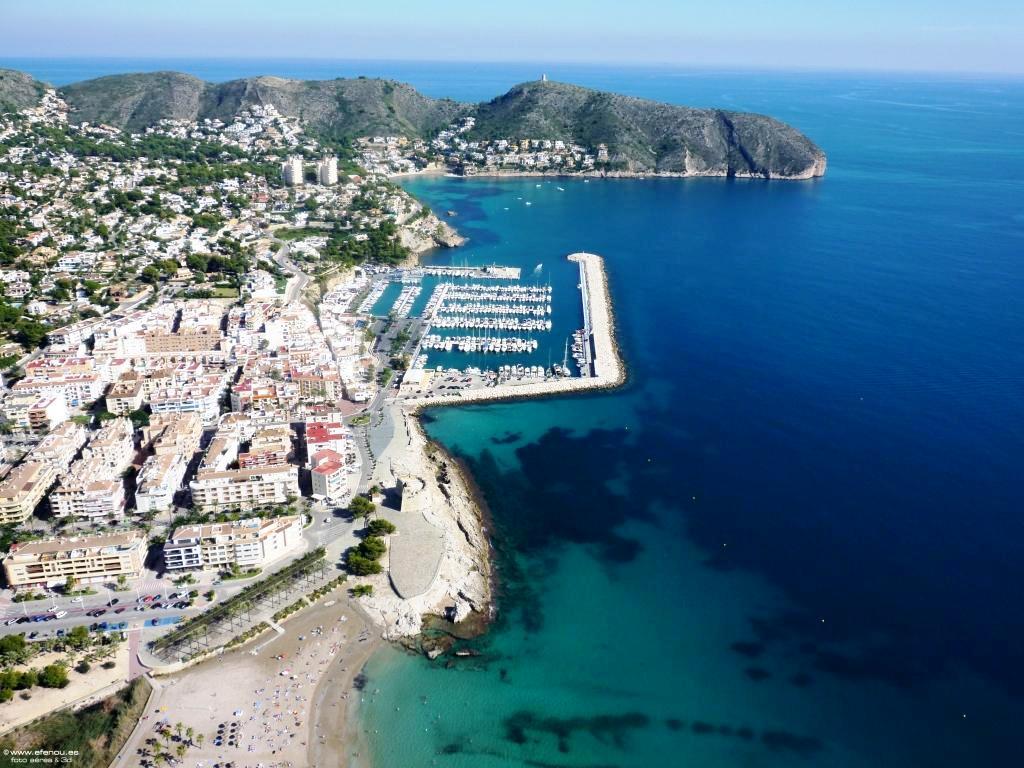 Things to Do & See in Moraira
Things to do and see in Moraira are endless. Club Nautica Moraira with The Upper Club Lounge and Bella Dama Restaurant offer great day out activities for holidaymakers with the local and national events take place such as the Moraira Gastronomy & Shopping Festival throughout the year.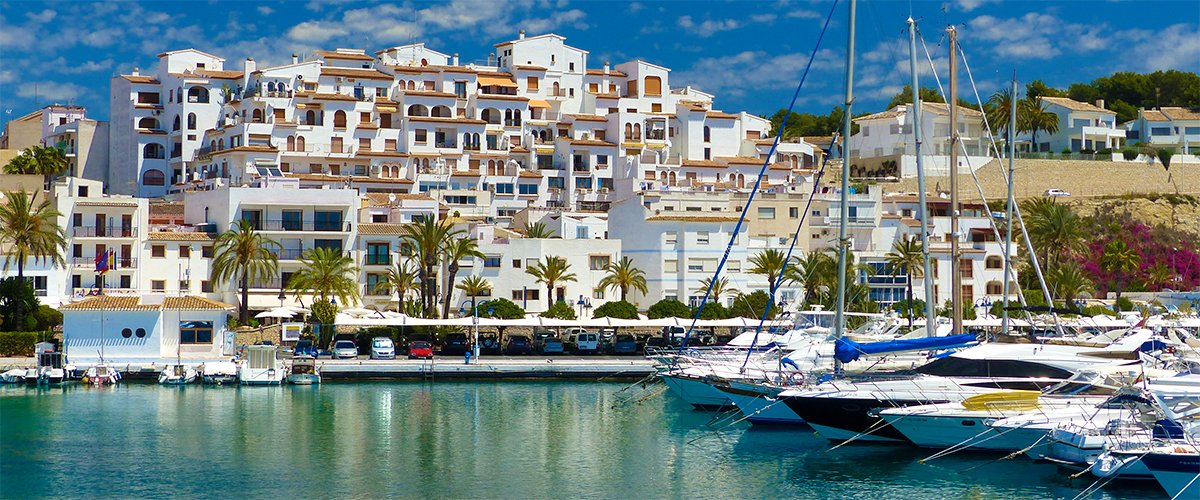 The Tower constructed at the behest of King Philip II keeping watch over this stretch of coast and the Church of Moraira is also worth a visit and see in Moraira. Nordic walking and Moraira's mountains are also popular outdoor sports activities here.
---
No Regrets Booking Advice
---
As for beaches; Moraira has 8 km. of lovely coastline with nice beaches with boulders and rocks. The widest and most readily accessible of these is the centrally situated La Ampolla Beach. Close to the main promenade.
Also the blue flagged sandy El Portet beach is worth a visit. Scuba diving is also popular here.
Video Tour
Daily Tours & Excursions
Top Attractions & Sights in Moraira for you…
La Ampolla beach
La Ampolla beach is a long, sandy beach that is perfect for sunbathing and swimming. The beach is very family-friendly, with shallow waters and plenty of space for kids to play. There are also several beach bars and restaurants, where you can enjoy a refreshing drink or a delicious meal while taking in the stunning views.
Aside from swimming and sunbathing, La Ampolla beach is also a great place for water sports. Visitors can rent paddle boards, kayaks, and other equipment from nearby shops, and explore the beautiful coastline at their own pace. Scuba diving is also a popular activity in the area, with several dive centers offering courses and guided dives for all levels of experience.
If you prefer land-based activities, there are plenty of options as well. The surrounding hills and mountains offer some of the best hiking and cycling routes in the region, with stunning views of the Mediterranean Sea and the surrounding countryside.
El Portet beach
El Portet Beach is a beautiful and tranquil beach located in the charming town of Moraira. This picturesque cove is a popular spot for locals and tourists alike due to its crystal clear waters, fine sand and stunning views.
The beach is located in a sheltered bay, making it an ideal place for swimming, sunbathing, and relaxation. It is also a great spot for water sports such as paddle boarding, kayaking, and snorkeling. There are several beachfront restaurants and cafes where you can enjoy a meal or a refreshing drink while taking in the beautiful scenery.
One of the main attractions of El Portet Beach is its natural beauty. The beach is surrounded by rugged cliffs and lush vegetation, providing a stunning backdrop for a day at the beach. There are also several hiking trails in the surrounding hills, offering incredible views of the Mediterranean Sea and the Costa Blanca.
The Tower
The tower dates back to the 16th century and served as a lookout point to guard against pirate attacks. Today, it remains an important cultural and historical site in the area, attracting visitors from all over the world.
The tower is situated on a hill, providing spectacular views of the Mediterranean Sea and the surrounding landscape. Visitors can climb to the top of the tower and take in the breathtaking views. Along the way, they can learn about the tower's history and significance through informative plaques and displays.
The Tower is also a popular spot for photography enthusiasts, offering numerous opportunities to capture stunning panoramic views of the surrounding area. Additionally, it is an ideal location for hikers and nature lovers, with many nearby trails and natural areas to explore.
Church of Moraira
The Church of Moraira, also known as the Iglesia de la Virgen de los Desamparados, is a historic church located in the heart of the coastal town of Moraira, Spain. The church was built in the early 18th century and is an important cultural landmark in the region.
It is a beautiful example of Baroque architecture, featuring intricate stonework, beautiful stained-glass windows, and a magnificent bell tower. Visitors can admire the church's ornate interior, which includes a beautiful altar and impressive artwork.
The church is an important part of Moraira's cultural heritage and plays a significant role in the town's religious life. The church hosts regular services and is a popular venue for weddings and other special events.
Club Nautica Moraira
Club Nautico Moraira is a well-known marina in the town of Moraira. This club has a unique location, surrounded by natural beauty and a vibrant atmosphere. It is the perfect spot for those who love the sea and want to indulge in water sports, boating, and other activities.
The Club Nautico Moraira offers a range of facilities and services to its members and visitors. The marina has 620 moorings, making it an ideal location for boats of all sizes. It also has a diving center, sailing school, and a range of water sports activities like jet skiing, kayaking, and paddleboarding.
For those who prefer to stay on land, the club has tennis and paddle courts, a gym, and a swimming pool. There is also a restaurant and a bar overlooking the marina, which serves delicious local cuisine and refreshing cocktails.
The Club Nautico Moraira hosts many events throughout the year, including regattas, fishing competitions, and music concerts. It is a lively and fun place to spend time with friends and family.
Water Sports
Water sports enthusiasts can indulge in activities such as kayaking, stand-up paddleboarding, jet skiing, and snorkeling. The clear, turquoise waters of Moraira make it an ideal location for diving, with a range of dive sites available for both novice and experienced divers.
Outdoor Sports
Moraira offers plenty of opportunities for outdoor activities. Hiking and mountain biking trails are available in the nearby mountains, offering breathtaking views of the surrounding countryside. Horseback riding is also a popular activity, allowing visitors to explore the area's stunning scenery at a more leisurely pace.
Golf enthusiasts will be pleased to know that Moraira is home to several excellent golf courses, including the Club de Golf Ifach and the Javea Golf Club.
Food & Drink
Moraira is famous for its fresh seafood, and visitors can enjoy the catch of the day at the local restaurants. Many restaurants offer a traditional Spanish menu, including paella and tapas. For those who prefer international cuisine, Moraira also has restaurants that serve Italian, French, and Asian food. There are also many bars and cafes where visitors can relax and enjoy a drink or two.
Shopping
Moraira has a variety of shops that cater to all tastes and budgets. Visitors can find everything from local crafts and souvenirs to high-end fashion and jewelry. The weekly market on Fridays is a great place to find fresh produce, handmade goods, and local delicacies.
Nightlife
Moraira has a vibrant nightlife with something for everyone. There are several bars and clubs that stay open until the early hours of the morning. Visitors can enjoy live music, dance the night away, or simply relax with a drink and watch the world go by.
Lodging
Moraira offers a range of accommodation options, from budget-friendly apartments to luxury villas. There are also several hotels that cater to different budgets and tastes. Visitors can choose to stay close to the beach or in the heart of the old town, depending on their preferences.
How to Get to Moraira?
By plane: The nearest airport to Moraira is Alicante-Elche Airport, which is approximately 95 kilometers away. From there, you can take a taxi or rent a car to reach Moraira.
By train: The nearest train station to Moraira is in Teulada, which is approximately 10 kilometers away. From there, you can take a taxi or rent a car to reach Moraira.
By bus: There are several bus companies that operate between Moraira and other towns and cities in the region. The bus station in Moraira is located in the center of town.
By car: Moraira is easily accessible by car, and there are several highways and major roads that connect the town to other areas of the Costa Blanca.