Last Updated on March 29, 2021
Museum of Fine Arts Seville (Museo de Bellas Artes de Sevilla)is the most popular Seville Museum that is located in Plaza del Museo and one of the finest fine arts museums in Spain, originally built as part of the 1929 exhibition. The museum is one of the most popular museums in Seville.
The Museum of Fine Arts Seville was founded as the "Museum of Paintings" in 1835 and opened its doors to the public with works confiscated from the disentailed convents and monasteries. The museum was housed in the former convent of La Merced Calzada that is founded by Saint Pedro Nolasco following the conquest of the city in 1248.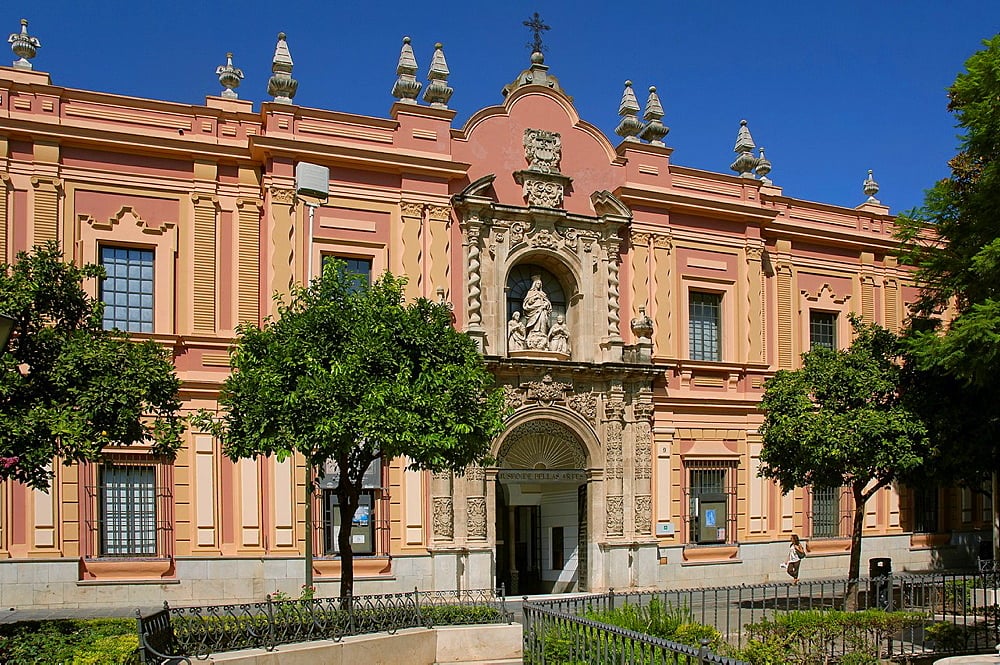 Fine collection of Spanish art and sculpture extends from the medieval to the modern are exhibited at the museum. Museum of Fine Arts Seville is also one of the best museums in Spain.
The collections include; confiscated ecclesiastical assets, donations of private collections built up during the 19th century and the early part of the 20th century, and items purchased by public bodies in recent decades.
Sevillian painting and its evolution, with emphasis on the 17th century is the main theme of the museum although the museum has a wide range of collections of painting, sculpture, pottery, gold and silverwork, furniture and more.
A visit to the museum is one of the best things to do in Seville.
Seville Museum of Fine Arts Visitor Information
Address: Plaza del Museo, 9, 41001 Sevilla, Spain
Tel: 955 54 29 31
Opening Hours: Tuesday to Sunday 9 am to 8.15 pm (Sunday 2 pm), closed on Mondays
Web: www.museodebellasartesdesevilla.es
Group visits
Arrange in advance:
– by telephone 954 78 64 91. Monday to Friday 12.00 – 14.00.
– by completing the form in the "Educational Programmes" section on the website.
– by fax, indicating the number of persons, the day and expected arrival time and a contact number.
Group entrance 09.00 – 19.30.
Groups of a maximum of 25 persons accompanied by a person in charge.
Entrance for groups is up until 19.30 (13.30 on Sundays).
Public Transport to Seville Museum of Fine Arts
Urban bus lines: C3, C4, C5, 6, 43, AC.
Interurban bus station: Plaza de Armas.
Video Tour
---