With its vibrant nightlife, you're sure to find a nightclub that suits your style in Madrid. From hip hop to electronic, Here you can find our pick of the top best nightclubs in Madrid, including top areas, best partying, live music, DJs, dance shows at the Madrid nightclubs.
Madrid's Clubbing Scene
Madrid is a city that never sleeps, and one of the best ways to experience its vibrant nightlife is through its clubbing scene. From electronic music to hip-hop, Madrid offers a diverse range of music styles and venues that cater to all tastes.
One of the most famous clubs in Madrid is Joy Eslava, which has been around since 1981 and is known for its electronic music and flamenco shows. The club has a rich history and has hosted some of the world's most famous DJs and performers.
For those interested in house and techno music, Fabrik is the largest and most famous club in Madrid. The venue is located outside the city center and has a capacity of up to 5,000 people, making it one of the biggest clubs in Europe.
Madrid's hip-hop scene is also thriving, with a range of clubs and events that showcase the city's urban music culture. One of the most popular hip-hop clubs in Madrid is Goya Social Club, which hosts a range of events and concerts throughout the year.
Another popular club in Madrid is Kapital, which is known for its six floors of music and its colorful and eclectic decor. The club offers a range of music styles, from pop to house to Latin music, and is a favorite among locals and tourists alike.
In addition to these clubs, Madrid also offers a range of underground and alternative venues, such as Siroco and El Sol, which offer a range of music styles and events that cater to a more niche audience.
Top 10 Best Nightclubs in Madrid
The pedestrian precinct from Huertas Street to Plaza de Santa Ana is one of the liveliest regions in Madrid together with the Alonso Martínez, Bilbao and Plaza de Santa Bárbara area, Malasaña and the streets leading off from Plaza del Dos de Mayo.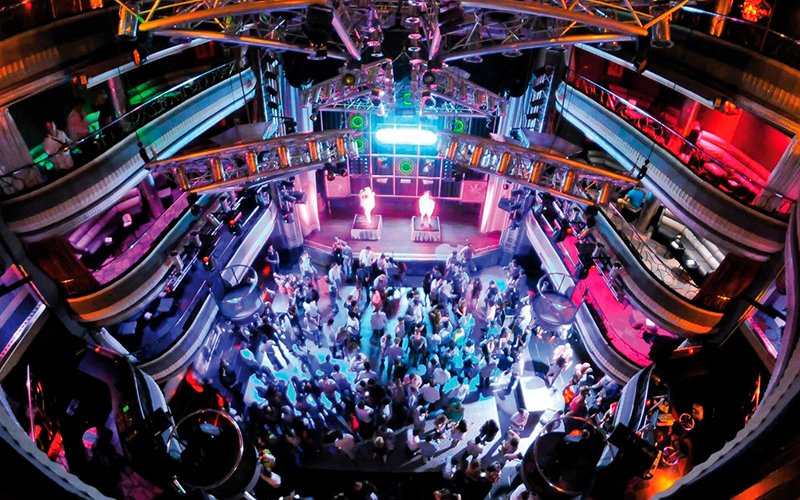 No matter what your music preference is, these top 10 best nightclubs in Madrid are sure to provide a night of unforgettable fun.
Joy Eslava
Located in the heart of Madrid, Joy Eslava is a must-visit for its impressive interior design and lively atmosphere. The club features different rooms with different music genres to suit any taste.
Address: Calle del Arenal, 11, 28013 Madrid, Spain
Kapital
Known for its seven floors, each with a different music style, Kapital is one of the most famous clubs in Madrid. From house to techno, Kapital has it all.
Address: Calle de Atocha, 125, 28012 Madrid, Spain
Teatro Barceló
Once a theater, this club has preserved its original structure and decor, making it a unique and unforgettable experience. Teatro Barceló plays a variety of music genres, from reggaeton to indie.
Address: Calle Barceló, 11, 28004 Madrid, Spain
Fabrik
Located outside the city, Fabrik is one of the largest clubs in Madrid, known for its electronic music events that attract world-renowned DJs.
Address: Autovía A-42, Km 20, 28938 Getafe, Madrid, Spain
Goya Social Club
With its underground atmosphere, Goya Social Club is the perfect place for techno and electronic music lovers. Its intimate setting provides a unique experience that sets it apart from other clubs in Madrid.
Address: Calle de Goya, 43, 28001 Madrid, Spain
Mondo Disko
For over two decades, Mondo Disko has been one of Madrid's most famous clubs for techno and house music. Its unique style and atmosphere make it a must-visit for any dance music fan.
Address: Calle de Alcalá, 20, 28014 Madrid, Spain
Blackhaus
Known for its dark, industrial atmosphere and techno music, Blackhaus is a favorite among Madrid's underground club scene.
Address: Calle de San Dimas, 3, 28015 Madrid, Spain
Ocho y Medio
This small club is a favorite among indie music lovers, with its intimate setting and live music performances from both local and international bands.
Address: Calle de Barceló, 11, 28004 Madrid, Spain
Barco
Barco is a unique club with a nautical theme, complete with a dance floor shaped like a boat. With different music styles, it's a great place for a fun night out.
Address: Calle de la Cebada, 11, 28005 Madrid, Spain
El Sol
El Sol is a classic Madrid nightclub that has been around for over 35 years. It plays a variety of music genres, from pop to indie, and has hosted concerts from some of Spain's most famous bands.
Address: Calle de los Jardines, 3, 28013 Madrid, Spain