Casa Mila, also known as La Pedrera, is one of the most distinctive buildings in Barcelona. Designed by renowned architect Antoni Gaudi, Casa Mila is a remarkable example of Modernisme architecture and a UNESCO World Heritage Site. In this guide, we'll take a look at what to expect from your visit to the Casa Mila (La Pedrera) and what to see, visiting tips, tickets and guided tours while you're there.
Top Facts about Casa Mila
Casa Mila was constructed between 1906 and 1910 for Pere Mila, a wealthy businessman.
The building's nickname, La Pedrera, means "the quarry" in Catalan, due to its unusual rough-hewn stone exterior.
Casa Mila is characterized by its undulating façade, wrought iron balconies, and fantastical rooftop sculptures.
Casa Mila's rooftop is home to several iconic sculptures, including the famous chimneys, which have become a symbol of the city.
The building's interior is just as stunning as its exterior, with curved walls, stained glass windows, and an impressive central courtyard.
Today, Casa Mila is a cultural center and museum, with exhibitions, concerts, and other events taking place throughout the year.
Quick History of Casa Mila
Casa Mila was commissioned by Pere Mila, a wealthy industrialist, and his wife, Roser Segimon, as a private residence. Antoni Gaudi was tasked with designing the building, and it was constructed between 1906 and 1910. The building was originally controversial due to its unconventional design, and Gaudi faced criticism from many of his contemporaries.
Casa Mila was one of Gaudi's last major works before devoting himself fully to the Sagrada Familia Church. The building changed hands several times over the years, and was eventually declared a national monument in 1969.
Today, Casa Mila in Barcelona is owned by the Caixa Foundation and serves as a cultural center, with exhibitions, concerts, and other events held on its premises. Its striking design and impressive rooftop sculptures continue to make it one of Barcelona's most popular tourist attractions.
What to See & Expect from Your Visit
Visitors to Casa Mila can expect to be taken on a journey through Gaudí's fascinating world of art, architecture, and nature. The building's exterior is an undulating mass of stone and wrought iron, featuring Gaudi's trademark elements such as trencadis mosaics and sculptural chimneys.
Inside, the building is just as impressive, with its curving staircases, sinuous lines, and a rooftop terrace offering panoramic views of the city.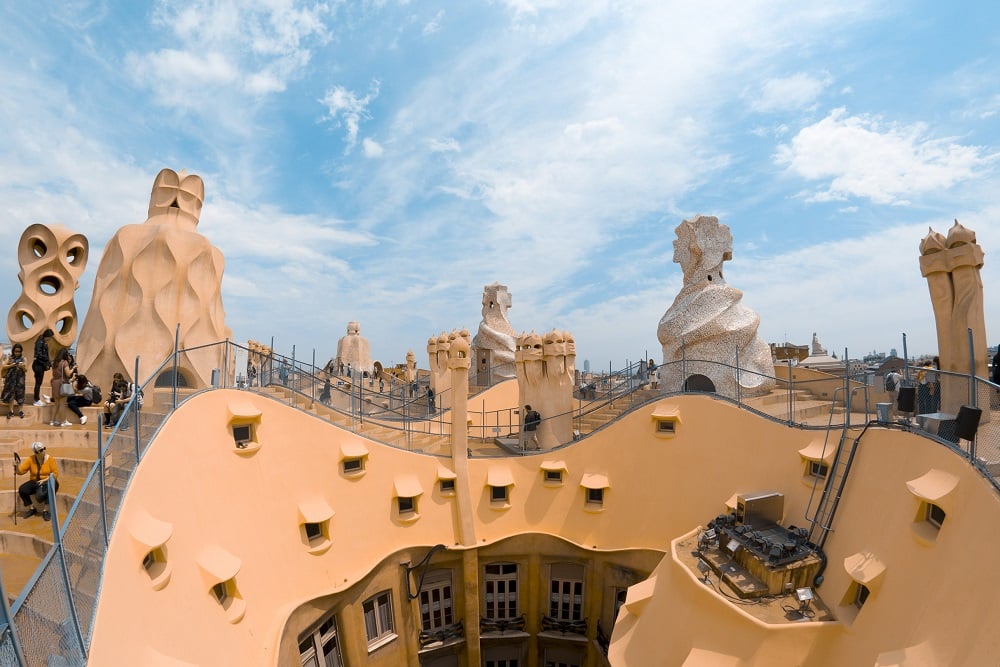 One of the main highlights of a visit to Casa Mila is the opportunity to explore the interior of the building. Visitors can take a self-guided tour of the building and experience Gaudi's unique approach to design and architecture.
The tour includes a visit to the rooftop terrace, where visitors can see the famous sculptures and chimneys that have become synonymous with Casa Mila.
In addition to the self-guided tour, there are also audio guides and guided tours available. These tours offer visitors a deeper insight into the building's history, architecture, and design.
Visitors can also learn more about Gaudi's life and work, and the cultural context of the time in which he lived.
Visiting Information
Location
Casa Mila is located on Passeig de Gracia, one of the main shopping streets in Barcelona.
Opening Hours
Casa Mila is open to visitors every day of the year. The opening hours are from 9:00am to 6:30pm from November to February, from 9:00am to 8:00pm in March and October, and from 9:00am to 8:30pm from April to September.
Tickets
You can buy tickets online in advance or at the ticket office on site. The ticket price is around 22 euros for adults and 11 euros for children.
How to get there
Casa Mila is easily accessible by public transport. The nearest metro stations are Diagonal (L3 and L5) and Passeig de Gracia (L2, L3, and L4). You can also take the bus, the H10, V15, 7, 22, 24, or the tourist bus.
Accessibility
Casa Mila is fully accessible for visitors with disabilities, with wheelchair ramps and elevators to all floors. Audio guides and braille guides are also available.
Why Buy Guided Tours?
If you're interested in learning more about the history and architecture of Casa Mila, guided tours are available in several languages. These tours provide a detailed look at the building's unique features and the life and work of Antoni Gaudi.
Buy Your Casa Mila Guided Tour in advance Online
Free cancellation up to 24 hours in advance for a full refund