Casa Batlló is one of the most impressive buildings in Barcelona, known for its unique and stunning architecture. It is a chance to explore a world of shapes, colors, and light, and to immerse yourself in the beauty of Modernism here. In this guide, we'll take a look at what to expect from your visit to the Casa Batllo and what to see, visiting tips, tickets and guided tours while you're there.
Top Facts about Casa Batllo
Casa Batlló was built by Antoni Gaudí in 1904 and is located in the heart of Barcelona, Spain.
The building is known for its unique architecture and was designed to resemble the ocean with its waves and curved lines.
The façade of the building is decorated with a colorful mosaic of broken ceramic tiles, known as trencadis, and is one of the most striking features of the building.
The interior of the building is just as impressive, with curved walls and ceilings, stained glass windows, and intricate details throughout.
Casa Batlló is now a museum, and visitors can explore the building and learn about Gaudí's life and work.
Quick History of Casa Batllo
Antoni Gaudí was commissioned to renovate the building by the Batlló family in 1904. The family had purchased the building and wanted to renovate it to make it more modern and functional.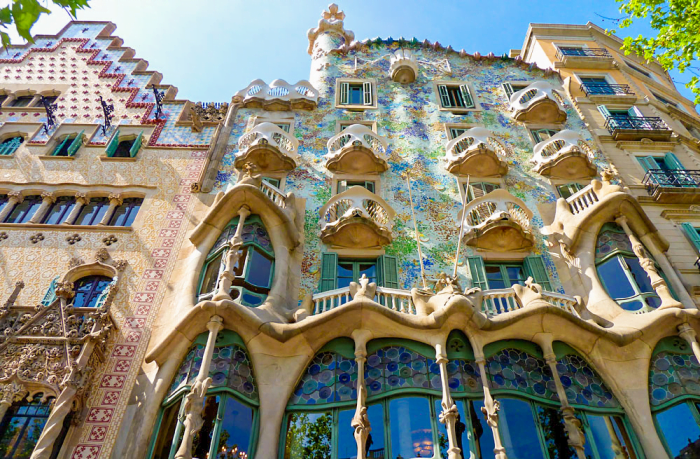 Gaudí was given complete creative control and designed a building that was not only functional but also beautiful. He incorporated natural elements into the design, such as the use of light and space, and created a building that was both unique and practical.
Over the years, the building has undergone several renovations and restorations, including a major restoration in the 1990s. Today, Casa Batlló is one of the most popular tourist attractions in Barcelona and a must-visit for anyone interested in architecture or design.
What to See & Expect from Your Visit
Casa Batllo can be considered as a masterpiece of Modernism that is truly unforgettable. Visitors can expect to see an impressive façade that stands out for its use of color, light, and curved lines.
The façade is covered with colorful mosaics and decorated with wrought iron that looks like waves.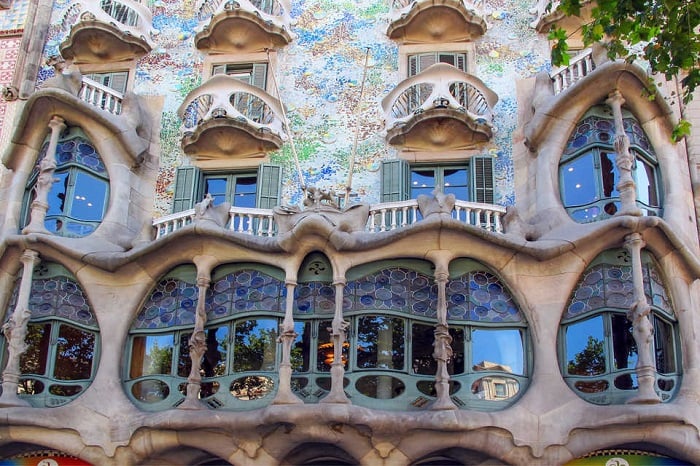 The rooftop is another highlight of the visit, where you will be amazed by the sculptures and chimneys that are shaped like helmets and have been compared to medieval knights.
Inside, the building is just as impressive, with an ornate staircase leading up to the first-floor landing, which is flooded with natural light thanks to the glass roof. From here, you can explore the various rooms, which are filled with a mix of natural and artificial light that creates a unique ambiance.
Highlights include the Noble Floor, the attic, and the magical terrace with its magnificent views of the city.
Visiting Information
Location
Casa Batllo is located at Passeig de Gracia, in the Eixample district of Barcelona. It is easily accessible by public transportation, and there are several bus and metro stations nearby.
Opening Hours
Casa Batllo is open every day from 9:00 am to 9:00 pm. The last admission is at 8:00 pm. During peak season, from April to September, the attraction is usually busier, and it is recommended to purchase tickets in advance to avoid long queues.
Tickets
Tickets to Casa Batllo can be purchased online in advance or at the entrance. The general admission fee for adults is €29, but there are discounts for children, students, and seniors. There are also guided tours available in several languages, which include access to exclusive areas of the building.
How to Get There
Casa Batllo is easily accessible by public transportation. The nearest metro station is Passeig de Gracia, which is serviced by three metro lines (L2, L3, and L4). Several bus lines also stop near the attraction.
Visiting Tips
Visitors to Casa Batllo should be aware that the building is a popular attraction and can become crowded, especially during peak season. It is recommended to purchase tickets in advance to avoid long queues.
Additionally, visitors should dress appropriately for the weather, as parts of the attraction are outdoors.
Finally, photography is allowed inside the attraction, but the use of tripods or other equipment is prohibited without prior permission.
Guided Tours
Casa Batllo offers several guided tours, which provide visitors with a more comprehensive understanding of the history and architecture of the building. There are also virtual reality tours available that offer an immersive and interactive experience.
Buy Your Casa Batllo Guided Tour in advance Online
Free cancellation up to 24 hours in advance for a full refund
by Getyourguide
by Viator
Video Tour