Here you can find useful guide on the cycling in Seville, best cycling routes, trails, bike, e-bike tours and rentals. Seville is a city unlike any other in Andalusia. It's the birthplace of Flamenco, where meeting up for dinner is synonymous for grabbing some tapas, and the Semana Santa is still sacred. When foreigners conjure up images of Spain they think of Flamenco, Sangria and tapas, all of which are typical of Sevilla.
Spain is an incredibly diverse country with 17 autonomous communities, each with their own identity, and six of which have their own languages together with Español, but Seville is the most quintessential Spanish city.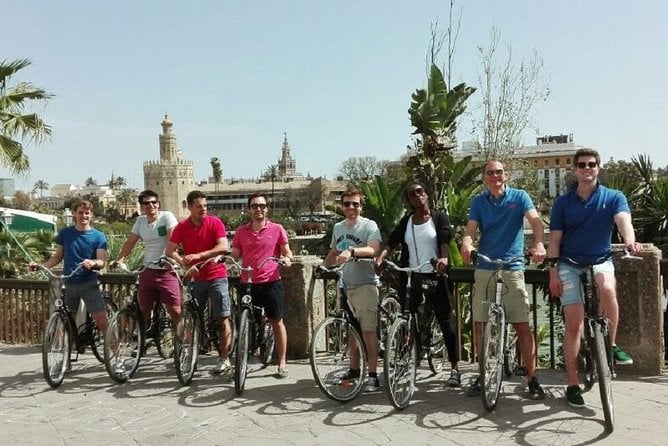 Bike tours in Seville
The best way to discover this enchanting city is by bike. Since the city has a manageable size, you can cover a lot in just a few hours. Riding a bike is not only safe, but it's also a fun way of sightseeing in the Andalusian capital.
Plus, the streets are mainly flat, and there are many bike lanes which makes biking easy and a great option for getting around. Plus, with a guided bike tour, your local guide will show you the best of the city, using the safest routes around town.
Ride through the Barrio de Santa Cruz, stopping for some tapas or a café con leche along the way in one of the many orange-lined squares. Visit the Alcázar, a Moorish Palace that sits opposite the Cathedral, reminding of the times when the Moors dominated the Southern Iberian Peninsula.
The Cathedral, in fact, lies on the former site of the city's mosque, and is among the largest of all medieval and Gothic cathedrals, in terms of both area and volume. Marvel over the Cathedral's tower known as La Giralda because of its weathervane that turns (the verb is "girar" in Spanish). Or cross the bridge to the opposite side of town and visit the Triana neighborhood where Flamenco was born.
Guide bike tours and bike rentals in Seville
A guided bike tour and a bike rental is a great way to discover all this and more. Do a Highlights Tour and see the city in three hours, book a private tour, or visit the typical white Andalusian villages during a tour outside the city. And for those independent travelers, why not rent a bike and see the city through your own eyes, stopping when you want.
Top Selling Cycling Tours in Seville
Here we only suggest the proven ways and top rated ones with travelers' comments. You can feel free to book one of the below top selling tours.
Free cancellation up to 24 hours before activity starts