Ávila is a picturesque town located in the province of Castilla y León, and a popular day trip from Madrid. The UNESCO World Heritage Site town is known for its impressive medieval walls, stunning Gothic architecture, and rich history, making it a must-visit destination for anyone looking to explore the country's cultural heritage. Here you can read our guide on exploring Avila, facts and history, top things to do and see, eating out, shopping and travel tips.
Top Facts about Avila
Avila is a historic city in central Spain, located about 100 kilometers west of Madrid.
The city is known for its impressive medieval walls, which are some of the best-preserved in Europe.
Avila is also famous for its rich religious history, with many important churches and monasteries located throughout the city.
The city is home to a vibrant cultural scene, with many festivals and events taking place throughout the year.
Avila is surrounded by beautiful natural landscapes, including the Sierra de Gredos mountain range and the Tormes River.
Quick History of Avila
Avila has a long and fascinating history, with evidence of human habitation dating back to the Bronze Age. The city was later conquered by the Romans in the 3rd century BC and became an important center of trade and commerce.
During the Middle Ages, Avila flourished as a center of religion and culture, with many impressive buildings and monuments constructed during this time. The city was also an important center of learning, with many scholars and intellectuals living and working there.
In the 16th century, Avila was a center of religious reform, with many important figures associated with the Catholic Reformation living and working in the city. This period saw the construction of many of the city's most impressive landmarks, including the Avila Cathedral and the Convent of St. Teresa.
Today, Avila is a thriving city with a rich cultural heritage and a vibrant culinary scene. Its many historic landmarks and natural attractions make it a popular destination for tourists from around the world.
Top Things to Do & See
One of the most impressive sights in Ávila is the ancient walls that surround the town. These walls were built in the 11th century and have since been recognized as a UNESCO World Heritage Site. You can walk along the top of the walls for a bird's eye view of the town and its surroundings.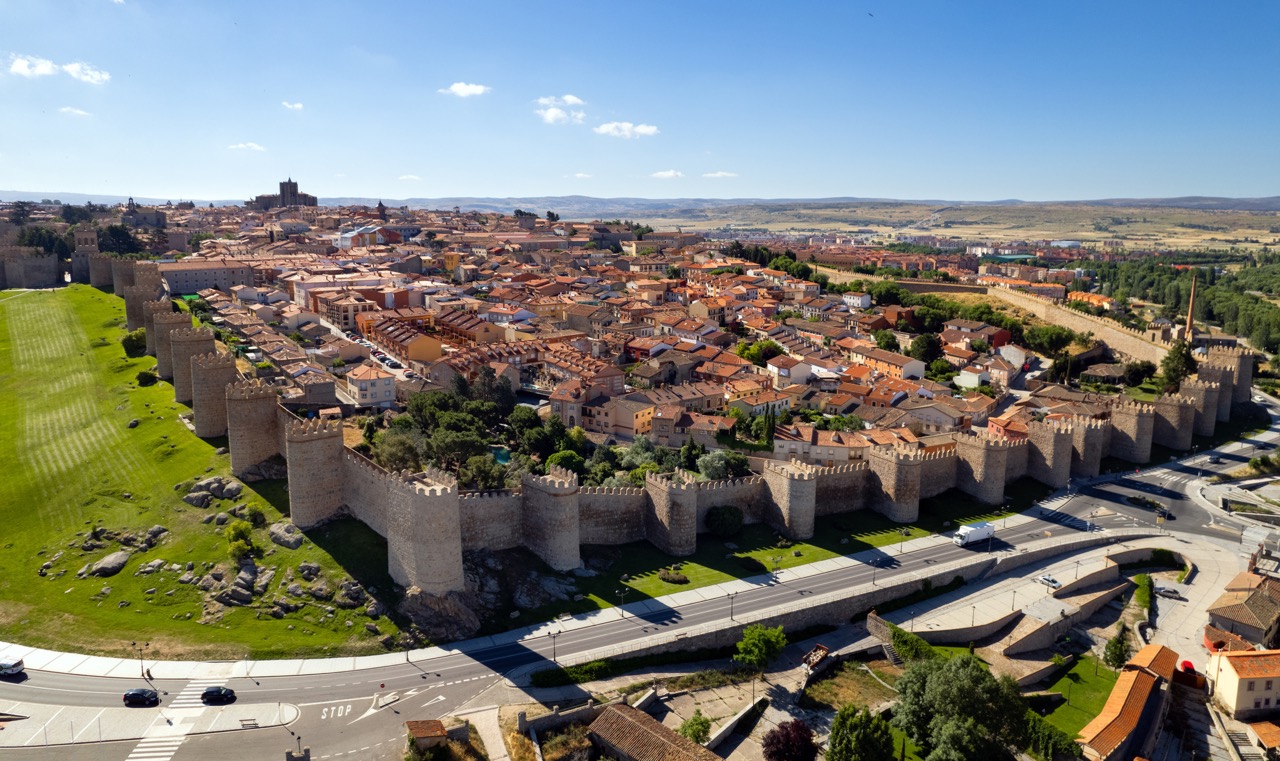 Another must-see attraction in Ávila is the beautiful Ávila Cathedral, one of the finest examples of Gothic architecture in Spain. The cathedral is home to several stunning artworks, including an impressive altarpiece, and is a popular destination for art enthusiasts and history buffs alike.
The Convent of Saint Teresa is another important attraction in Ávila. This convent, where Saint Teresa of Ávila, a prominent Spanish mystic and writer, lived and worked, is known for its beautiful architecture and artworks.
Other popular attractions in Ávila include the Plaza del Mercado Chico, a charming town square that is home to several restaurants and cafes, and the Palace of Los Velada, a beautiful Renaissance building that now serves as a luxury hotel.
You can also explore the beautiful countryside that surrounds the town. The nearby Sierra de Gredos mountains are a popular destination for hiking and other outdoor activities.
Dine & Wine
Ávila is also known for its delicious cuisine, which includes traditional dishes such as roasted suckling pig and judías del Barco, a local bean stew.
Avila is known for its delicious regional cuisine, with many restaurants and cafes serving up traditional dishes made from local ingredients. Popular dishes include roast lamb, grilled chorizo, and garlic soup. Visitors can also enjoy a wide range of cheeses and wines produced in the surrounding region.
Shopping
Avila is a great place to shop, with many traditional markets and shops selling local products and handicrafts. Visitors can find everything from handmade textiles and ceramics to leather goods and artisanal food products.
Day Trips & Excursions from Madrid
If you're looking to escape the hustle and bustle of Madrid and explore someplace with a rich history and culture, a day trip to Avila is a great option.
Getting to Avila from Madrid is easy, thanks to its convenient location. You can take a bus or train from Madrid to Avila, with the journey taking approximately an hour. Alternatively, you can book a private transfer or join a guided tour.
One of the best ways to explore Avila is by foot. The city's historic center is relatively small and easy to navigate, with many of its main attractions within walking distance of each other. Be sure to take a walk along the city walls, which offer stunning views of the surrounding countryside.
Whether you're interested in history, culture, cuisine, or outdoor activities, Ávila has something for everyone. With its stunning architecture, charming atmosphere, and beautiful natural surroundings, Ávila is a must-visit destination for anyone traveling to Spain.
Top Selling Day Tours to Avila from Madrid
Getting to Avila
Avila is easily accessible from Madrid by car, train, or bus. The journey takes about an hour and a half by car or train, and slightly longer by bus. Once in Avila, you can easily explore the city on foot, as most of the main attractions are located within the city walls.
By Car
Avila is well-connected by road to Madrid, Segovia, Salamanca, and other nearby cities. It takes approximately 1.5 hours to drive from Madrid to Avila via the A-6 motorway. There are several car rental companies in Madrid, making it easy to hire a car for your trip. If you're driving from Segovia, take the N-110 south towards Avila.
By Bus
Avila is also easily accessible by bus from Madrid, Segovia, and Salamanca. There are several bus companies that operate regular services to Avila, including Avanza, ALSA, and Samar. The journey from Madrid takes approximately 1.5-2 hours, depending on the route and traffic. You can purchase bus tickets online or at the bus station.
By Train
While Avila does have a train station, it is not as well-connected as the bus and road networks. However, there are several trains that operate daily from Madrid's Chamartin station to Avila. The journey takes approximately 1.5-2 hours, depending on the train and route. You can purchase train tickets online or at the station.