Corralejo boasts a wide range of restaurants serving up delicious food. Whether you're looking for traditional Spanish cuisine, fresh seafood, or international dishes, there is something for everyone in Corralejo. Here's our guide to eating out, the best places to eat and what dishes you must try when in Corralejo.
Best Places to Eat in Corralejo
Whether you're looking for traditional Spanish dishes, fresh seafood, or international cuisine, you'll find it in Corralejo. Don't forget to try the local specialties and savor the unique flavors of the Canarian cuisine.
El Pescador
This family-run restaurant is a must-visit for seafood lovers. Located in the heart of Corralejo, El Pescador offers a variety of fresh seafood dishes, including paella, grilled octopus, and fried calamari.
La Taberna
La Taberna is a popular spot for locals and visitors alike. The menu offers a wide range of dishes, including traditional Spanish tapas and meat dishes. The cozy ambiance and friendly staff make it a great place to enjoy a meal.
Restaurante Yamatori
If you're in the mood for sushi, Restaurante Yamatori is the place to go. Located on the waterfront, this Japanese restaurant offers a variety of sushi rolls and other Japanese dishes. The beautiful views of the ocean make it a perfect spot for a romantic dinner.
El Pescadito de Tijarafe
Another seafood hotspot, El Pescadito de Tijarafe offers fresh fish and shellfish dishes. The restaurant's terrace overlooks the ocean, providing a beautiful backdrop for a delicious meal.
Cantante Cafe
This quirky cafe serves up delicious breakfast and brunch dishes, including pancakes, smoothie bowls, and avocado toast. It's the perfect spot for a relaxed breakfast or brunch with friends.
---
No Regrets Booking Advice
---
What to Eat in Corralejo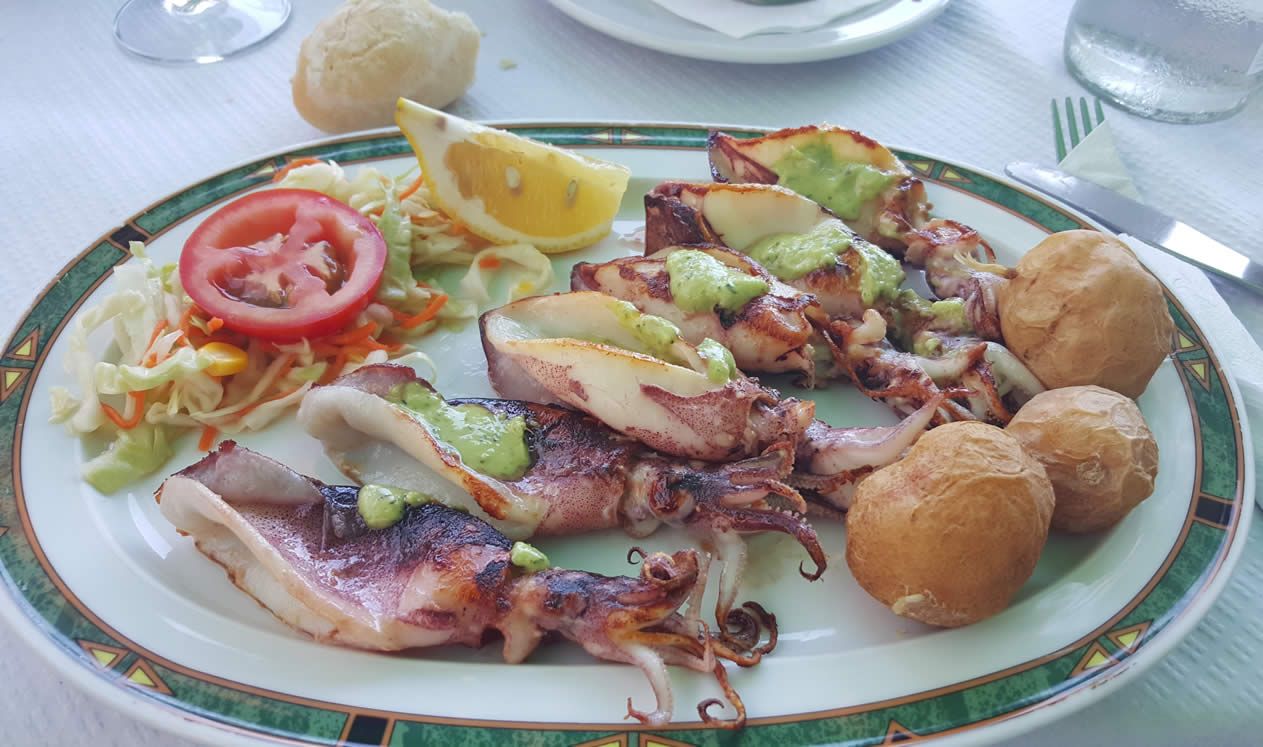 Papas Arrugadas
These wrinkled potatoes are a traditional Canarian dish and a must-try when in Corralejo. They're usually served with a spicy mojo sauce.
Almogrote
This spreadable cheese is made with hard, mature cheese, peppers, garlic, and olive oil. It's often served with bread as a starter.
Gofio
A staple in Canarian cuisine, gofio is a type of flour made from toasted grains. It's often used in dishes like stews and soups, and can also be used as a condiment.
Caldereta
This hearty stew is made with fish or shellfish, potatoes, and a variety of vegetables. It's a perfect dish to warm up on a chilly evening.
Bienmesabe
This traditional Canarian dessert is made with almonds, sugar, and eggs. It's a sweet and delicious way to end a meal.