Palmitos Park is a zoological and botanical park located in the southern part of Gran Canaria, in Maspalomas. The park offers visitors an opportunity to observe and interact with a wide variety of animals, birds, and plants, making it an excellent destination for nature lovers and families.
What to Expect from Your Visit
Palmitos Park is an excellent attraction for families and nature lovers visiting Gran Canaria. With its diverse collection of animals and plants, visitors are sure to have an unforgettable experience here. A great day out at the Palmitos Park is one of the best things to do in Gran Canaria.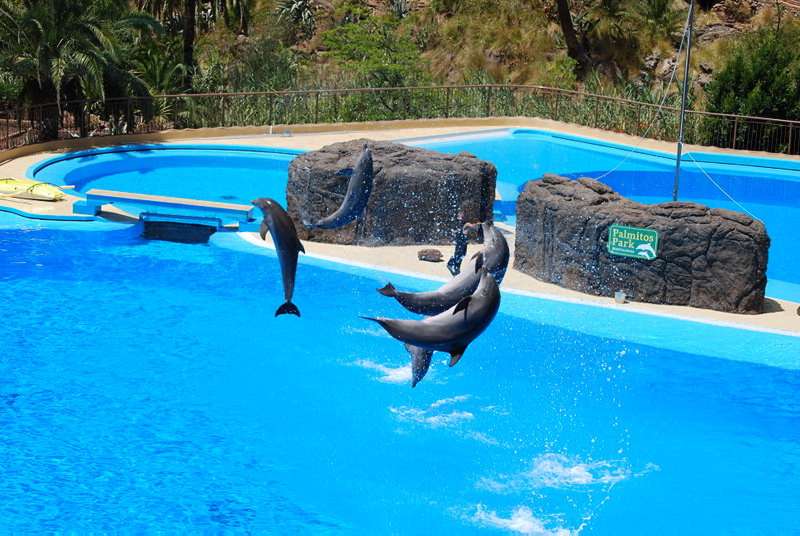 The park features a large number of exotic animals, including dolphins, sea lions, parrots, eagles, and even crocodiles. You can watch dolphins and sea lions perform in shows, while the park's bird sanctuary offers a chance to see a variety of birds, including macaws, toucans, and parakeets.
For those interested in reptiles, there is a reptile house where visitors can see lizards, snakes, and even crocodiles up close.
The park also has a large botanical garden with a wide variety of plants, including cactus gardens, orchid gardens, and a collection of carnivorous plants.
Visiting Information
Opening Hours
The park is open every day from 10am to 6pm.
---
No Regrets Booking Advice
---
Tickets
You can purchase tickets on the Palmitos Park website or at the park entrance. Prices vary depending on age and whether you want to include extras like a guided tour or animal encounter.
Facilities
The park has several restaurants and snack bars for visitors to enjoy, as well as souvenir shops and a photo service. There are also several rest areas throughout the park and wheelchair access is available.
Getting there
Palmitos Park is easily accessible by car or taxi. If you're coming from the north of the island, take the GC-1 motorway towards the south and follow signs to Maspalomas.
From there, follow signs to Palmitos Park. If you're coming from the south, take the GC-1 motorway towards the north and follow signs to Palmitos Park.
Free parking is available at the park.
Tips
It's a good idea to arrive early at the park to avoid the crowds and to be able to enjoy the shows and attractions without having to wait in long lines. The park can get very hot during the summer months, so it's recommended to bring plenty of water and wear sunscreen.
Buy Your Palmitos Park Tour in advance Online
Free cancellation up to 24 hours in advance for a full refund
by Getyourguide
Video Tour