Fuerteventura is famous for its stunning beaches, crystal-clear waters, and year-round warm climate. If you're planning a trip to Fuerteventura, there are many things to do and see. Here are some of the top things to do in Fuerteventura.
Beaches + Water Sports
When it comes to beaches in Fuerteventura, the island is one of the best ones in the world. The island has over 150 stunning beaches, each with its own unique features. Some of the most popular beaches include Sotavento Beach, Costa Calma, and Playa de Cofete. With golden sands, crystal-clear waters, and fantastic facilities, you can relax and unwind while soaking up the sun.
Fuerteventura is best known for windsurfing. The Fuerteventura coasts annually attract thousands of windsurfing enthusiasts and Fuerteventura is one of the best destinations in the world to practice windsurfing.
Windsurfing and kiteboarding are two of the most popular water sports in Fuerteventura. The island is famous for its constant winds, especially during the summer months, which provide the perfect conditions for these sports. There are many schools and centers that offer lessons and rental equipment for beginners and experienced riders alike.
Surfing is another popular water sport in Fuerteventura. The island is home to some of the best surf spots in Europe, including the famous breaks of El Cotillo and the long reef breaks of Cofete. There are many surf schools and rental shops that cater to surfers of all levels.
Scuba diving in Fuerteventura is an incredible experience that is not to be missed. With its stunning diving locations, reputable diving centers, and excellent diving tours, the island is a top destination for scuba diving enthusiasts. Whether you're a beginner or an experienced diver, Fuerteventura has something to offer for everyone.
---
No Regrets Booking Advice
---
You are able to find several excellent diving locations throughout the island, as well as plenty of reputable diving centers and tours.
For those who prefer a more relaxing experience, stand up paddling and kayaking are great options. These activities allow you to explore the island's stunning coastline at your own pace while enjoying the beautiful scenery.
Sports fishing is another popular water-based activity in Fuerteventura. The island is home to a variety of fish species, including marlin, tuna, and swordfish, making it an ideal destination for fishing enthusiasts. There are many fishing charters available that offer half-day and full-day trips for both beginners and experienced anglers.
Sightseeing
There are lots of places to visit and see in Fuerteventura. It is a large island with plenty of natural beauty to explore. Take a guided tour to explore the rugged landscape, visit the Betancuria Museum, or go on a jeep safari to explore the off-road tracks.
Museums
Fuerteventura has a rich history and heritage that can be explored by visiting its various museums. From traditional houses to contemporary art spaces, the island has something to offer for every kind of museums to visit for its enthusiasts.
Top Excursions
To explore the best of the island has to offer, there are numerous excursions and daily tours to choose from.
If you're looking for an exciting way to explore the rugged and beautiful landscape of Fuerteventura, a Jeep safari might be just the thing for you. This thrilling adventure allows you to discover the hidden corners of the island and experience its natural beauty in a unique and exhilarating way.
If you're looking for a thrilling way to explore the scenic landscapes of Fuerteventura, a quad or buggy safari might just be the perfect activity for you. This exciting excursion offers a unique way to discover the island's natural beauty while experiencing the excitement of off-road driving.
Another must-visit attraction in Fuerteventura is the stunning Lobos Island. This small, uninhabited island is located just off the coast of Fuerteventura and is a popular destination for daily tours and cruises. The island is home to a variety of wildlife, including seabirds, seals, and even a rare species of lizard. Visitors can take a boat ride to the island, explore the stunning scenery, and enjoy the crystal-clear waters of the island's lagoons.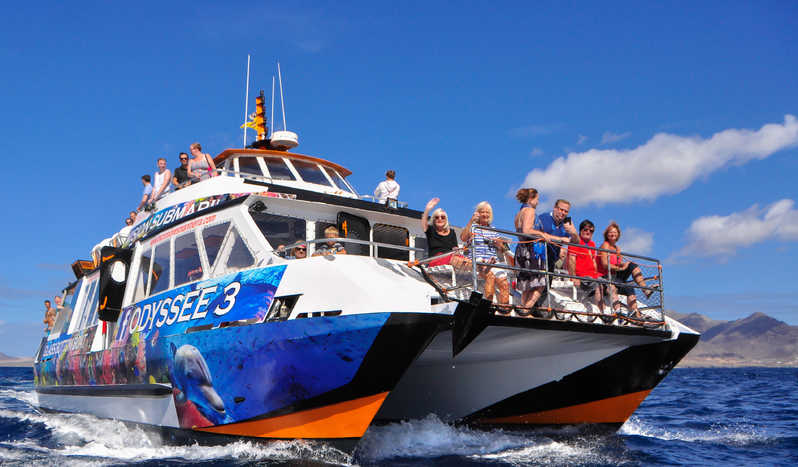 One of the best ways to explore Fuerteventura is by taking a daily boat trip or cruise. From family-friendly excursions to romantic sunset sails, there's something for everyone to enjoy.
There are also numerous other excursions and daily tours available in Fuerteventura. These include island hopping tours, cultural and historical tours, water sports activities, and much more. Some of the other popular activities include paddleboarding, windsurfing, snorkeling, and scuba diving.
Theme & Water Parks
When it comes to family fun and entertainment, Fuerteventura has plenty to offer. The island is home to several amusement and theme parks, each with its own unique attractions and experiences.
While Fuerteventura is famous for its beautiful beaches, warm climate, and a range of water sports activities, the island also has some water parks to have fun. Acua Water Park in Corralejo is a fun-packed day out for all the family, providing a great way to cool off and have some fun in the sun.
Experience the local cuisine
You can find a range of dining options, from simple tapas bars to high-end restaurants, with a focus on local ingredients and traditional recipes.
Some of the best places to sample Fuerteventura's cuisine include the towns of Betancuria and Antigua, where many of the island's traditional restaurants are located.
The harbor towns of Corralejo and Morro Jable are also popular spots for seafood lovers, with a wide range of seafood restaurants to choose from.
Shopping
Shopping in Fuerteventura is also fantastic. Whether you are looking for fashion, accessories, souvenirs, or local products, you are sure to find something that catches your eye in the island's shops.
There are also several local markets on the island that offer handmade crafts, souvenirs, and local products. The largest market is held on Sunday mornings in La Oliva, where you can find everything from pottery to local cheeses.
Nightlife
There are plenty of options for enjoying the night scene in Fuerteventura. From trendy bars and clubs to live music venues and beach parties, nightlife in Fuerteventura is very lively. Corralejo is the center of nightlife in Fuerteventura, with a lively atmosphere and many bars and clubs to choose from. There are options for every taste and budget, from cozy pubs to exclusive clubs.
Music Festivals
And finally, the music festivals are also great entertainment activity in Fuerteventura. The Fuerteventura Music Festival that is held in late June and early July and International Jazz Festival that is held in mid July are the best ones.