Last Updated on March 28, 2021
Costa Brava is famous for its Dali Theatre Museum. Travellers may find variety of nice museums in Costa Brava and enjoy the some of the best arts in the world.
As for museums in Costa Brava, the three museums of the so called Dalí Triangle that include; the Dali Theatre Museum in Figueres, the Portlligat Museum-House in Cadaques and the Gala Dali Castle in Pubol are a must see museums in Costa Brava.
Other museums that worth a visit and see in Costa Brava include; Girona's Archaeology, Art, History, Cathedral and Cinema Museums; the Toy Museum of Catalonia in Figueres, and the Garrotxa County Museum in Olot.
Best Museums in Costa Brava for you…
Salvador Dali Theatre Museum – in Figueres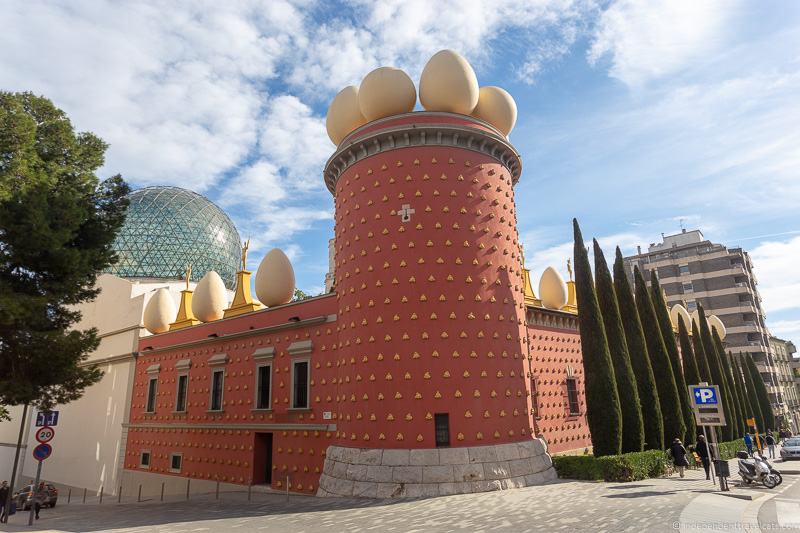 Salvador Dali Theatre Museum is situated in Figueres, on the north-eastern part of Spain. The museum is the largest surrealistic object in the world, occupies the building of the former Municipal Theatre, a 19th century construction. It is the 2nd most visited museum in Spain.
Opening Hours: October to June 10:30 a.m. to 5:15 p.m. Closed Monday except holidays; July to September daily from 9 a.m. to 7:15 p.m
Address: Pjda. del Castell, 28, Plaça Gala-Salvador Dalí, Figueres, Costa Brava
Tel.: +34 972 67 75 09
Web: www.salvador-dali.org
Portlligat Salvador Dali House-Museum – in Cadaques
Objects rekated with Dalí and his wife are exhibited at the museum with Dalí's work Portlligat bay. Opening Hours: daily from 10.30 a.m. to 6 p.m. Closed Monday
Address: Portlligat, Cadaques, Costa Brava
Tel.: +34 972 251 015
Web: www.salvador-dali.org/museus/portlligat
Gala Dali Castle – in Pubol
The place is a mediaeval building that Dali turned it into his workshop. Opening Hours: daily from 10.30 a.m. to 6 p.m. Closed Monday
Address: Pubol, Costa Brava
Tel.: +34 972 48 82 11
Web:
Toy Museum of Catalonia – in Figueres
Toys from Catalonia from the early 1900's are exhibited at the museum.
Opening Hours: 10 a.m. to 1 p.m. and 4 p.m. to 7 p.m
Address: Sant Pere, 1, Figueres, Costa Brava
Tel.: +34 972 50 45 85
Web: www.mjc.cat/en/
Garrotxa County Museum – in Olot
Collection of paintings of the so-called School of Olot are exhibited at the museum.
Address: C. Hospici, 8, 17800 Olot (La Garrotxa), Costa Brava
Tel.: +34 972 271 166
Web: www.olotcultura.cat
Archaeological Museum – in Girona
Located at the Monastery of Sant Pere de Galligants, archaeological objects from prehistory to medieval times are exhibited at the museum.
Opening Hours: Monday to Saturday 10 a.m. to 2 p.m. and 4 to 5:30 p.m.; Sunday and holidays 10 a.m. to 2 p.m. Closed Monday
Address: Santa Llúcia, 1, Girona, Costa Brava
Tel.: +34 972 202 632
Web: www.mac.cat/seus/girona
Art Museum of Girona – in Girona
Art collection of the bishopric and province of Girona are exhibited at the museum.
Opening Hours: summer from Tuesday to Saturday 10 a.m. to 7 p.m.; Sunday and holidays 10 a.m. to 2 p.m., closed Monday; winter from Tuesday to Saturday 10 a.m. to 6 p.m.; Sunday and holidays 10 a.m. to 2 p.m. Closed Monday
Address: Bishop's Palace, Pujada de la Catedral, 12, Girona, Costa Brava
Tel.: +34 972 203 834
Web: www.museuart.com
Girona City History Museum – in Girona
Visitors may take a journey through the history of Girona from its Roman foundation to the present day at the museum.
Opening Hours:
Address: C. de la Força, 27, 17004 Girona, Costa Brava
Tel.: +34 972 222 229
Web: www.girona.cat/museuhistoria
Museum of l'Empordà – in Figueres
Archaeological ruins are exhibited at the museum.
Opening Hours: Tuesday to Saturday, 11 a.m. to 1 p.m. and 3 to 7 p.m.; Sunday and holidays 11 a.m. to 1:30 p.m. Closed Monday
Address: Rambla, 2, Figueres, Costa Brava
Tel.: +34 972 50 23 05
Web: www.museuemporda.org
Municipal Museum of Tossa de Mar – in Tossa de Mar
Variety of art collection are exhibited at the museum.
Address: Pl. Roig i Soler, 1 – Vila Vella, 17320 Tossa de Mar, Costa Brava
Tel.: +34 972 340 905
Web: www.tossademar.cat/museu
---