Last Updated on March 29, 2021
Here you can read our ultimate guide on diving and snorkelling in Gran Canaria, including top diving locations, scuba diving centres, schools, best scuba diving tours with local advice. Gran Canaria offers great diving and snorkelling opportunities for sea and diving lovers.
What to Expect?
With its 236 kilometres of magnificent coastline, beautiful coves, crystal clear oceanic waters and excellent underwater volcanic environment, Gran Canaria is an ideal place for diving lovers from all over the world. It is also one of the best things to do in Gran Canaria.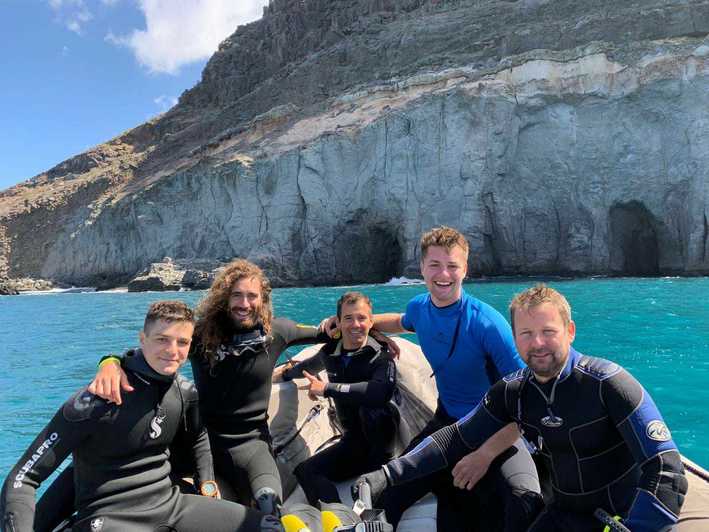 The water temperature in the island is about 18ºC in winter and 22ºC for the rest of the year.
Top Diving Locations in Gran Canaria
The most popular and visited scuba diving locations in Gran Canaria include;
Bajas de La Isleta on the Playa de Las Canteras,
to the southeast the beach at El Cabrón,
to the south La Baja de Pasito Blanco,
to the north Sardina del Norte,
Caleta Baja in Gáldar.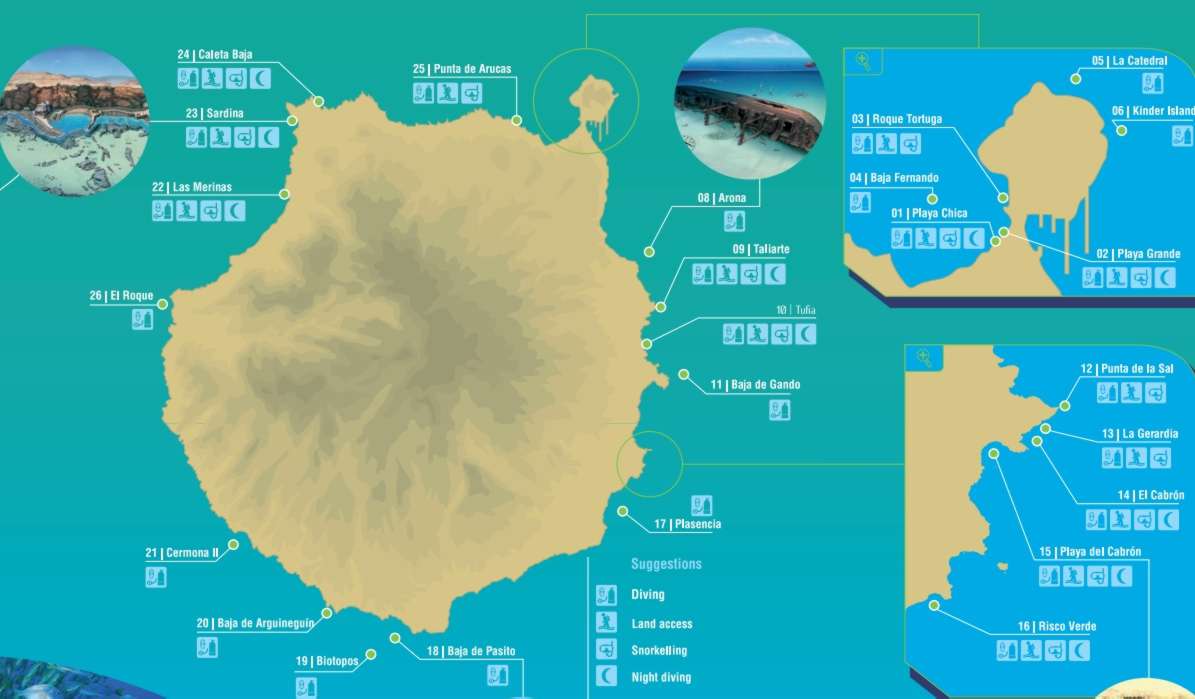 Top Diving Centres & Schools in Gran Canaria
You'll definitely find many quality scuba diving centres and diving schools in Gran Canaria. Below we put together the most popular ones.
… on the Northern coasts
Buceo Canaria – in Las Palmas
Address: Calle Joaquín Blanco Torrent, s/n, 35004 Las Palmas de Gran Canaria
Tel: +34 928 232 085 / 649 893 653; Web: buceocanarias.com
Buceo Norte – in Galdar
Address: Avenida Alcalde Antonio Rosas, 46, 35460 Gáldar, Las Palmas, Gran Canaria
Tel: +34 928 883 807 / 628 107 479; Web: buceonorte.com
7 Mares Las Canteras – in Las Palmas
Address: c/ Tenerife 12, junto al mercado del Puerto, a 50 mts. de la Palya de Las Canteras, 35008 Las Palmas de Gran Canaria
Tel: +34 928 460 035 / 609 469 391; Web: 7mares.es
Lavy Sub – in Las Palmas de Gran Canaria
Address: Muelle deportivo de las Palmas, Joaquin Blanco Torrent, s/n, 35005 Las Palmas de Gran Canaria
Tel: +34 928 232 530 / 639 076 245; Web: lavysub.com
… on the Southern coasts
Delphinus Diving School – in Puerto De Mogan
Address: Avda. Los Marrero,2 , Inside Cordial Mogan Hotel, Puerto De Mogan, Gran Canaria
Tel: +34 928 566 169 / 664 009 156; Web: delphinus.eu
Davy Jones Diving – in Agüimes
Address: Calle Luis Velasco 36-38 | Playa de Arinaga, Aguimes, 35118, Gran Canaria
Tel: +34 900 460 147 / 699 721 584; Web: davyjonesdiving.com
Top Selling Diving Tours in Gran Canaria
Here we only suggest the proven ways and top rated ones with travelers' comments. You can feel free to book one of the below top selling tours.
Free cancellation up to 24 hours before activity starts
---