Madrid's Palacio Real and Opera neighborhood, located in the heart of the city, is an area that exudes history, elegance, and culture. Here, visitors can admire the beautiful architecture, stroll through the lush gardens, and take in the vibrant cultural scene. Here you can read our ultimate neighborhood guide to Palacio Real and Opera in Madrid, including top things to do and see, places to eat, drink, shop, stay, and advice on how to best explore.
Top Attractions & Sights
Palacio Real (Royal Palace)
Royal Palace is a magnificent palace and the official residence of the Spanish royal family. With over 3,400 rooms and an extensive collection of art, it's a must-see for any visitor to Madrid.
In addition to the Palacio Real, there are other historical and cultural landmarks to see in this neighborhood. The Teatro Real, also known as the Royal Theatre, is located just next to the palace and is a must-see for any opera or classical music lover. The theater has a rich history dating back to the 19th century and hosts world-class performances throughout the year.
Just a few steps away from the palace, you can also find the Plaza de Oriente, a beautiful square surrounded by elegant gardens and featuring a large statue of King Felipe IV.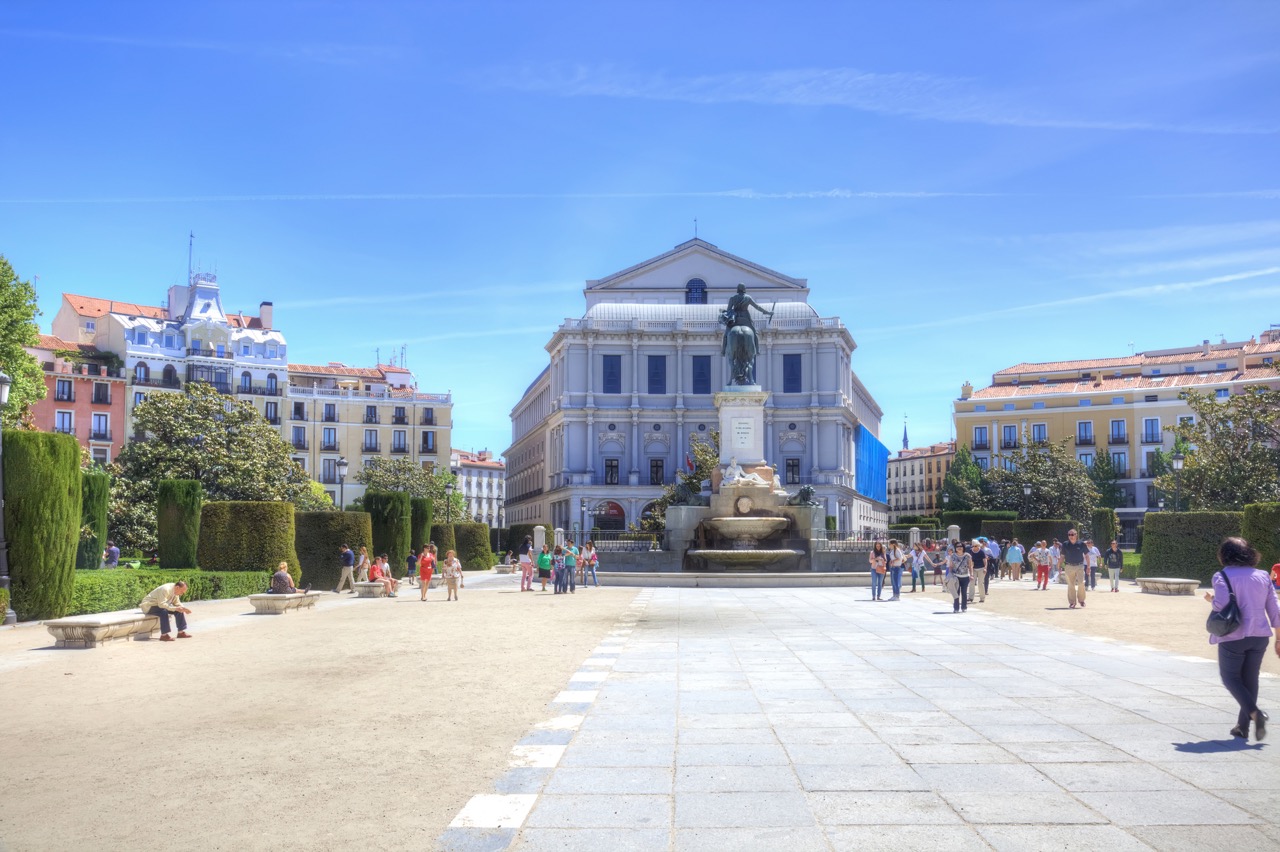 The plaza offers stunning views of the palace and the Almudena Cathedral, which is also worth a visit. The cathedral was consecrated by Pope John Paul II in 1993 and features an eclectic mix of architectural styles, including neo-Romanesque and neo-Gothic.
For those interested in art, the Sabatini Gardens located in front of the palace, feature sculptures by contemporary artists such as Joan Miró, Pablo Serrano, and Eduardo Chillida.
Teatro Real (Royal Theatre)
This historic theater is one of the most important opera houses in Spain. With its stunning architecture and world-class performances, it's a must-visit for music lovers.
Plaza de Oriente (East Square)
This beautiful square is located in front of the Royal Palace and offers stunning views of the palace and the surrounding area. It's a great spot to relax and take in the scenery.
Sabatini Gardens
Located next to the Royal Palace, these beautiful gardens are a perfect spot for a picnic or a leisurely stroll. The gardens feature fountains, statues, and manicured lawns.
San Francisco el Grande Basilica
This beautiful church is located in the heart of the neighborhood and is known for its stunning dome and impressive collection of art.
Shopping
If you're looking for some shopping, the Calle Mayor is a pedestrian street that runs parallel to the palace and is filled with a variety of shops, boutiques, and souvenir stores. You can also find several restaurants and cafes in the area, offering a range of Spanish and international cuisine.
Food and Drink
Palacio Real and Opera neighborhood of Madrid offers a wide range of options for eating out and nightlife. As one of the most visited tourist areas in Madrid, it has an excellent selection of restaurants, cafes, and bars to suit all tastes and budgets.
For traditional Spanish cuisine, visitors can head to La Vaca y La Huerta, a restaurant specializing in locally sourced meats and vegetables. The menu features classic dishes such as Iberian pork and beef steak, as well as vegetarian options. Another excellent option for Spanish food is La Lonja del Mar, a seafood restaurant that serves fresh fish and shellfish.
For a taste of international cuisine, visitors can try Italian dishes at Trattoria Sant Arcangelo or Japanese specialties at Kabuki Wellington, one of the most renowned Japanese restaurants in the city.
Places to Eat
Casa Mingo – This traditional Asturian restaurant is known for its delicious cider and classic dishes like roasted chicken and chorizo.
La Bola Taberna – This historic tavern has been serving up traditional Spanish cuisine since 1870. Their signature dish is cocido madrileño, a hearty stew with chickpeas, meat, and vegetables.
Casa Patas – This flamenco bar and restaurant offers a unique dining experience with live performances of Spain's most famous dance style. They also offer a delicious selection of traditional Spanish dishes.
El Club Allard – This Michelin-starred restaurant offers a modern take on traditional Spanish cuisine. The tasting menu features innovative dishes made with fresh, seasonal ingredients.
Nightlife
When it comes to nightlife, the Palacio Real and Opera area in Madrid has many options. One of the best-known bars is the rooftop bar at the Hotel de las Letras, where visitors can enjoy stunning views of the city while sipping on cocktails. Another popular spot is El Junco, a jazz club that features live music and a lively atmosphere.
For a more relaxed evening, visitors can head to one of the many cafes in the area, such as Café de Oriente, which offers outdoor seating and views of the Royal Palace, or Café Comercial, a historic cafe that has been serving coffee since 1887.
Lodging
As for lodging, the neighborhood is home to several upscale hotels, such as the Hotel Villa Magna and the Hotel Palacio del Retiro, Autograph Collection, as well as more affordable options like the Petit Palace Opera Garden Hotel and the Hotel Francisco I.