Costa Calma is known for its beautiful beaches, crystal-clear waters, and laid-back atmosphere. Apart from the breathtaking scenery, Costa Calma is also home to a diverse and rich culinary scene. Here you can read our insider guide for best eating out & dining opportunities in Costa Calma, including best restaurants, outdoor cafes, gastronomy and cuisine.
Best Places and Areas to Eat
Costa Calma is a paradise for foodies, offering a wide range of dining options to suit all tastes and budgets. Visitors can indulge in traditional Canarian cuisine, fresh seafood, and international dishes while enjoying the stunning views of the ocean. Visitors can find a wide variety of restaurants, cafes, and bars offering both traditional Canarian and international cuisine.
Restaurante El Patio
This restaurant, located in the heart of Costa Calma, serves delicious traditional Canarian cuisine in a charming and cozy atmosphere. Their menu includes fresh seafood, grilled meats, and local vegetables. The staff is friendly and knowledgeable about the dishes they serve.
El Divino
This restaurant, located in the Bahia Calma hotel, offers a mix of international and Spanish cuisine. Their menu includes dishes like fresh salads, grilled meats, and pasta. The restaurant has a beautiful outdoor terrace with stunning views of the sea.
El Capitan
This beachfront restaurant offers a stunning view of the ocean while you dine. Their menu includes fresh seafood and local cuisine, such as paella and tapas. They also have a great selection of wines and cocktails to choose from.
Pizzeria Di Napoli
This cozy Italian restaurant serves authentic Neapolitan-style pizza cooked in a wood-fired oven. Their menu also includes fresh salads, pasta, and homemade desserts. They have indoor and outdoor seating areas, and the staff is friendly and welcoming.
What to Eat: Top Dishes
Papas Arrugadas
Papas Arrugadas, also known as wrinkled potatoes, are a traditional Canarian dish that is a must-try. These small, salty potatoes are boiled in seawater and served with a variety of sauces, such as Mojo Rojo and Mojo Verde.
Gofio Escaldado
This dish is made with gofio, a flour made from toasted grains, mixed with fish, meat, or vegetables. It is usually served as a starter or a side dish, and it is a staple in Canarian cuisine.
Caldereta de Langosta
Caldereta de Langosta is a traditional lobster stew that is a delicacy in the Canary Islands. It is made with fresh lobster, vegetables, and potatoes, and seasoned with a mix of spices and herbs.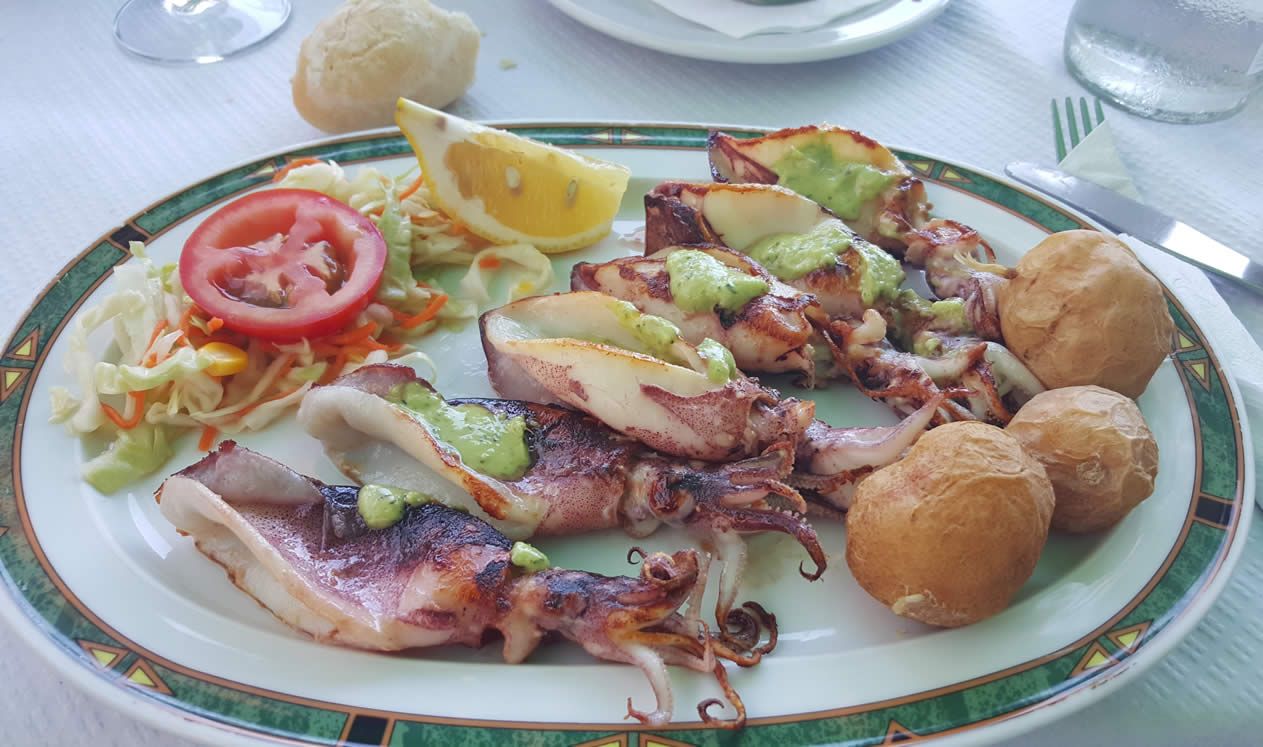 Queso Majorero
Queso Majorero is a type of goat cheese that is made on the island of Fuerteventura. It has a strong flavor and is usually served with bread or in salads.
In conclusion,  Whether you're looking for a romantic dinner for two or a casual lunch with friends, Costa Calma has something for everyone.