Playa del Ingles offers nice and small collection of quality apartments ranging from quiet small sized holiday home complexes to bungalows.
Insider Advice Before You Book
* Apartments with the sea views and close to the beach are highly recommended.
* You can get discounts of up to 40% if you book early and online.
* You should contact the customer services of the hotels before you book to get your special requests (if any) during the reservation.
How to Get The Best Price
We recommend you make your hotel search and book online via the world's biggest online hotel booking websites. You can easily find great discounts and get the best prices with a match.
You may book online via the below popular reservation sites with best prices guaranteed.
Popular Apartments in Playa del Ingles
Montemar Apartments – 2 Key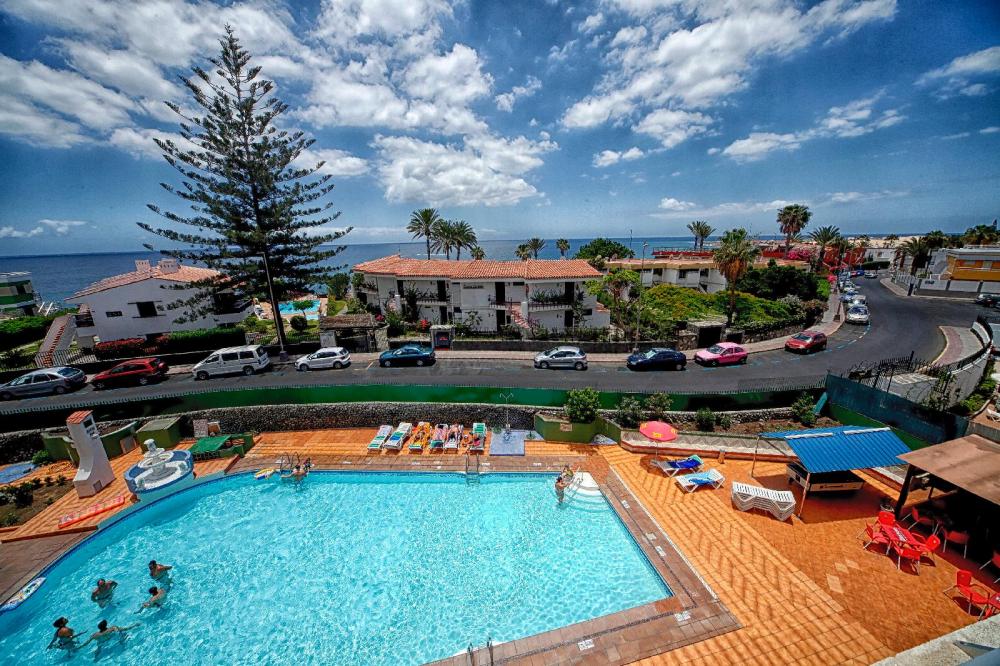 The self-catering Montemar Apartments are located 5 minutes from Playa del Ingles in Gran Canaria. The complex facilities include a swimming pool with a sun terrace and bar. The accommodation is simple but comfortable. There is a kitchen and spacious seating area. Each apartment also has a balcony that overlooks either the sea or the pool.
Bungalows Santa Clara – 2 Key
Bungalow Santa Clara is a villa located in Maspalomas, 500 m from the beach. Aqualand Maspalomas is in 3.7 km and Playa de San Agustín is in 2.6 km from the villa. The property offers Wired Internet, washing machine, outdoor swimming pool and children`s playground.
Sol Barbacán Apartamentos – 4 Key
The Sol Barbacan Aparthotel is located in the tourism resort of Playa del Ingles, just 500 metres from the city centre and two kilometres from the nearest beach. The hotel is in a great place for exploring other resorts, with Las Palmas and Puerto de Mogan being less than 30 kilometres away.
Jardin del Atlantico Apartments – 2 Key
Apartments Jardín del Atlántico is a large complex centrally located in Playa del Inglés, 300 metres to the beach and 50 m from the commercial centre. The 5-storey apartment building was recently entirely refurbished.
Buenos Aires Apartments – 2 Key
The Buenos Aires apartment complex was built in 1972, renovated in 2003 and consists of a total of 150 apartments/ studios. Facilities include a 24-hour reception with a currency exchange desk, 3 lifts, a bar, a restaurant and an Internet terminal.
Las Dunas Apartments – 2 Key
The Las Dunas apartment complex is situated in the heart of Playa Del Ingles and numerous shops, restaurants bars and clubs can be found nearby. The complex provides comfortable accommodation with well-appointed apartments all of which feature a selection of amenities including a kitchenette.