Here you can read our insider guide for best eating out & dining opportunities in Las Palmas de Gran Canaria, including best restaurants, outdoor cafes, gastronomy and cuisine. You'll find variety of classy cafes and restaurants along the beautiful coastline and promenade area of Las Palmas de Gran Canaria.
Best Places and Areas to Eat
Las Palmas is home to a variety of restaurants and cafes, each serving up their own unique dishes that blend traditional Canarian cuisine with international flavors.
One of the best places to eat in Las Palmas is the Vegueta neighborhood, which is located in the historic center of the city. Here, visitors can sample delicious Canarian dishes such as papas arrugadas (wrinkled potatoes), which are served with a spicy mojo sauce, and pescado frito (fried fish) caught fresh from the Atlantic Ocean. For those with a sweet tooth, the neighborhood also offers traditional Canarian desserts such as bienmesabe, a sweet almond-based dish.
Another great area for foodies to explore is the Santa Catalina neighborhood, which is known for its seafood restaurants. Here, visitors can sample dishes such as calamares a la romana (fried squid) and paella, which are made with fresh seafood caught daily by local fishermen.
For those looking for international cuisine, the Las Canteras beach area is the place to be. The beachfront promenade is lined with restaurants and cafes serving up everything from sushi to Italian pasta dishes. Visitors can enjoy a meal with stunning views of the Atlantic Ocean and the iconic Las Canteras beach.
What to Eat?
For the ones who want to discover the autochthonous gastronomy of Gran Canaria and Canary Islands, freshly caught fish can is the best choice and mostly popular in Las Palmas de Gran Canaria.
The most usual types of locally caught fish include; cherne (grouper), sama (gold sea-bream), abae (a white fish similar in taste to grouper), cabrilla (comber), morena (moray) and vieja (parrot fish).
Apart from Las Palmas de Gran Canaria, visitors may also find great fresh fish in Puerto de Mogan, Puerto de las Nieves, Agaete and in the north-west part of the island of Gran Canaria.
Variety of specialist fish restaurants are mostly located on and around the quayside of the resorts.
Top Dishes
When it comes to top dishes to try in Las Palmas, the island's fresh seafood is a must. The local specialty is sancocho, a dish made with salted fish, potatoes, and mojo sauce. Visitors should also try the Canarian cheese, which is made from goat's milk and has a unique flavor.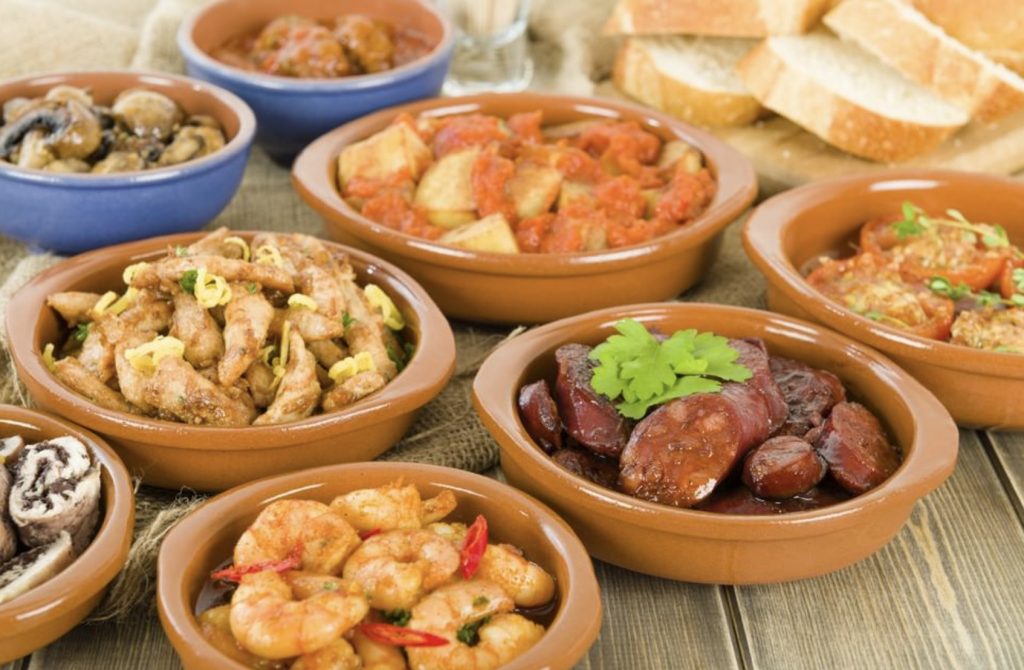 Other must-try dishes include;
potaje de berros (watercress soup containing spare rib, corn, potatoes, and beans) served with ball-shaped gofio corn brea,
rancho (a stew of chickpeas, potatoes, pork, poultry and veal,
roast leg of por,
carajacas (liver in marinade sauce) fried pork,
the Guía and La Cumbre cheeses,
bienmesabe (ground almonds and honey, usually eaten with ice-cream),
suspiros (meringues),
frangollo (pancakes).