Puerto de Mogan is also a smaller holiday resort like Puerto Rico and located on the south west coast of Gran Canaria. Here you can find our ultimate travel guide and holidays to Puerto de Mogan, including top things to do and see, attractions, sights, best places to stay, eat, drink, all tourist info you need.
What to Expect?
Puerto de Mogan is a charming fishing village known for its picturesque canals, colorful bougainvillea flowers, and beautiful sandy beach.
The village has a lovely harbor where visitors can watch the colorful fishing boats and luxury yachts come and go. The beach is perfect for sunbathing, swimming, and water sports.
Take a stroll through the streets and admire the white-washed houses with their balconies and terraces decorated with flowers. For a bit of history, head to the Church of San Antonio de Padua, which dates back to the 18th century.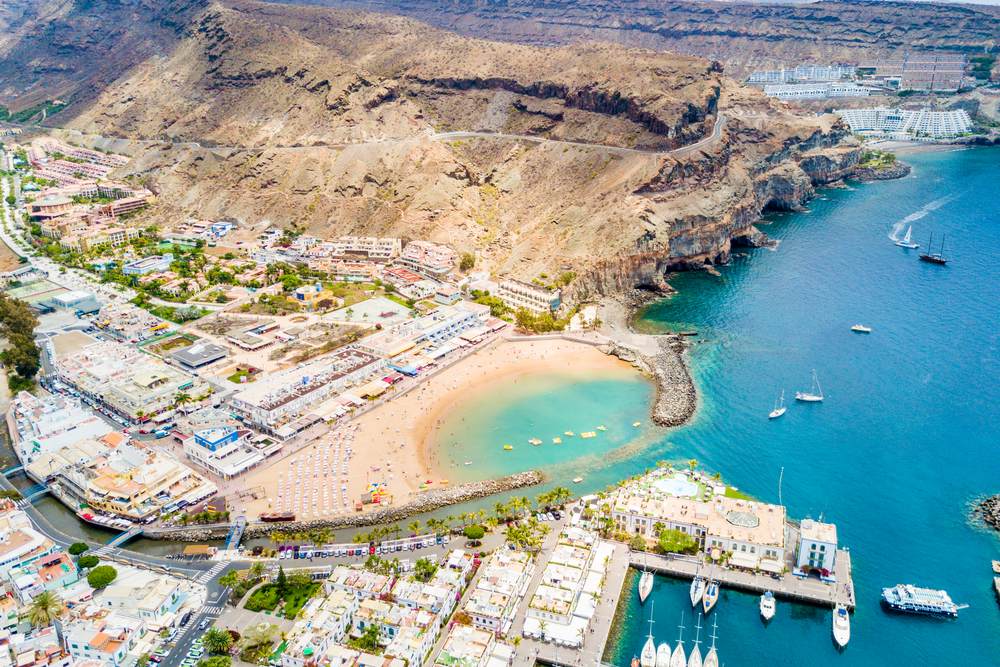 There are several water activities available, including snorkeling, scuba diving, and boat trips. The most popular boat trip is a dolphin and whale watching tour, which takes you out to sea to see these magnificent creatures in their natural habitat.
There are also many hiking trails in the area, including the Camino de los Molinos, a trail that takes you past old windmills and stunning views of the sea and surrounding countryside.
---
No Regrets Booking Advice
---
Top Tours & Activities
Boat trips: Take a leisurely boat trip along the coast of Gran Canaria and discover the hidden beaches and coves that are inaccessible by land. You can choose from a variety of tours, including dolphin and whale watching, sunset cruises, and private charters.
Water sports: If you're looking for some adrenaline-pumping action, try some of the water sports available in Puerto de Mogan, such as jet skiing, parasailing, or paddleboarding. There are also diving and snorkeling tours that will take you to the best spots for underwater exploration.
Hiking and biking: Puerto de Mogan is surrounded by stunning natural scenery, and there are many trails that you can explore on foot or by bike. The nearby mountains offer a challenging terrain for experienced hikers, while the coastal paths are ideal for more casual walkers.
Food and wine tours: Gran Canaria is famous for its delicious cuisine, and Puerto de Mogan is no exception. Take a food and wine tour and discover the local specialties, such as fresh seafood, papas arrugadas, and mojo sauces. You can also visit some of the wineries and taste the island's best wines.
Shopping: If you're in the mood for some retail therapy, Puerto de Mogan has plenty of opportunities for shopping. The village is home to many artisan shops and boutiques that sell local handicrafts, jewelry, and souvenirs. There's also a weekly market where you can find fresh produce, clothing, and other goods.
Eating Out & Shopping
Puerto de Mogan has a great selection of restaurants, cafes, and bars, offering a mix of local and international cuisine. For seafood lovers, there are plenty of options, including fresh fish and seafood caught daily by the local fishermen.
There are also several shops and boutiques in the village, selling local crafts, souvenirs, and clothing.
Nightlife
Puerto de Mogan is a quiet and peaceful village, perfect for those looking for a relaxing holiday. The nightlife is low-key, with a few bars and cafes open late into the night. The village is best enjoyed in the evening, with a stroll along the canals, a romantic dinner by the harbor, and a nightcap at a cozy bar.
Lodging
There are several accommodation options in Puerto de Mogán, ranging from budget-friendly apartments to luxury villas. Most of the hotels are located near the beach or in the center of the village, with easy access to the main attractions.