Places to visit in Seville are very impressive. Seville offers great sights and points of interest for the travelers. From the breathtaking architecture to the delicious cuisine and vibrant nightlife, there is no shortage of places to visit and see in Seville.
Main Sights
Here are some of the top places to visit and see in Seville:
Alcazar of Seville: This palace is one of the city's most iconic landmarks and features stunning Moorish architecture and beautifully landscaped gardens. One of the best places to visit in Seville.
Cathedral of Seville: The largest Gothic cathedral in the world, the Seville Cathedral boasts a stunning interior with intricate carvings and colorful stained glass windows. Aother one of the best places to visit in Seville.
Plaza de España: This grand square was built for the 1929 Ibero-American Exposition and features a beautiful fountain and tiled alcoves representing different regions of Spain.
Parque de Maria Luisa: Located next to Plaza de España, this lush park offers a tranquil escape from the city's bustling streets.
Barrio Santa Cruz: The city's historic Jewish quarter features narrow streets, charming plazas, and a lively atmosphere with plenty of bars and restaurants.
Metropol Parasol: This modern structure is the largest wooden structure in the world and offers panoramic views of the city from its rooftop walkway.
Triana: Known for its lively nightlife and flamenco scene, this colorful neighborhood is located across the Guadalquivir River and is home to many historic landmarks.
Museo del Baile Flamenco: This museum is dedicated to the history and culture of flamenco, and offers performances and classes to visitors.
Casa de Pilatos: This stunning Renaissance palace features a blend of Gothic, Mudéjar, and Renaissance styles, and is known for its beautiful courtyards and gardens.
Mercado de Triana: This bustling market is known for its fresh seafood, produce, and other local specialties, making it a must-visit for foodies.
Explore the City
Seville is divided into seven zones that include; El Centro (centre), Santa Cruz, Maria Luisa, La Macarena, Triana, Los Remedios, La Cartuja and El Arenal. There are plenty of things to explore and discover in Seville, from its magnificent landmarks to its charming streets and squares.
One of the must-see landmarks of Seville is the Cathedral of Seville, one of the largest Gothic cathedrals in the world. Its impressive bell tower, known as La Giralda, is a symbol of the city and offers breathtaking views of the surrounding area.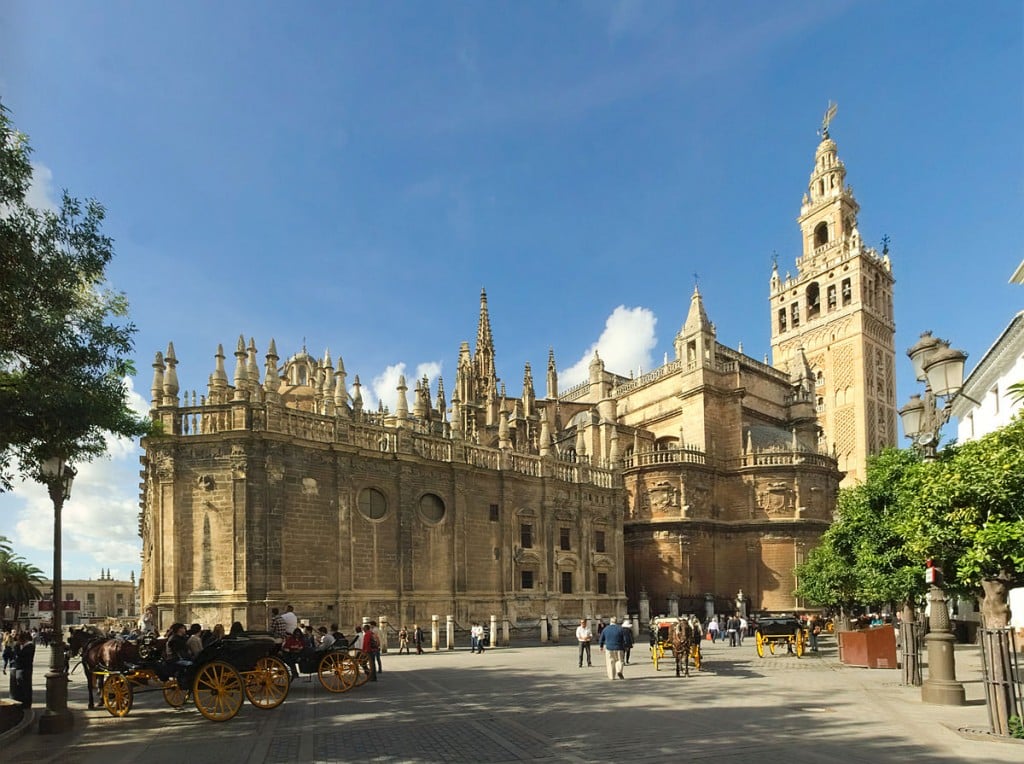 Another stunning architectural gem is the Royal Alcázar of Seville, a palace complex with beautiful gardens, intricate tile work, and stunning examples of Mudejar architecture.
For a taste of local culture, take a stroll through the vibrant Triana district, known for its traditional ceramics and flamenco shows. You can also explore the charming narrow streets of the Santa Cruz neighborhood, where you'll find quaint cafes, shops, and some of the city's most picturesque squares.
Food is a big part of the Seville experience, and the city boasts a rich culinary tradition. From classic tapas bars to upscale restaurants, there are plenty of places to enjoy local specialties such as gazpacho, tortilla de camarones, and the famous Iberian ham.
You can also head to the local markets such as the Mercado de Triana to try some of the freshest produce, seafood, and meats.
Finally, don't miss out on the opportunity to experience some of Seville's lively festivals and events. The city is famous for its Semana Santa processions, the April Fair, and the Bienal de Flamenco, among many others. No matter what time of year you visit, there's always something exciting happening in Seville.
Neighborhoods
There are many neighborhoods and districts that are worth exploring, each with its own unique character and charm.
Santa Cruz
This historic neighborhood is the most popular area to explore in Seville. It is home to the beautiful Cathedral of Seville, the Royal Alcazar of Seville, and many winding streets and alleys filled with cafes, restaurants, and shops.
Triana
This neighborhood is located across the Guadalquivir River and is known for its flamenco culture, traditional pottery, and beautiful views of the city. It is a great place to explore during the day or at night.
Macarena
This bohemian neighborhood is located north of the city center and is filled with trendy cafes, bars, and shops. It is also home to the Basilica de la Macarena, one of the most beautiful churches in Seville.
El Arenal
This district is located near the river and is known for its seafood restaurants and bars. It is a great place to explore during the day or at night and offers beautiful views of the Guadalquivir River.
La Cartuja
This former monastery is now home to the Contemporary Art Center of Seville and the Isla Magica amusement park. It is a great place to explore with kids or for a fun day out.
Guadalquivir River Cruises
Cruising the Guadalquivir River is a popular activity for visitors to Seville, and there are a variety of cruises and boat tours available to choose from. These tours offer a unique way to see the city's landmarks and architecture from a different perspective, and provide a relaxing and enjoyable way to spend an afternoon or evening.
One of the main advantages of taking a Guadalquivir River cruise is the opportunity to see the city's historic landmarks and architecture from a different angle. Along the route, you'll be able to see such iconic landmarks as the Torre del Oro, the Triana Bridge, and the Cathedral of Seville from a unique vantage point.
Museums
Seville has a rich cultural heritage, and hosts one of the best museums in the Andalusian region of Spain. From classical art to modern and contemporary art, history, and science, there is something for everyone in the many museums in Seville.
Museum of Fine Arts of Seville is the most popular Seville Museum that is located in Plaza del Museo and one of the finest fine arts museums in Spain. Whether you're a fan of classical art, flamenco, or just want to explore the city's cultural heritage, Seville's museums are a must-see during your visit.
Video Tour