Last Updated on March 29, 2021
Here you can read our Guide on surfing in Gran Canaria, best locations, beaches and schools, what to expect to get on-board surfing on the island. Surfing is one of the most popular water sports activities on the island as well as Gran Canaria is also one of the best surfing destinations in the world.
Top Surfing Locations
The northern coasts of Gran Canaria is the main surfing area of the island. It comprises the coastline route from the Las Palmas de Gran Canaria over the waves of "Las Monjas", all the way to Gáldar and its popular "El Frontón" wave that the body board world championship is held every year.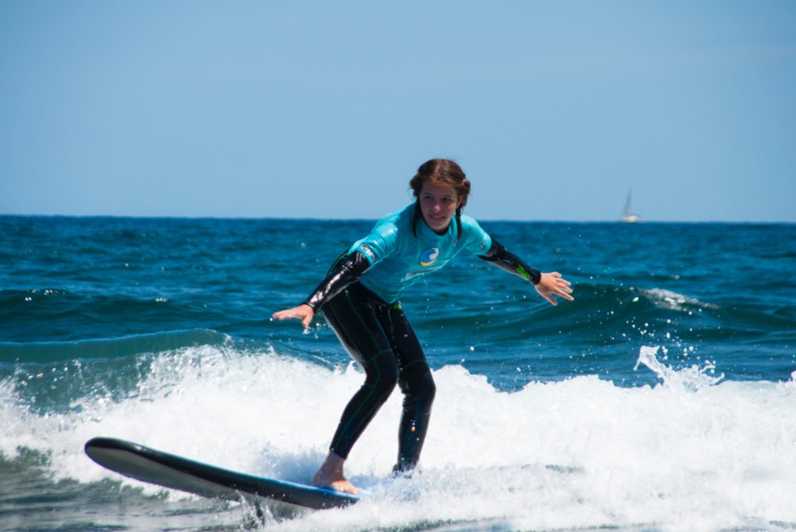 Northern coasts of Gran Canaria has the highest wave frequency and the strongest breakers as its being rocky coasts. Waves can reach as high as 5 metres.
The eastern coasts of Gran Canaria is ideal for surfing when the sea flows from the east and the wind abates.
Pozo Izquierdo, both at "Mosca Point" and to the right of the "Muellito" are the best locations for surfing.
The southern and eastern coasts of Gran Canaria also has popular areas for surfing such as the point separating the Playa del Inglés from Maspalomas, as well as the Maspalomas lighthouse and also Arguineguín.
Video Tour
Top Surfing Schools
… on the Northern coasts
MojoSurf School & SurfCamp – in Las Palmas
Address: C/ Perú, 20 Local – zona La Cicer, Las Palmas de Gran Canaria
Tel: +34 659 225 500; Web: mojosurf.es
3RJ Surf Academy – in Las Palmas
Address: C/ Lepanto 27 ; Plaza del Pilar (Barrio de Guanarteme), Playa de la Cicer, Las Palmas de Gran Canaria
Tel: +34 928 491 142; Web: surfk.com
Brisa School – in Las Palmas
Address: Numancia 19, Las Palmas de Gran Canaria
Tel: +34 650 308 307; Web: brisaschool.com
Ocean Side & Quiksilver Surf School – in Las Palmas
Address: 47 Numancia St. – 35010, Las Palmas de Gran Canaria
Tel: +34 928 220 437; Web: grancanariasurf.es
University Surf School – in Las Palmas
Address: c/ Secretario Padilla 168, Guanarteme, Las Palmas de Gran Canaria
Tel: +34 661 360 337; Web: universitysurfschoolcanarias.com
… on the Southern coasts
Björn Dunkerbeck Surf School – in Playa del Inglés
Address: Local 5 A/B, CC Atlantic Beach Club, 35100 Playa del Inglés, Gran Canaria
Tel: +34 629 348 679; Web: surfbd.com
PR Surfing – in Playa del Inglés
Address: Av. de Moya no˚6 Playa Del Ingles, C.C Eurocenter loc 80, Gran Canaria
Tel: +34 928 769 719; Web: prsurfing.com
Surf Maspalomas – in Maspalomas
Address: Maspalomas C.C Oasis, 35100 Maspalomas, Gran Canaria
Tel: +34 606 32 90 69; Web: surfmaspalomas.com
Surf Canaries Surf School – in Playa del Inglés
Address: Av. Alf Provisionales – Anexo II, 35100, Playa del Ingles, Gran Canaria
Tel: +34 677 704 981; Web: surf-canaries.com
---