Last Updated on March 29, 2021
Here you can read our complete guide on the best water sports activities to try in Gran Canaria. Beachgoers and adrenalin lovers can find plenty of water sports activities to choose from in Gran Canaria such as sailing, yachting, windsurfing, surfing, kite-surfing, boating, deep sea fishing, out boarding, waterskiing, paragliding, scuba diving and more.
Windsurfing is the most popular water sports activity since the naturally warm air and water temperature conditions are complemented by the presence of the trade wind that blows mainly on the eastern side of the island.
Pozo Izquierdo, Vargas, Ojos de Garza, Tarajalillo, Bahía Feliz, Playa del Águila, San Agustín, Playa del Inglés, Anfi del Mar or Puerto Rico are the popular destinations for windsurfing in Gran Canaria.
As for surfing, the northern coasts of the island the main surfing area. It comprises the coastline route from the Las Palmas de Gran Canaria over the waves of "Las Monjas", all the way to Gáldar and its popular "El Frontón" wave that the body board world championship is held every year.
In addition; sailing and yachting is also one of the most popular water sports activities on the island.
Top Water Sports in Gran Canaria
Windsurfing
Gran Canaria is one of the best destinations in the world for windsurfing. The island offers great opportunities for windsurfing lovers with its naturally warm air, water temperature conditions and the trade wind which is very ideal for windsurfing. Read more…
Surfing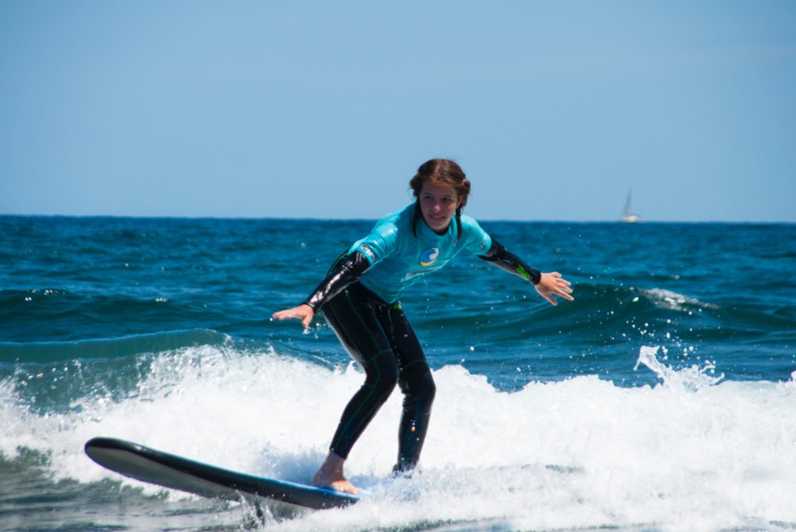 Surfing in Gran Canaria is one of the most popular water sports activities on the island as well as Gran Canaria is also one of the best surfing destinations in the world with its great coasts very ideal for surfing for all year round. The whole of the northern coasts is very ideal for surf and bodyboard lovers. Read more…
Sailing
Gran Canaria is also great for sailing and offers great opportunities for sailing lovers both under canvas or powered. There are six marinas and yacht basins in Gran Canaria and they offer about 2,500 berths for pleasure craft of all types. Read more…
Diving & Snorkelling
Gran Canaria offers great diving and snorkelling opportunities for sea and diving lovers in Gran Canaria. With its 236 kilometres of magnificent coastline, beautiful coves, crystal clear oceanic waters and excellent underwater volcanic environment, Gran Canaria is an ideal place for diving lovers from all over the world. Read more…
---