Here you can read our adventurer's guide on the best water sports activities to try in Costa Blanca, such as sailing, windsurfing, kayaking scuba diving, plus marinas, diving and sailing schools advice. Costa Blanca is very ideal for water sports enthusiasts with its 200 kilometres of coastline with all the attractions typical of the sea.
What to Expect?
You'll find plenty of fun water sports activities in Costa Blanca from swimming, sailing, skiing, windsurfing, kayaking, snorkeling to sub-aqua diving and scuba diving in all along the Costa Blanca coasts.
With its 25 ports, the sport marinas and the marine resorts of Marina Alta (Dénia), Bahía de Altea (Altea) and Alicante, El Campello and Santa Pola-ENA (Alicante), there are plenty of locations for sailing, windsurfing, kitesurfing and water skiing in Costa Blanca.
The Costa Blanca boasts two Marine Reserves that conceal stunning underwater treasures. San Antonio's Cape (Cabo de San Antonio) between Denia and Javea that is recommended to the scuba divers and sightseeing lovers, and the Nature Reserve of Tabarca Island in front of Santa Pola's coast in Alicante shows a great richness in its marine bed and fauna.
Top Water Sports Activities
The Costa Blanca is a perfect destination for water sports, sailing, scuba diving, canoeing, rowing and windsurfing.
Scuba Diving & Snorkeling in Costa Blanca
Scuba diving in Costa Blanca is popular for its warm, crystal-clear and calm waters of our coast. There are wide range of activities from short self-guided trips with light snorkeling equipment to courses and scuba diving sessions given by professional clubs.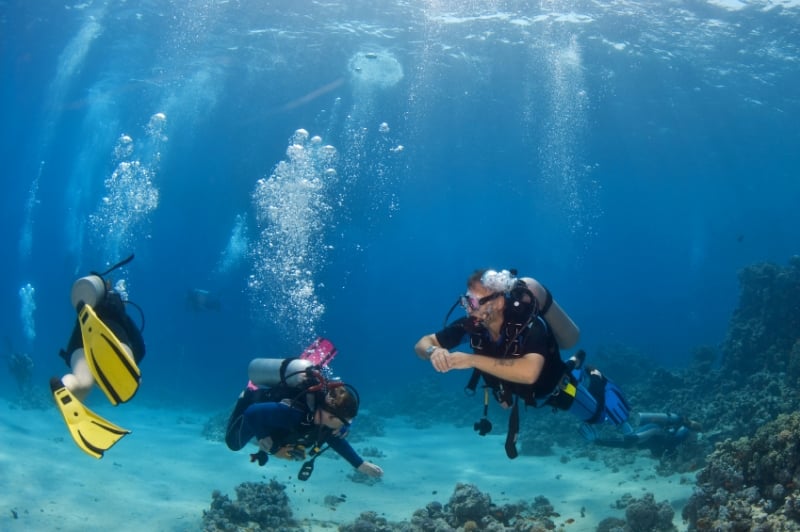 Costa Blanca has one of the most unique diving areas in Spain such as the Nature Reserve of Tabarca Island (Isla de Tabarca Marine Reserve).
There are many beautiful coves and beaches with a variety of excellent underwater seabeds. These are also perfect spots in Costa Blanca merging scuba diving with coastering which is an adventure sport including cave exploration, rock climbing, hiking, high jumps into the water and beginner abseiling…
Kitesurf, Windsurf, Paddle Surf & Kayak in Costa Blanca
Holidaymakers may enjoy the relaxing tours in kayak, paddle surf, kitesurfing or windsurfing along the coasts and resorts of Costa Blanca.
Costa Blanca beaches are very ideal for wind sports such as kite surf and windsurf and the tranquility of the coves makes for an enjoyable kayak ride or paddle surf.
There is also an exciting sport called Cable-ski that you slide over the water at high speeds without having to be pulled by a boat.
Boat Charters, Water Ski & Jet Ski in Costa Blanca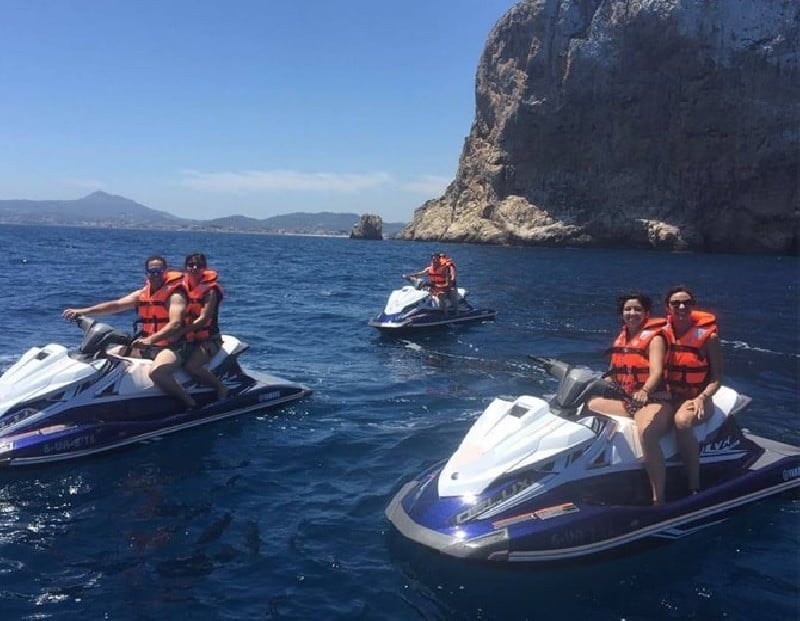 Holidaymakers may find wide range of possibilities for renting sailboats, motorboats or jet skis, as well as water ski and wakeboards at the 25 marinas of Costa Blanca.
The 25 yacht clubs and marinas along the Costa Blanca offer great infrastructures providing the possibility to enjoy both sail boats and motor boats.
Jet Skiing
Experience the thrill of speeding across the water on a jet ski, with the wind in your hair and the sun on your face. Jet ski rentals are available in many coastal towns and cities throughout Costa Blanca.
Parasailing
Take to the skies with a parasailing adventure, soaring above the clear blue waters of the Mediterranean Sea. Enjoy breathtaking views of the coastline and the surrounding mountains.
Kayaking
Paddle your way through the calm waters of the Costa Blanca on a kayak excursion. Many beaches and coves offer kayak rentals and tours.
Stand-Up Paddleboarding (SUP)
Experience the tranquility of gliding across the water on a stand-up paddleboard. SUP rentals and lessons are available at many beaches and water sports centers.
Flyboarding
For an adrenaline-fueled adventure, try flyboarding, which involves hovering above the water on a jet-powered board. Experienced instructors can help you get the hang of this thrilling water sport.