San Sebastian is well-known for its food scene, especially the local culinary tradition of pintxos. A pintxo is a small snack, usually served on a piece of bread and topped with a variety of ingredients like seafood, meats, cheese, and vegetables. Here you can find our guide on going out for pintxos in San Sebastian, including what is pintxos, best places to eat best pintxos, tips and many more.
What is Pintxos?
Pintxos (pronounced "pinchos") are small, bite-sized portions of food that originated in the Basque Country of Spain. They are typically served on a slice of bread, secured with a toothpick, and are often enjoyed as a snack or with drinks.
Going out for pintxos is a popular activity in San Sebastian, and it's a great way to try a variety of different flavors and ingredients.
Pintxopote
Pintxopote is a popular tradition in the Basque Country, particularly in cities like San Sebastian, where bars offer discounted drinks and pintxos on specific days of the week. Pintxopote typically takes place on a Thursday or Friday evening, and it's a fun and affordable way to experience the local pintxos culture.
Pintxopote Day
Pintxopote day is the day when bars in a particular area or neighborhood offer discounted drinks and pintxos. It is usually a weekly event, and it's a great way for locals and tourists to sample different types of pintxos and socialize with friends.
Pintxos Tips
Here are some tips to make the most of your pintxos experience in San Sebastian:
Go at the right time: Pintxos are typically eaten as a pre-dinner snack between 6 pm and 9 pm. This is when you'll find the most options available and when the bars and restaurants are at their busiest.
Don't be afraid to try new things: Pintxos can feature a range of flavors and ingredients, and it's a great opportunity to try something new. Be adventurous and try things you might not typically order.
Visit multiple bars: One of the joys of going out for pintxos is hopping from one bar to the next, trying different dishes at each one. Don't be afraid to explore and find new places to try.
Watch for the specials: Some bars will have daily or weekly specials that are not on the regular menu. Keep an eye out for these to try something unique and different.
Stand at the bar: While some bars may have tables, standing at the bar is the traditional way to enjoy pintxos in San Sebastian. This is a great way to chat with locals and soak up the lively atmosphere.
Best Places to Try Pintxos
Some of the best places to go for pintxos in San Sebastian include:
Bar Zeruko: This pintxos bar is known for its creative and modern twists on traditional dishes.
Bar Txepetxa: This bar is known for its anchovy pintxos, which are considered some of the best in the city.
Bar La Cuchara de San Telmo: This bar is located in the heart of the Old Town and is known for its traditional pintxos.
Bar Borda Berri: This bar is popular for its Basque-style pintxos, which include local favorites like fried cod and stuffed peppers.
Bar Nestor: This bar is a local favorite for its grilled meats and simple but delicious pintxos.
Find out more on our best Pintxos bars in San Sebastian page.
Guided pintxos tours
Going out for pintxos in San Sebastian is an absolute must-do experience for anyone visiting the city. But with so many bars and pintxos options available, it can be overwhelming for first-timers to know where to go and what to try. That's where a guided pintxos tour comes in handy.
Guided pintxos tours offer a unique experience where visitors can try the best pintxos and discover hidden bars with the guidance of a knowledgeable local guide. These tours often take visitors to bars that they may have otherwise overlooked, and provide a glimpse into the rich culinary culture of San Sebastian.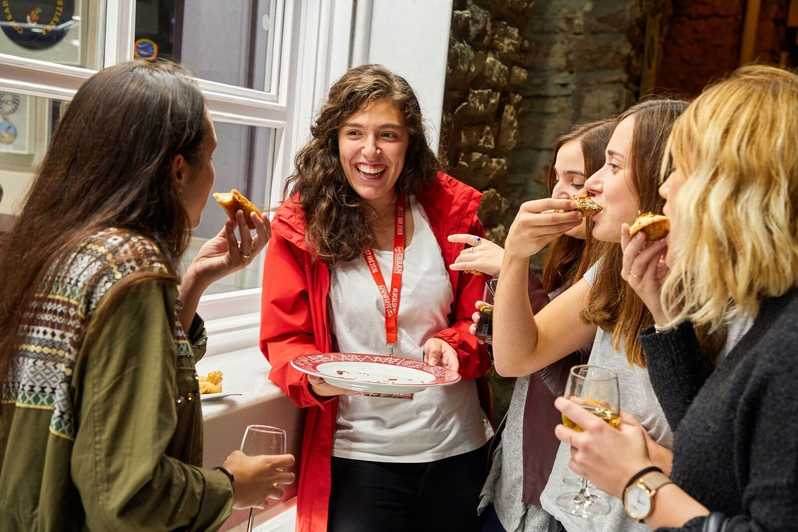 Most pintxos tours last around 2-3 hours and are led by bilingual guides who know the best places to try pintxos. During the tour, visitors will be taken to a variety of bars, from historic taverns to trendy, modern bars, and have the opportunity to try a variety of pintxos. The guides will also provide insights into the history and culture of pintxos in San Sebastian, as well as recommendations for drinks to pair with the food.
One popular option is the "Pintxos & Wine Tour," which includes tastings of different pintxos along with local wine pairings. Another popular choice is the "Progressive Pintxos Tour," which takes visitors on a tour of several different bars, each offering a unique twist on traditional pintxos.
One of the great benefits of guided pintxos tours is that they offer an opportunity to interact with locals and meet other travelers. These tours are perfect for groups or solo travelers who want to experience the best pintxos in San Sebastian and learn about the city's culture and history.
It's recommended to book guided pintxos tours in advance, especially during peak tourist season when tours can fill up quickly. Online booking platforms offer a variety of options, and it's easy to find a tour that fits your schedule and budget.
Buy Your Guided Pintxos Tour in advance Online
Free cancellation up to 24 hours in advance for a full refund