Last Updated on March 28, 2021
Travellers may find world famous Michelin stars restaurants within the 25 km. circle from the San Sebastian City Hall. San Sebastian has 17 Michelin stars restaurants that should be visited.
Eleven of them has three Michelin stars are located in the country and three of them are in San Sebastian that include Arzak, Akelarre and Martín Berasategui.
Four other restaurants also has Michelin stars that include Mugaritz (2 stars) and Kokotxa, Mirador de Ulia, Zuberoa and Amelia (one star).
This is really a very successful situation for San Sebastian.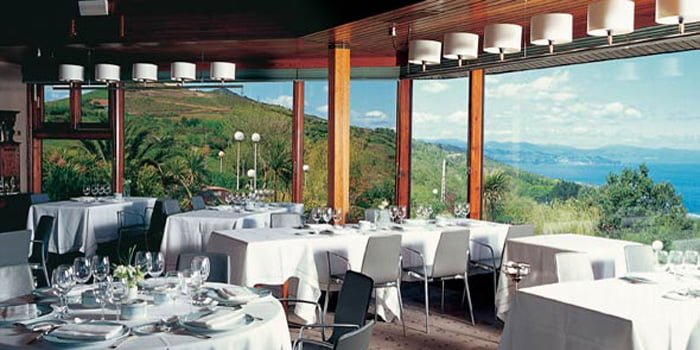 Michelin Stars Restaurants of San Sebastian for you…
ARZAK – 3 stars
Chef: Juan Mari Arzak
Avda. del Alcalde José Elosegi, 273
Donostia / San Sebastián · (G2)
T. 943 28 55 93
www.arzak.es
MARTÍN BERASATEGUI – 3 stars
Chef: Martin Berasategui
Loidi kalea, 4. Lasarte-Oria
T: 943 36 64 71
www.martinberasategui.com
AKELARRE – 3 stars
Chef: Pedro Subijana
Pº Padre Orkolaga, 56 (Igeldo)
Donostia / San Sebastián · (A2)
T: 943 31 12 09
www.akelarre.net
MUGARITZ – 2 stars
Chef: Andoni Luis Aduriz
Otzazulueta Baserria / aldura aldea, 20 zk. Errenteria
T: 943 51 83 43 / 943 52 24 55
www.mugaritz.com
ALAMEDA – 1 star
Hondarribia
T: 943 64 27 89
www.restaurantealameda.net
ELKANO – 1 star
Getaria
T: 943 14 00 24 / 649 33 52 74
www.restauranteelkano.com
KOKOTXA – 1 star
Donostia / San Sebastián
T: 943 42 19 04
www.restaurantekokotxa.com
MIRADOR DE ULIA – 1 star
Donostia / San Sebastián
Tel.: 943 27 27 07
www.miradordeulia.es
ZUBEROA – 1 star
Oiartzun
T: 943 49 12 28
www.zuberoa.com
AMELIA – 1 star
Donostia / San Sebastián
T: 943 84 56 47
www.ameliarestaurant.com
---