Last Updated on March 28, 2021
Situated along the world famous La Concha Bay, San Sebastian is a perfect destination for water sports and aquatic activities in Spain and Europe. The Zurriola Beach, situated to the east of San Sebastian, has constant waves that is very ideal for surfing enthusiasts.
As La Concha Bay also has sheltered waters, holidaymakers may also do water sports activities such as canoe, paddle surf, sailing, scuba diving or open water swimming.
In San Sebastian, you always will see surfers with a board under their arm and a wetsuit on, barefoot. On every corner of the city you may find a specialist clothing store, a car with surfboards on the roof rack or a surfing school.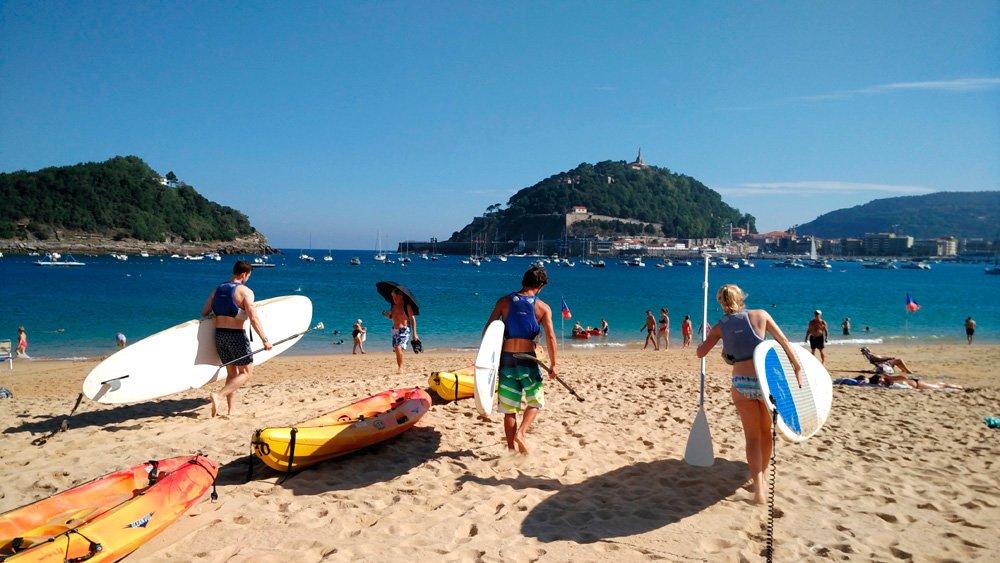 Water Sports in San Sebastian (Donostia) for you…
Surfing
The Zurriola is the urban beach with the best waves on the Cantabrian Sea that offer two very good ones that include Pukas and Bera Bera. Pukas and Bera Bera teach courses for all levels.
You may hire the equipment you need in the schools themselves, even high performance boards, fish surfboards, state-ofthe-art boards. Below are the popular surf schools in San Sebastian.
PUKAS SURF ESKOLA
Avda. de Zurriola, 24, T. 943 32 00 68, www.pukassurf.com
BERA BERA RT
Paseo de Zurriola, 2, Edificio Kursaal Building, T. 662 96 72 76, www.beraberasurf.com
Paddle Surf
Paddle Surf is like walking on water and it involves rowing as you stand on a large surf-style board. By paddle surf in San Sebastian, you may have a beautiful journey across the La Concha Bay watching the bustle of the city from your own surf board.
You may hire the paddle surf equipment and take basic courses at the Fortuna Club. You may also rent you a canoe there.
C.D. FORTUNA
Paseo de La Concha, T. 943 21 49 00, www.cdfortunake.com
---