La Mola Art and Crafts Fair (La Mola Market – The Hippie Market) is one the best attractions in Formentera. This market is held every Wednesday and Sunday from May to October in the charming village of La Mola. The market is known for its unique artisanal crafts, locally-made products, and lively atmosphere. This is a great place enjoy the fantastic shopping in Formentera.
What to Expect?
La Mola Art and Crafts Market & Fair is a traditional open-air market that offers a wide variety of unique and handcrafted items such as leather goods, jewelry, ceramics, textiles, and many other arts and crafts products. Local artisans and craftsmen showcase their skills and sell their handmade products directly to visitors. The market also offers a wide range of organic food products such as fruits, vegetables, cheeses, and cold meats.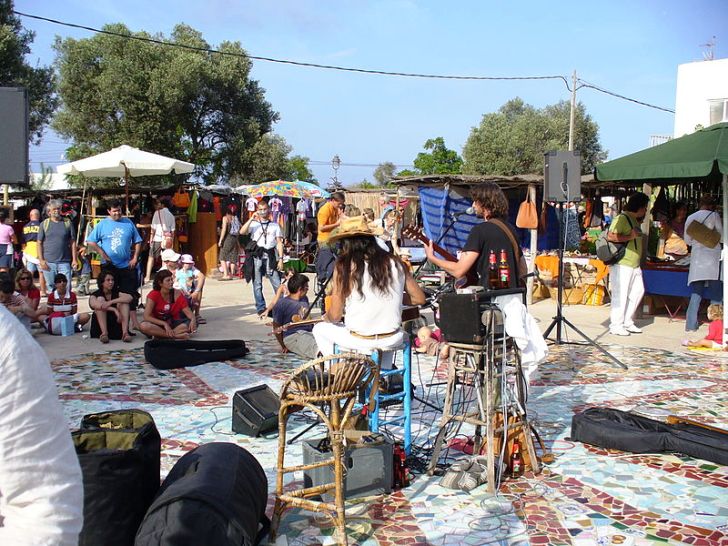 Besides shopping, visitors can also enjoy a wide variety of entertainment and cultural activities in La Mola Art and Crafts Market & Fair. Local musicians perform live music, and street performers entertain the crowds with their talents. The market also has many food stalls that offer delicious local cuisine, including traditional paella, grilled fish, and seafood.
What to Buy?
Visitors can find a variety of handcrafted items made by local artisans, ranging from traditional pottery to handmade jewelry, textiles, leather goods, and wood carvings. Visitors can also find unique souvenirs such as postcards, prints, and paintings.
One of the most popular items to purchase at La Mola Art and Crafts Market is the traditional pottery, which is made using ancient techniques that have been passed down through generations. These pieces are not only beautiful but also functional, and visitors can find everything from cups and bowls to vases and decorative plates.
Handmade jewelry is also a popular item to purchase at the market, with a wide range of styles and materials to choose from, including silver, gold, and semi-precious stones. Visitors can find everything from delicate bracelets and necklaces to bold statement pieces that are perfect for adding a touch of Formentera to any outfit.
For those looking for something more practical, leather goods such as bags, wallets, and belts are also available at the market, and visitors can find items that are both stylish and durable. Textiles, including scarves, blankets, and clothing, are also popular at the market, with many pieces featuring unique designs that are specific to Formentera.
Getting There
To get to La Mola Art and Crafts Market & Fair, visitors can take a taxi, rent a car or a scooter, or use the regular bus service that runs from the capital of Formentera, Sant Francesc, to La Mola.
The market is open from 4 pm to 9 pm every Wednesday and Sunday from May to October, and it is a must-visit attraction for anyone who wants to experience the local culture and traditions of Formentera.
Video Tour