Last Updated on March 28, 2021
Formentera can be considered as a paradise island and offers the best beaches together with great nature for the holidaymakers on their Formentera holidays. You can enjoy the beaches, the sea and the sun at any of its beautiful Formentera beaches, in the company of the island's exotic and varied scenery. Here you can find our guide on the best beaches in and Formentera, including beaches in the holiday resorts, beach services, photos, water sports, beaches map.
General Info
A great day out at the great beaches of Formentera is one of the best things to do in Formentera. The island offers more than 20 km. of white sand and crystal clear waters.
You'll find everything from the typical lonely coves to beautiful beaches and may enjoy the peace and quiet of a natural environment preserved from overcrowding.
Formentera is different from the other Mediterranean holiday destinations with its beauty and the absence of buildings from most of its coast.
The commitment of several decades to sustainable development has made it possible to enjoy heavenly beaches today with all the necessary beach services and safety of a western destination.
Video Tour
Best Beaches in Formentera
Beaches Map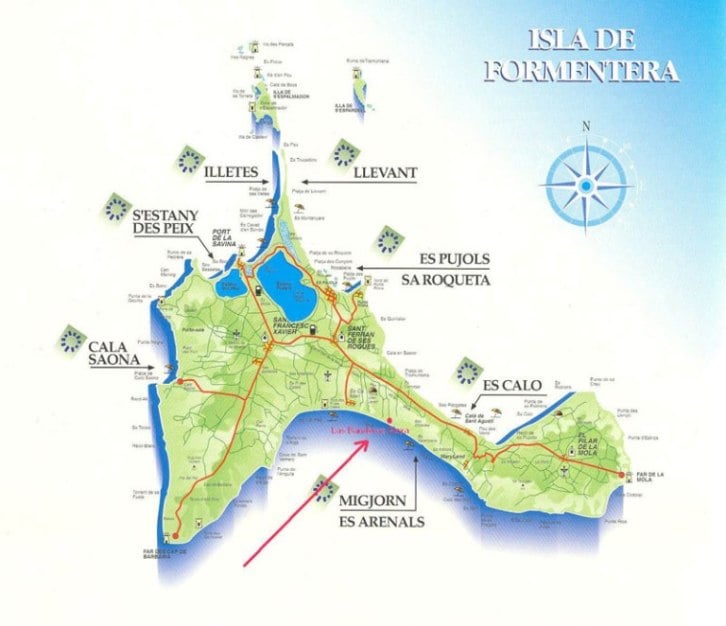 Formentera Beaches with Blue Flags
1. Es Caló beach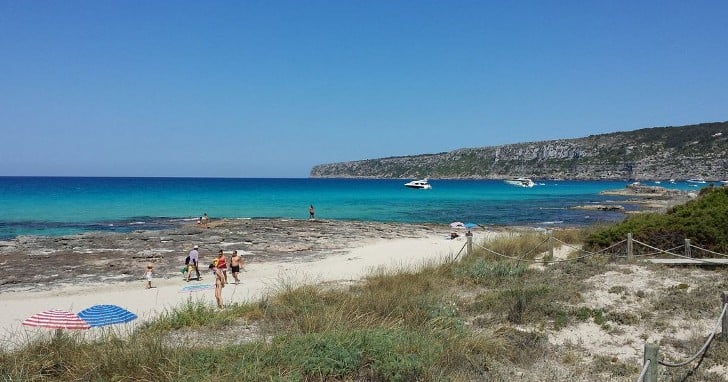 Es Calo beach is a small refuge for fishermen that where visitors may taste the sea in a maritime environment. Length: 50 metres Orientation: North-east
Read more about Es Calo beach >>
2. S'arenal beach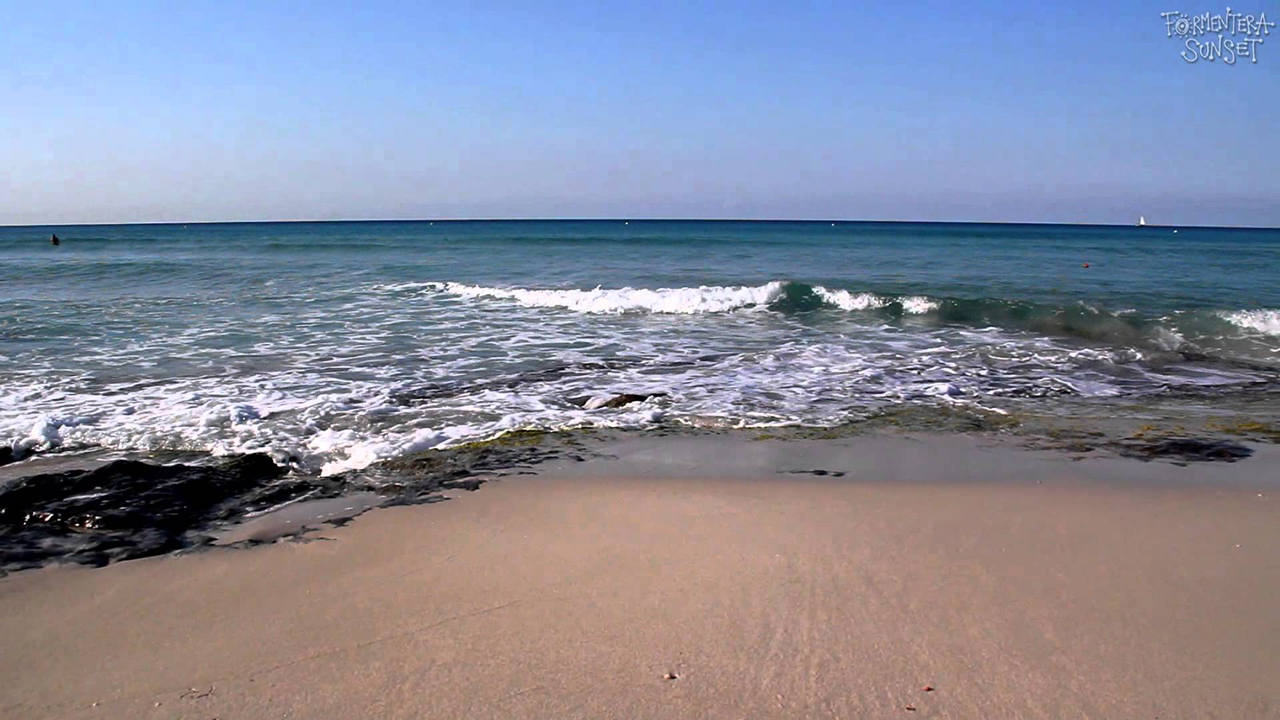 S'arenal beach is a lovely beach of Formentera with sand mixed with small shells brought in by the sea and gentle waves and in contrast to the other beaches on Formentera. Length: 150 metres Orientation: South
Read more about S'arenal beach >>
Other Beautiful Beaches of Formentera
3. Es Cavall d'en Borras beach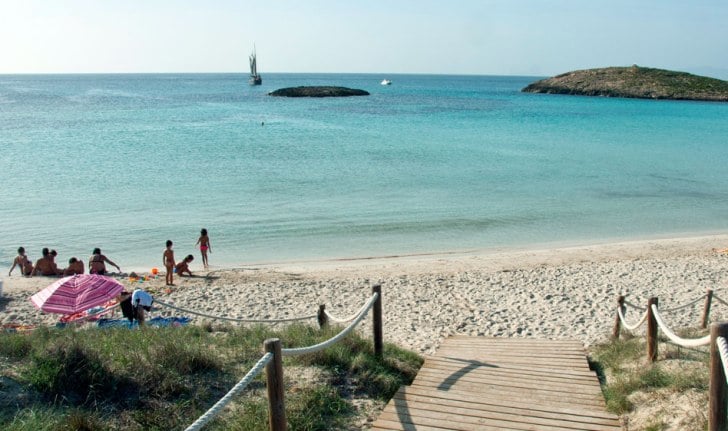 Cavall d'en Borràs beach a beautiful beach of Formentera located on the western part of the island. The beach is the nearest beach to the port of La Savina that can be accessed on foot or by cycling along the coast. Length: 800 metres Orientation: West
Read more about Es Cavall d'en Borras beach >>
4. Ses Platgetes beach
Ses Platgetes beach is a beautiful beach of Formentera located on the north-eastern part of the island, on an area of beaches with fine, white sand following on from Es Calo and in combination with low rocky outcrops. Length: 100 metres Orientation: North-east
Read more about Ses Platgetes beach >>
5. Cala Saona beach
Cala Saona beach is a beautiful small beach of Formentera located on the western part of the island. Cala Saona beach is one of the most beautiful beaches in Formentera. Its characteristic tranquility and beauty make this cove a place not to be missed for holidaymakers. Length: 140 metres Orientation: West
Read more about Cala Saona beach >>
6. Es Pujols beach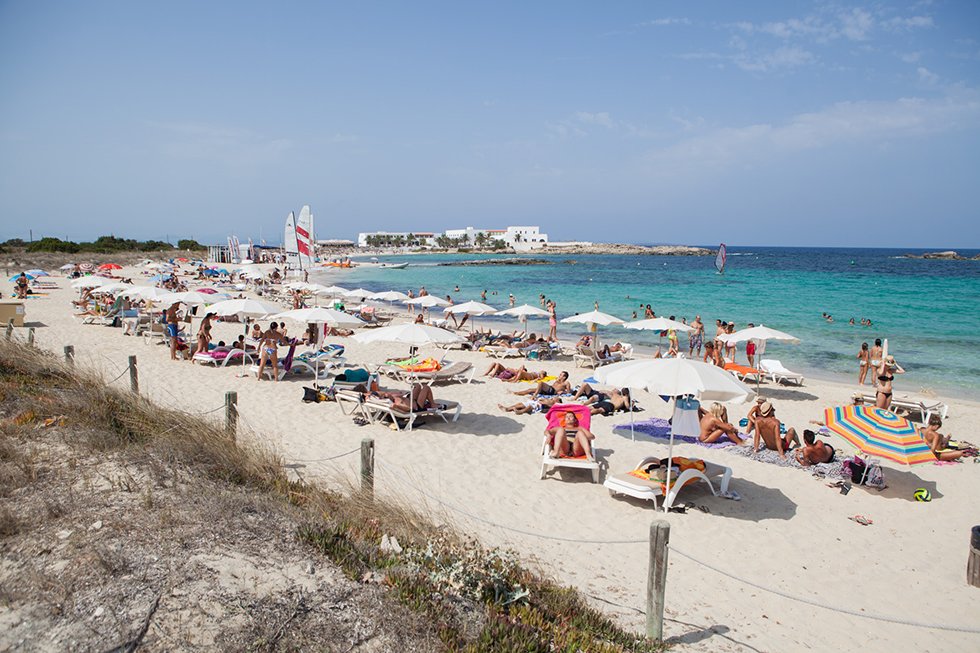 Es Pujols beach is one of the most popular beaches in Formentera. Es Pujols is the main holiday resort of Formentera located on the north-eastern coast of the island and holidaymakers may find all the necessary beach services, accommodation, shopping, restaurants and water sports at the Es Pujols beach. Length: 300 metres Orientation: East
Read more about Es Pujols beach >>
7. Illetes beach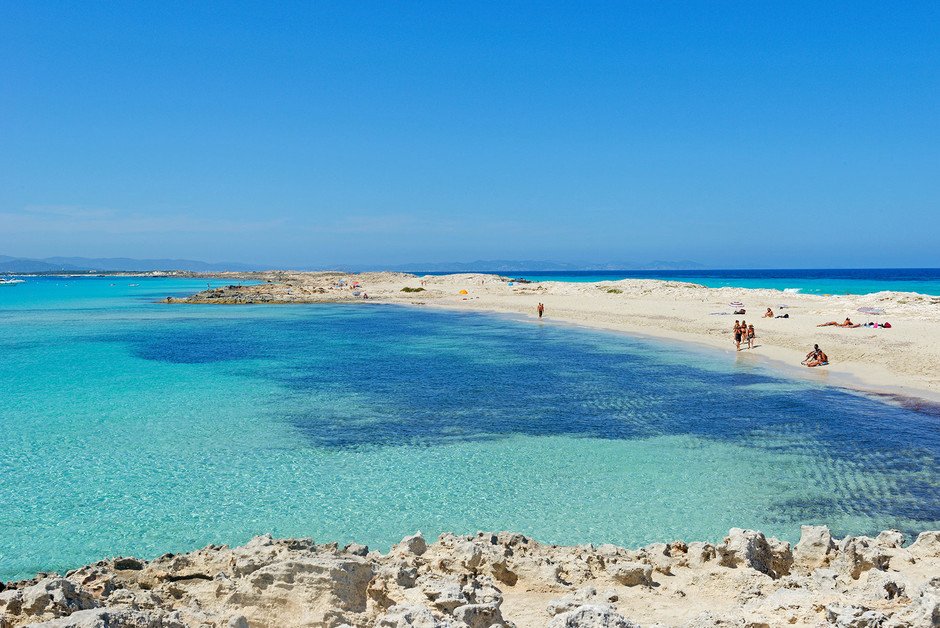 Illetes beach is one of the most popular beaches in Formentera and also one of the best beaches in Spain. The beaches of Illetes, located at the northern tip of Formentera and the nearest to the island of Espalmador (just 150m away) are the most visited of Formentera beaches and therefore the busiest one. Length: 500 metres Orientation: West
Read more about Illetes beach >>
8. Llevant beach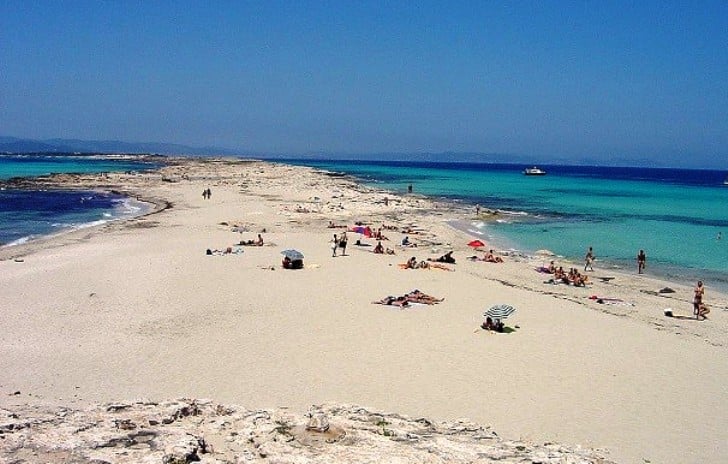 Llevant beach is also a lovely beach of Formentera located at the northern tip of the island, but in the eastern part. Llevant beach is a large and busy beach as it is situated in the area nearest to Illetas. Holidaymakers may find quieter and lonelier places as well as nice restaurants and beach bars. Length: 1,500 metres Orientation: East
Read more about Llevant beach >>
9. Migjorn beach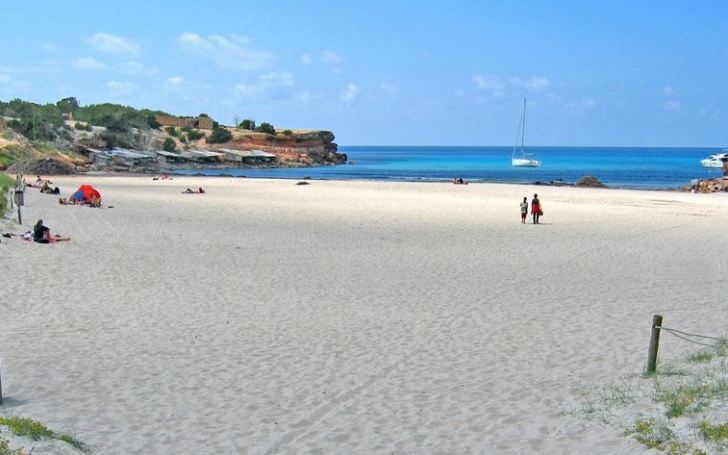 Migjorn beach is one of the biggest beaches in Formentera and the sandy beach stretches along a large part of the southern coast of Formentera, almost from La Mola to Es Cap de Barbaria. The large extent and geographical position make Migjorn beach one of the least busy and one of the most peaceful places on the island. Length: 5,000 metres Orientation: South
Read more about Migjorn beach >>
---