Last Updated on March 28, 2021
Amara and Riberas districts are the popular districts of San Sebastian and place to visit and see. Both districts are known as "sportly neighbourhoods on the Urumera riverfront". The River Urumea is the most modern neighbourhoods of San Sebastian. Below you can find top things to do and see at the Amara and Riberas districts of San Sebastian with insider advice.
Between the parks and the bars pintxos (tapas) and "hamaiketakos" that is a local form of brunch is served. On the avenue overlooking the river, visitors may find some sporting temples, some with façades more reminiscent of Paris than San Sebastian and feats of modern architecture.
Amara has three large avenues that icnlude; Sancho el Sabio, Madrid and Carlos I as well as beautiful streets such as Isabel II and Balleneros. The squares located to the left of Carlos I street has a wide culinary selection.
The Iesu Church & Memorial Garden, Avenue Alongside the Urumea, Bizkaia & Arbol de Gernika promenades are the popular sights in Riberas district.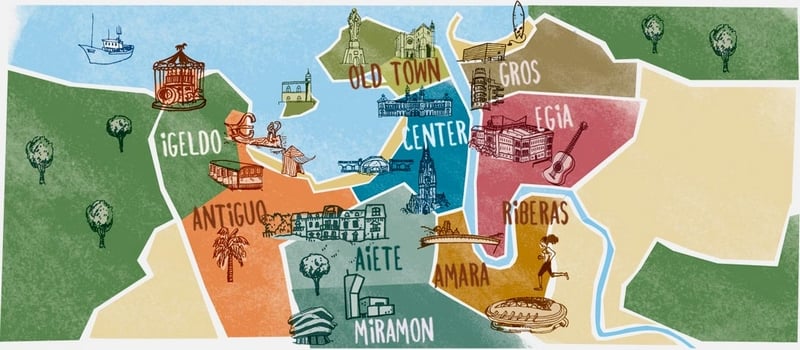 Top Things to Do & See in Amara & Riberas
Easo Square
Easo Square is perfect starting point for exploring the surroundings of the are. Visitors may find variety of lively pintxo bars. Also the Euskotren station that connects San Sebastian to the French border and Bilbao is located here.
Araba Park
A lively park opening to the three large avenues and the squares of Amara.
Anoeta Stadium
It is Real Sociedad football team's stadium. Also houses a museum devoted to the history the club.
Iesu Church & the Memorial Garden
The Memorial garden is the place that remembers all of the victims of violence, wars and terrorism. The Iesu church is the work of Rafael Moneo.
---