Gran Canaria is a paradise island located in the Atlantic Ocean and offers the best beaches together with great nature for the holidaymakers. The island is the third biggest of the Canaria Islands and the beautiful landscape with great diversity of climate, flora, fauna, golden sandy beaches, best hotels, clubs, bars and cafes make the island one of the best holiday destinations in Europe and in the world.
Gran Canaria offers 365 beach days a year with its 236 kilometres of coastline and a diameter of 50 kilometres and a maximum height above sea-level of 1,950 metres.
The island also possesses top flight tourist facilities with more than 150,000 hotel and apartments bed capacity. With its quality accommodation services, amenities and entertainment, this fantastic island has become one of Europe's top holiday destinations.
You'll find plenty of great places to visit and see and points of interest on the island. Las Palmas is the capital city and more the half of the people are concentrated in Las Palmas. The city is also one of the most important ports on the Atlantic.
As for the most preferred and popular holiday resorts; Playa del Ingles, Maspalomas, San Agustin, Puerto Rico and Puerto de Mogan should be on your list for a your holidays plan.
San Agustin, Playa del Ingles and Maspalomas offer a large variety of hotels, apartments, shops, restaurants, bars, and entertainment. The resorts share the most well known beach of the Canary Islands that is eight kilometres long and up to two meters wide formed by dunes and an oasis of palm trees, an authentic mini-desert by the sea.
Puerto Rico and Puerto Mogan are two smaller holiday resorts that are mostly popular for the practice of water sports and each has its own marina.
Puerto Rico has a quiet beach around that is possible to enjoy a wide assortment of activities, including boat trips, windsurfing, deep-sea fishing, parachuting into the sea and more. Puerto Mogan is an attractive old fishing with a traditional architecture.
You'll also find plenty of great day out attractions and things to do in Gran Canaria. You can relax while enjoying the beaches, the sea and the sun at any of its seventy beautiful beaches. Also visitors may simultaneously delight in the island's exotic and varied scenery.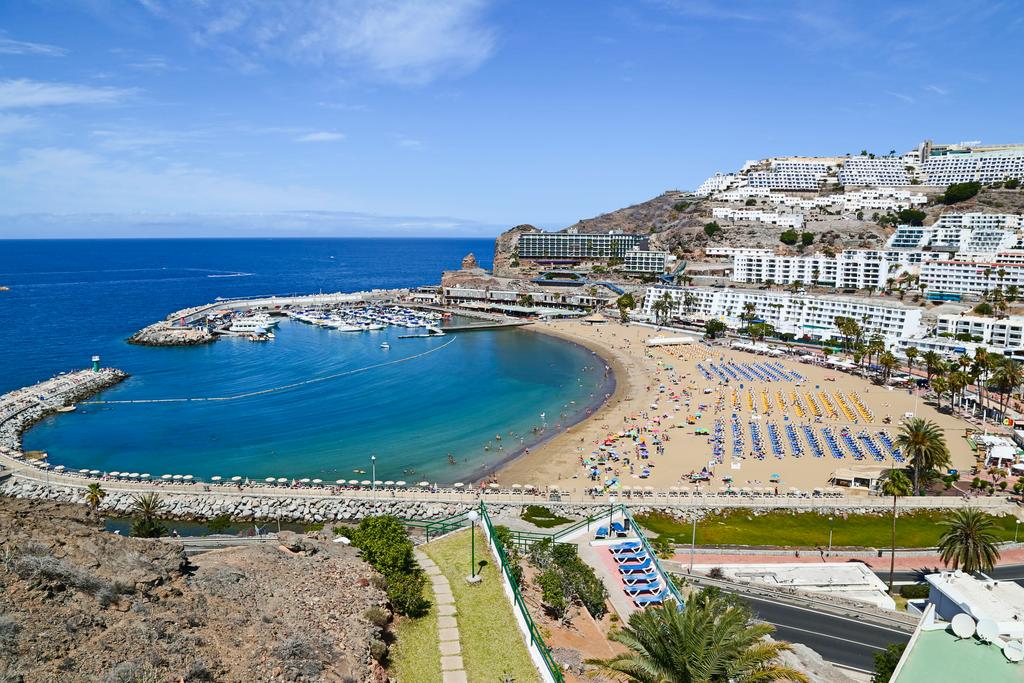 Gran Canaria also boasts a great quantity of beaches of all types along with its steeply rising shoreline. The Playa del Ingles (English Beach) and Maspalomas Beach are the most popular beaches in Gran Canaria. With its 250 hectares of shifting dunes and palm tree oasis, they are all internationally known for their unrivalled beauty.
In addition; while there are many attractive beach areas on the island, of these four have been singled out for special mention that include the resorts of San Agustin, Puerto Rico, Puerto Mogan and Las Canteras.
Like Playa del Ingles and Maspalomas, all these resorts also are equipped with a wide range of accommodation, restaurants and attractions of every kind.
As for outdoors and nature activities; excursions to Bandama Volcano, Viera y Clavijo Botanical Gardens, Tamadaba Pinewood and Nublo is a must for the nature and adventure lovers.
As for theme parks; the Aqualand, Palmitos Park, Holiday World, Sioux City and Aqua Sur around Maspalomas, Crocodile Park in Villa de Aguimes and Cactualdea Park in San Nicolas de Tolentino are the best options and a must visit places for the families with kids.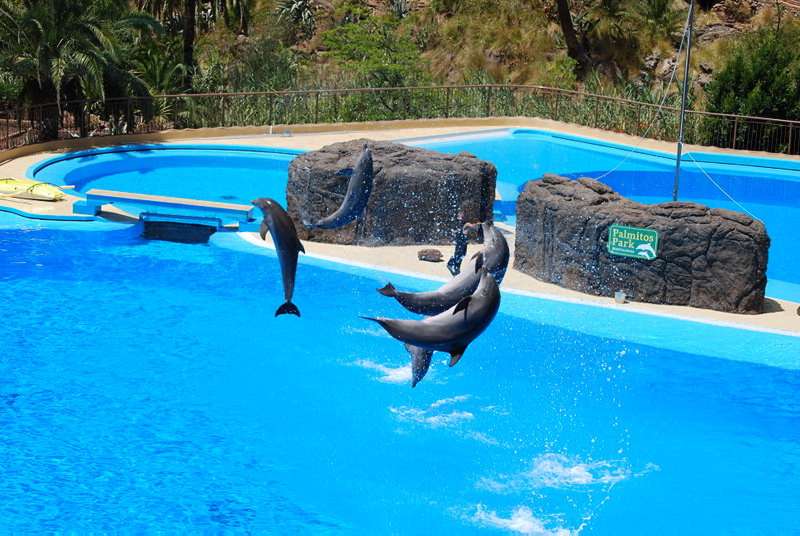 As for water parks; the Aqualand is a popular water park in Gran Canaria located in Maspalomas. Aqualand is a great place to spend time and have fun with your children in Gran Canaria.
Museums
The Casa de Colon and Centro Atlantico de Arte Moderno (CAAM) in Las Palmas are the museums that may be visited.
Accommodation
The island offers great choice of hotels, apartments and villas for the holidaymakers to chose from. You can check the best hotels and apartments from our where to stay in Gran Canaria page.
Weather
The island possesses an excellent Mediterranean weather and climate which is warm and dry in summer, humid and mild in winter.
Language
Spanish is the official language in Gran Canaria.
Getting There
You can find many direct flights to Gran Canaria from many major cities of Europe and the world. Flights between all islands except La Gomera is regular and flights from Spain to Gran Canaria is made by the several airways such as Binter and Iberian Airways.
The International Airport of the island is the Gran Canaria Airport (LPA)  (Tel: 902 404 704) situated in Telde. The airport is situated on the eastern coast of the island, about 25 km. from the main holiday resorts of the southern region of the island and 18 km. from the capital city of Las Palmas de Gran Canaria. It is also possible to get to Gran Canaria by sea from the city of Cadiz in Spain.
Electricity
220-240V AC, 50 Hz, two-pin plugs are standard.
Dialing Code
The international country dialing code for Spain is +34. City code for Gran Canaria is 928. (+ 34 928 xxx xx xx )
Money
Euro (EUR) is the currency.
GMT
GMT +1 (+2 in summer).